We are spoiled for choice for big, mean, fast 1000cc plus machines.
Some make excellent everyday road bikes, whereas some are barely legal for the streets and are best suited for all of us wannabe racers tackling the track.
Here we have rounded up some of our favourite 1000cc motorcycles; let's dive in.
Save Money On Your Motorcycle Insurance
You could pay less than £195*
Compare quotes from 25+ UK providers
Fill in one form to compare top bike insurers
Our Favourite 1000cc Motorbikes
Honda CBR1000RR-R Fireblade
Specs:
Kerb Weight – 201kg
Engine – Water-cooled, four-stroke, DOHC, inline 4-cylinder 999.9cc
Max Power – 215 horsepower at 14,500rpm
Max Torque – 113 Nm at 12,500rpm
From the very first Fireblade, Honda set a precedent; their race replicas would be as close to the real deal racing on the track as possible.
It has been 30 years since the CBR900RR was released in 1992, and while the Fireblade has grown in capacity, it holds true to being a pure racer with just enough adaptations to be street-legal.
The latest generation is ferocious, capable of exceeding the national speed limit in first gear alone.
While the Fireblade is not quite as tech-savvy as some other superbikes, it is just that, a superbike, executed to detailed precision and held to superior quality standards by Honda.
Handling is precise, assured, and there will be no debate about which way you are going; just point and shoot.
Suspension is firm, as any race bike should be, but this can be jarring on regular roads where road surfaces can be dubious.
Ergonomically the bike is set up for the track, it is surprisingly compact, and the low tank, clip-on bars, and footpegs will have you hunched over in the traditional racing position.
As for the engine, it is simply brilliant. It is now punchier than ever, the power delivery is immense, but it winds itself up to the 10,000rpm mark when it unleashes its full potential.
It isn't a practical road bike, but surely that goes without saying? It isn't meant to be.
Get your hands on this legendary superbike and test your abilities on the track; there are few better bikes to try and cut your mustard on.
You can also get the SP version, which has various upgrades, including an electronic suspension system and Brembo brakes.
To celebrate the 30th Anniversary, a commemorative limited edition model is now available.
---
Yamaha R1
Specs:
Wet Weight – 201kg
Engine – Liquid-cooled, DOHC, 16-valves (4-valves / cyl), in-line four, 998cc
Max Power – 197 horsepower at 13,500rpm
Max Torque – 112Nm at 11,500rpm
The R1 is one of my favourite motorcycles, particularly the 2006 SP version in Black and Gold.
It is another monster machine that has stood the test of time, first on the scene in 1998 with a 998cc inline-four engine and 150 horsepower.
In 2021 the R1 took the World Superbike Triple Crown, further cementing the bike's iconic status as a racer.
The R1 is still very much derived from the original. Still, it has been brought into the future with modern electronics, from a ride-by-wire throttle, Launch Control System to an Engine Brake Management System and MotoGP derived Slide Control System, plus loads more.
You can set the bike up exactly how you want to ride it and for the conditions you find yourself in.
It is a supersport motorcycle and, as such, is built primarily to dominate the track.
Ergonomically you will find yourself sitting ready to race, hunched over and tucked in. However, it is bigger than the Fireblade, so may suit a taller rider.
There is plenty of feedback through the suspension setup. As with the Fireblade, this is firm for precision instead of accounting for different road surfaces.
You get cornering ABS which can be set up for the road or track, along with three levels of engine braking.
The engine is remarkable with a soaring top-end, lots of punch, high revving, and some of the best anti-wheelie software available to keep both wheels on the ground when pulling the throttle hard.
It isn't a bike to take lightly; it is a rugged beast and one of the best track day weapons available.
---
Kawasaki Ninja Z H2
Specs:
Kerb Weight – 239kg
Engine – 16v inline-four with supercharger, 998cc
Max Power – 197 horsepower at 11,500rpm
Max Torque – 137 Nm at 8,000rpm
Mental. That is the best way to describe the Z H2, just a mental concept that we can't get enough of.
Whoever thought strapping a supercharged engine into a chassis and building a naked supersport was a good idea has to be crazy. But it works.
The Z H2 is undoubtedly the most potent naked motorcycle yet to have been unleashed; the power and speed are incredible; however, it is also smooth, accessible, and pretty friendly.
While this is a complete juxtaposition, the clever electronics and mapping have ensured the power on tap is delivered so that the bike can be used safely around town before winding it up on back roads and motorways.
Don't be mistaken in thinking the Z H2 is for the novice rider or that it is tame; far from it, it needs to be respected and commanded, but what it does mean is the power is contained, and the rider can squeeze it all out of the engine in relative safety.
The bike has a solid connection to the road and feels planted, so stability is confidence-boosting and corners are enjoyed more than feared.
At 239kg ready to go, the Z H2 isn't light, but the engine makes light work of pushing it around, so it isn't a figure to be concerned about. The bulkiness aids rideability by absorbing any bumps in the road with ease.
The bike has a more comfortable neutral riding position than its faired brothers; you have excellent visibility of the road and can command it with surprisingly light touches.
It is a true thumper, a wild monster that can be oddly civilised cruising through quiet villages. The finish is to a high standard, and the electronics are as modern as it gets; the Z H2 is the whole package.
---
Suzuki GSX-S1000
Specs:
Kerb Weight – 214kg
Engine – 4-stroke, 4-cylinder, liquid-cooled, DOHC, 999cc
Max Power – 150 horsepower at 11,000rpm
Max Torque – 106 Nm at 9,250rpm
Another cool naked motorcycle in the 1000cc class is the Suzuki GSX-S1000.
It is perhaps the ultimate street bike. Its street-tuned engine is derived from the GSXR-1000, with countless production race titles under its name; it also includes important MotoGP know-how.
The GSX-S1000 is an affordable 1000cc street bike that is bags of fun to ride, with rideability being its strongest asset.
In terms of chassis, it is on the sporty side of neutral, but the rider sits in a comfortable upright position, ready to tackle whatever the road throws at them; the sportiness won't deter riders from wanting to log serious miles in the saddle.
The suspension is multi-adjustable and is considered a bit of a budget setup, but it does the job; to compare it to thoroughbred racers is unfair.
Brembo brakes provide excellent stopping power.
There is plenty of grunt from the engine, but it is let out smoothly, and the rider has complete control to get up to speed.
Suzuki has thrown in some electronics and tech features like an assist and slipper clutch and the new SIRS electronics suite, which is already featured on the V-Strom and Hayabusa.
There is plenty of competition in the super-naked class, with exotic offerings and many powerful engines to choose from.
However, the Suzuki is a reliable, well-built, solid option ready for all the real-world scenarios the average rider is set to face. Therefore it arguably offers the best package for the money.
---
Ducati Superleggera V4
Specs:
Weight Dry – 152kg
Engine – Desmosedici Stradale V4, counter-rotating crankshaft, 4 valves per cylinder, liquid-cooled, 998cc
Max Power – 224 horsepower at 15,250rpm
Max Torque – 116 Nm at 11,750rpm
It wouldn't be a list of the best 1000cc motorcycles if I didn't include the Superleggera V4, the most exclusive Ducati ever produced.
Of course, it isn't for everyone and with just 500 numbered units produced, it couldn't be anyway.
"The new Superleggera V4 represents the dream of designing the only motorcycle in the world approved for road use with carbon fibre frame, swinging arm and rims with an unbeatable power/weight ratio of 1.54 hp/kg".

Ducati
It is a fantastic motorcycle, Ducati is known for producing fundamentally brilliant motorcycles at the peak of design and engineering, and the Superleggera V4 is the current epitome of that.
All the MotoGP knowledge has been thrown at the Superleggera. The biplane wings create more downforce than the current MotoGP bike, making just 10 horsepower less.
The bike handles as you would expect such an exclusive bike to handle, impeccably, the carbon chassis keeps the weight down, and yet at high speeds on the straight and in the bends, it is rock-solid and stable.
Steering is precise, light and quick, and the brakes are solid and competent for assured stopping power.
The Superleggera is my wildcard for the list, and the Panigale V4 is my slightly more sensible option for us mere mortals.
---
Ducati Panigale V4
Specs:
Weight Dry – 175kg
Engine – Desmosedici Stradale V4, counter-rotating crankshaft, 4 valves per cylinder, liquid-cooled, 1,103cc
Max Power – 215.5 horsepower at 13,000rpm
Max Torque – 123.6 Nm at 9,500rpm
The latest iteration of the Panigale
"completes the most significant evolution since birth. The improvements involve all areas: aerodynamics, ergonomics, engine, chassis and electronics."
Having revised the gearbox, the 1st, 2nd, and 6th gear have been lengthened, and power delivery to the rear wheel is improved.
The bike delivers better slow-speed cornering, high-speed corner exiting, and a higher top speed.
New power modes allow the rider to adjust to suit their needs.
Full power mode is a no-frills full-throttle approach, with no filters on the torque curves.
High/Medium modes refine the throttle-by-wire management system, optimising thrust when the throttle is open. While the Low Mode limits the engine to 150 horsepower, making it a more comfortable and useful
Four riding modes change how the bike responds.
Ergonomics have been changed for the latest model with a reshaped tank, making it easier for the knees to grip. A flatter, grippier seat holds the rider in place during hard braking and is more comfortable to sit on.
Suspension is perfectly set up for hard riding, and Brembo brakes are ready to react at the slightest touch.
There are 3 options of Panigale V4 currently available, with each one increasing in price and getting closer to a race-spec bike as you go up the range; the base model, the S, and SP 2.
The Panigale V4 is the culmination of decades of Ducati's pursuit of greatness and could be traced right back to Massimo Tamburini's legacy machine, the 'World's Most Beautiful Motorcycle' the Ducati 916.
---
BMW S1000RR
Specs:
Kerb Weight – 210kg
Engine – Water/oil-cooled 4-cylinder 4-stroke inline engine, four titanium valves per cylinder, BMW ShiftCam, 999cc
Max Power – 207 horsepower at 13,500rpm
Max Torque – 113 Nm at 11,000rpm
The S1000RR is now 10 years old, and BMW is pushing every generation to be better than the last; with the latest version, performance has been the priority, and you can see that the focus has paid off.
With figures like 207 horsepower and 113 Nm of torque, you need to be brave or crazy to want to push this Beemer's limits.
If you do, you can guarantee that the typical BMW quality will ensure the ride is smooth and flawless, with components that you can always rely on to do their job.
Always on top of modern features, BMW has loaded the S1000RR with the following and more:
TFT with connectivity
BMW Motorrad Race ABS, disengageable, partially integral, 4 Riding modes Rain, Road, Dynamic, Race (not in ABS Pro)
Pillion Seat and Pillion Footrests
BMW Motorrad Multimedia Controller
Dynamic Traction Control (DTC)
Gear Shift Assist Pro
Riding Modes: Rain, Road, Dynamic, Race
Hill Start Control (HSC)
The engine is ferocious, power delivery is intense but delivered smoothly, and the chassis controls all that power without fail, no fluttering or hesitation.
Steering is engineered to be accurate, precise, and light; it is easily one of the best sportsbikes of all time; there is just no doubt about it.
You can upgrade the S1000RR with M sport packages if you want to take things that step further to be the best on the track.
It looks good, rides well, and you can't ask for anything else from the bike. BMW knows what they are doing and will continue to make exquisite bikes.
---
Aprilia RSV4 1100
Specs:
Weight Wet – 202kg
Engine – Four-stroke, V4, DOHC, 4 Valves per cylinder, 1099cc
Max Power – 214 horsepower at 13,000rpm
Max Torque – 125 Nm at 10,500rpm
Another Italian monster makes the list in the form of the Aprilia RSV4.
It is a phenomenal motorcycle that has increased its capacity to 1099cc, maintaining a massive 217 horsepower.
The bike is roomier than the Panigale V4, allowing the rider to move around more freely, making it more suitable for bigger/taller riders and certainly more comfortable.
The fairing has been re-designed to be more than just a good-looking feature; it now mimics MotoGP styling to be super aerodynamic and increase the bike's overall agility.
However, this will only be noticed at track speeds, not something that will be noticeable on the roads.
There are 6 riding modes, including two customisable, ABS, traction, slide, wheelie, and new engine braking controls.
Aprilia spared no expense on components. Brembo Stylemas brakes are equipped on the RSV4, forged aluminium wheels, and Ohlins electronic suspension. Aprilia spared no expense on parts.
The mirrors, number plate bracket, and pillion pegs are easily un-clipped to get the bike ready for track use.
The bike comes in cheaper than the Ducati Panigale V4, the Kawasaki ZX-10RR, and just shy of the Honda CBR1000RR-R Fireblade SP.
It is a viable option for a track weapon and is priced competitively, but as with most Aprilia's reliability and build quality on occasion can be somewhat dubious.
---
Triumph Speed Triple 1200 RS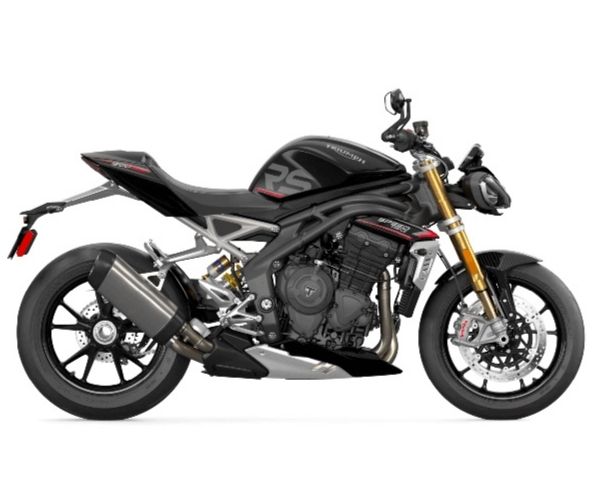 Specs:
Kerb Weight – 186kg
Engine – Liquid-cooled, 12V, inline triple, 1160cc
Max Power – 176 horsepower at 10,750 rpm
Max Torque – 124 Nm at 9,750rpm
Triumph has gone back to the drawing board with the Speed Triple and reinvented it, the DNA is still the same, but they have taken a serious look and worked to improve as much of the bike as possible for 2022.
Is it the ultimate performance naked sports bike that Triumph claims it to be? That is up to you to decide, but I think it is undoubtedly a strong contender.
It is street-focused but entirely ready for the track if that is what you want to do, and it isn't going to let you down against any fully-faired counterparts.
The Speed Triple is the lightest generation so far. While set up for the street, the track-based equipment is evident throughout, including Brembo Stylema brakes, Metzeler RACETEC RR tyres and performance-tuned Öhlins suspension.
There are 3 throttle maps, 4 traction control maps and 5 customisable riding modes; Triumph wasn't playing when it came to electronics.
You can also hook your phone up to the My Triumph Connectivity System for features such as music and GoPro camera controls.
It is all singing and all dancing.
You are undoubtedly in a sporty riding position, but you are sat more upright than on a faired sportsbike, so comfort levels are increased, as is control around town.
The Speed Triple is one of my favourite Triumphs of all time; it is just a really nicely styled bike that has the performance and Triumph quality attached.
---
Bimota Tesi H2
Specs:
Weight Dry – 207kg
Engine – 4 stroke, 4-cyl, DOHC, W/C, supercharged / DOHC 4 valve, 998cc
Max Power – 238 horsepower at 11,500rpm
Max Torque – 141 Nm at 11,000rpm
Last but far from least is the Bimota Tesi H2, maybe controversial and maybe some of you are thinking, why not just put the Kawasaki H2 up here.
Well, the pairing of the Kawasaki H2 engine into a Bimota hub-steered chassis, overlooked by Bimota's design team and engineers, is more than a supercharged superbike; it is a work of art, a mechanical feat of genius.
Not convinced? Let me explain.
Bimota has been plagued with business/financial problems from the very onset. However, in between all of that, they have produced stunning motorcycles that most of us can only drool over.
"Bimota was born to compete, to produce motorcycles with a unique specification using extremely high-tech components and design technology homologated for street use."

Bimota
As of 2017, they are in a partnership with Kawasaki owning a 49.9% share of the company, and the H2 is a sure sign of some exciting things to come.
Pierluigi Marconi was on board for the H2's design, and he was heavily involved in the original Tesi model. 'Tesi' actually means Thesis in Italian, and the Tesi 1D was part of Marconi's engineering thesis while at university in Italy.
Every component has been thought through, serves a purpose and is there to optimise the ride.
Let's face it, Kawasaki's H2 is already pretty awesome, so to have the guys in Italy taking it even further is pretty mind-blowing.
You can expect the Tesi H2 to come in lighter than the H2, use even more premium components such as carbon bodywork, and use the best technology around.
The Tesi H2 isn't cheap, and like the Superleggera V4 from Ducati, it won't be for everyone, but even if it's not, there is no disputing its beauty, grace and performance.
---
Related
You might also be interested in the following posts: