Here is our full detailed review of the Rapide (or the Concept-X as it's known in other parts of the world); possibly Arai's first foray into the world of retro.
It's not a huge divergence from previous Arai's, but its unique range of colours, graphics, and improved visor mount, have enabled Arai to produce a great looking retro helmet.
It also features in our recent list of Cool Motorcycle Helmets.
Bottom Line Upfront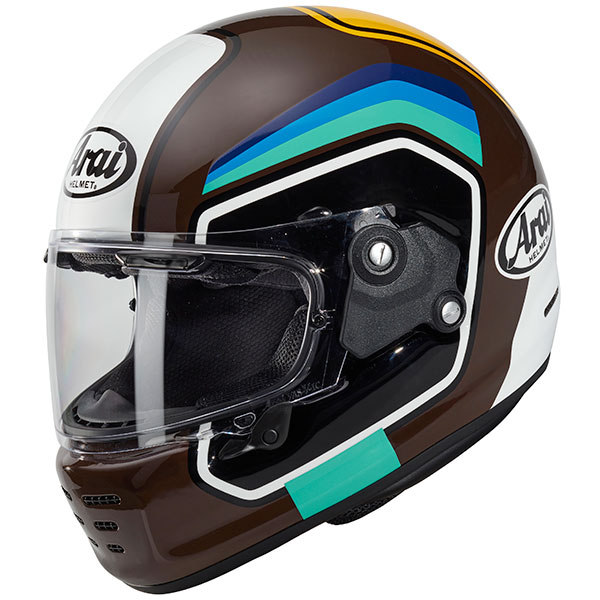 Retro Style, Modern Quality
Quality construction with high comfort levels, excellent venting and a great field of view.
Suitable for cruising, touring, and longer high speed journeys.Check SportsBikeShop
Save Money On Your Motorcycle Insurance
You could pay less than £195*
Compare quotes from 25+ UK providers
Fill in one form to compare top bike insurers
Price
---
The single colour units retail at a little over the £400 mark, whereas the fancy-pants, lairy graphic models will stretch your budget by an extra £75 to £100, depending on where you shop.
Visibility, Safety and Construction
---
The Rapide has a surprisingly good field of view, especially horizontally, so it's great for Lifesaver checks and inspiring a level of awareness and confidence.
It has quick release cheek pads to help the emergency services to safely remove your helmet.
Tinkering with the visor brackets has allowed Arai to boast about something called 'glancing off energy', meaning the helmet is lovely and round and rolls with the punches during an accident.
The helmet feels reassuringly solid, its strong shell is made from a material called PB e-cLc, which, if you're interested, stands for Peripherally Belted e-complex Laminate Construction. Still awake?
We move on…
Looks and Model Range
---
Apart from it's funky styles, the Rapide's unique aesthetic is its chin section, which has a distinctive square ventilation jawline, harking back to older style helmets. This not only gives it a very subtle retro look, but it has that lovely 80's simplicity that was a defining feature of the era.
As well as a series of mono-colour gloss models, there are three impressive graphics packed ranges to choose from, each of which come in a number of distinctive and bright colour schemes:
The Ha range features a series of graphics that include a distinctive 'Ha' logo on the brow, apparently a nod to the company's founder, Hirotake Arai.
The Overland range comes in what could be described as dull beige and olive matt colours. However Arai have cleverly (subjective) highlighted the mouth grill and placed a black band of colour around the helmet to make it look like an off-road adventure lid with goggles. If that's your thing?
Our favourite (above image), the oddly named Number model, turns the 'hipster' dial up a few notches with bolder graphics, including retro stripes and a large square colour patch on the rear (like a number plate with no number…oh wait, I get it now).
Fit and Comfort
---
The Rapide comes with all the comfort features you would expect from a high end Arai helmet. This becomes apparent when you wear it for long periods. The internal skull cap, brow and cheek pads are very sumptuous and comfortable.
Another nice feature is that most of the padded areas are built up using a number of foam layers. This allows you to fine tune the fit by removing layers if the internal padding is a bit snug.
Top Tip: We recommend you allow a new helmet to 'bed in' before you start stripping out foam layers. As with all helmets, the padding loses a bit of 'spring' after a few hours/rides.
Retention
---
As you would expect with any retro themed helmet, the Rapide utilises a high quality double D ring system and has the standard popper, to clip up the excess strap.
Ventilation
---
Another great feature is the switchable brow vents. They are located on the top section of the visor and pipe air into vents that pass air over the top of the skull cap. A feature seen on other Arai's that utilise the same VAS-V visors.
There are also the six slotted vents on the chin guard, which can be opened or closed via a small switch on the inside of the mouth guard.
There are four exhaust ports at the rear of the helmet, two at the rear and a vent unit at the base, ensuring that heat is efficiently evacuated from the helmet.
Visors
---
The visor has a solid lock when fully closed and has a reassuring solid click. It has a small lever to release the catch, but this can be confusing when first used as it's not obvious if it needs to be pushed up or down (I'm still not really sure).
A Pinlock 120 Max Vision visor is included in the box, which Pinlock claims is their premium anti fog plastic strip thing-a-mee-bob. The pinlock mounts are a nice touch, using proper screws, making pinlock adjustment a lot easier (and more permanent).
Another great option is the Max Vision Pinlock ProtecTINT pin lock visor, which darkens in the sun. However the pre-existing compatible VAS-V visor has a nice range of tinted options already available on supplier shelves.
Check tinted visor prices here at Sportsbikeshop
I have heard some grumbles about visor removal, but even though I'm a cack-handed screwdriver-numpty, I was able to easily remove and replace the visor. It does have a few moving parts, but it uses nice chunky fisher-price plastic screws, which oddly seem stronger than the usual soft metal screws (normally made from material akin to blue-tac) that manufacturers use. They can also be removed with a coin, technically creating tool-less removal.
Rapide owners can also treat themselves to Aria's compatible Pro Shade visor system. This is a separately installed clear visor that contains an extra flip-down shade that covers the top section of the visor to shield your eyes. It might not be to everyone's taste, but it's a great option if you don't want to carry separate tinted and clear visors around with you.
Check Pro-Shade prices here at Sportsbikeshop
Noise
---
There have been some mixed reviews about noise levels with the Rapide (some down right contradictory). Although sound levels are often subjective, the fact that comms is very clear (in particular transmission sound from the mic), indicates that sound levels are definitely in the 'above average' bracket.
I personally found the seal around my neck and chin to be excellent, which aids sound compression. Head shape will affect this, but Arai's helmets do tend to be good at accommodating different head shapes.
Read more about quiet motorycle helmets.
Comms
---
I was able to fit a Sena-SF4, quickly and easily, to the Rapide. Although the unit doesn't sit perfectly flush (due to a ridge at the helmet base) it still fits really well and looks integrated.
I tend to switch my comms unit between helmets, but if you only have one lid, I would recommend mounting yours with a 3M stick-on bracket. It will sit slightly better and reduce any wind noise from the unit.
It has good speaker pockets, which are contained in the cheek pads. They are easy to fit and the pocket diameter is good. Initially my (very chunky) HD Sena speakers pressed against my ears but this resolved itself once the check pads began to shrink after a few rides.
Conclusion
---
Do not be fooled into thinking the Rapide is a gimmicky retro lid, it's a high end well constructed performance helmet offering good levels of rider comfort.
I wasn't sold when the initial mono colour models were first released, but as Arai began to market the various colour schemes, they really began to knock the designs out of the park. You really need to hold and see one in the flesh to appreciate the aesthetic designs.
So what's bad about it?
Well at 1550g it's not featherlight, (read our guide to the lightest helmets) and let's be honest it's not a controversial design that's a huge departure from Arai's previous offerings.
So where is it placed in the retro market?
It's direct competitor is probably the Shoei Glamster, an equally well made helmet, that is probably a few notches up on the cool scale (see our full review here Shoei Glamster).
Side by side, the more expensive Rapide is a lot heavier but it has better ventilation and a slightly better visor and visor catch. It also has slightly better internal soft furnishings, making it more comfortable on longer rides.
To summarise, Rapide for long distance touring and motorway riding, Glamster for posing on summer rides and short trips through town and country lanes.
Buy Online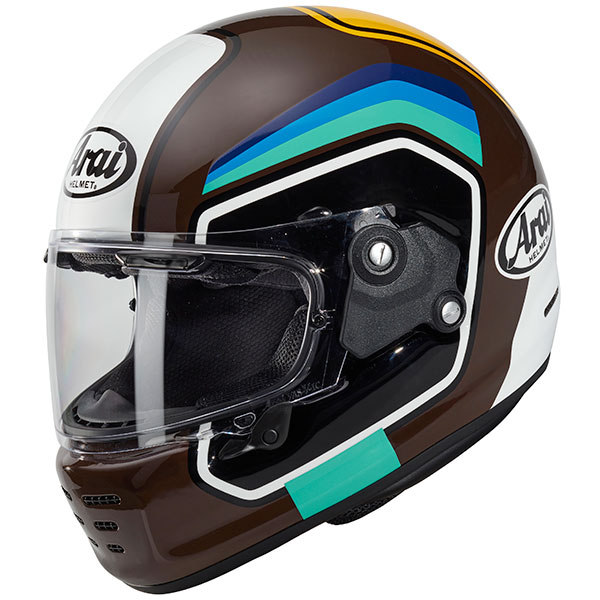 Retro Style, Modern Quality
Quality construction with high comfort levels, excellent venting and a great field of view.
Suitable for cruising, touring, and longer high speed journeys.Check SportsBikeShop