So … you've passed your CBT and the open road beckons.
Of course, you're dreaming of slinging a leg over a GSX-1300R Hayabusa and roaring off the driveway.
But we all have to start somewhere and, crucially, learn some road-craft first – after all that means more chance of seeing Christmas.
Was that a sigh I heard?
Fear not. 125s are far sexier now than ever and some even replicate the styling of bigger, more powerful models. There is also something for everyone no matter what your budget.
Still confused about your options? Go here to learn about the different types of motorcycles.
Let's dive into our twelve of the best 125cc bikes.
---
Save Money On Your Motorcycle Insurance
You could pay less than £195*
Compare quotes from 25+ UK providers
Fill in one form to compare top bike insurers
NAKED STREET
---
HONDA CBR 125 Neo Sports Café

Appeal: The ideal entry-level machine. Sharp lines and edgy styling, with the attitude of a bike rocking twice as many horses.
The cool bits: Far from starting from scratch when designing this wolf in sheep's clothing, the clever folk at Honda borrowed the blueprint of the CBR1000 to piece it together.
Tubular frame, upside-down forks and an LCD dashboard display NASA would be proud of, all add to its allure.
Is it for me? This is a decent bit of kit that will suit everyone from the slightly nervous 17-year-old new rider to a 30-something civil servant tired of commuting by car.
Weight: 126kg
Power: 13 bhp
Price: £3,989
---
Suzuki GSX S125
Appeal: This is the slightly calmer, more sensible little brother of the R125. If the R125 stays out too late and gets grounded for a week, the S125 giggles in the background while mum does her swede.
The cool bits: It wears the aluminium wheels and full LED lighting well, and if you like the look of the Triumph Speed Triple's Johnny-5 style headlight cluster, the one on this machine is very similar.
It looks to me as if they designed the entire bike only for the bloke who was in charge of the headlights to come in with a hangover and grunt 'Just stick 'em on the front there somewhere'.
But this is a tidy looking bike that shares the same engine as the R125, it just doesn't carry the full sexy fairing.
Is it for me? If you want something which looks like a racing bike, this isn't for you. Despite having class-leading power-to-weight ratio
Weight: 133kg
Power: 15 bhp
Price: £4,099
---
NAKED
---
KTM Duke 125
Appeal: This semi-naked sports bike is easy on the eye, not just because of its colour. It looks mean and its lines and styling look that sharp they could give you a papercut.
The cool bits: I like the sound of this KTM. It doesn't give off the deep bass-like roar of the bigger beasts but it sounds well and definitely has that distinctive KTM grunt.
For me, this machine is in the top five for looks. It is basically the same bike as the 200, it just has a little less oomph on the throttle from the smaller engine.
Is it for me? Due to the less powerful engine, which can take up to 7,000 revs to wind up, this is one for the more sensible first-time biker. So if your mum or dad are footing the bill you may just find one in your Christmas stocking.
Weight: 148kg
Power: 15 bhp
Price: £3,499
---
Yamaha YS125
Appeal: No frills, this will get you from A to B and that's about it, but it's still a decent first option for the more modest, quietly spoken newly-passed motorcycle rider.
The cool bits: It's comfortable, so comfortable if you close your eyes – not while you're on the dual carriageway – you could almost be sitting on your sofa at home watching Peaky Blinders.
This is the most practical bike out there, so it won't have pedestrians and other motorists craning their necks to snatch a quick peep. You can tootle about almost anonymously on this Yamaha.
Is it for me? A sensible choice for the 25 or 30-something who enjoys the thrill of the open road at a comfortable pace.
Weight: 129kg
Power: 10.46 bhp
Price: £2,900
---
SPORTS
---
SUZUKI GSX-R125
Appeal: You may only be sitting at traffic lights on the ring road, but the Moto GP inspired paintwork on Suzuki's mini race replica – will make you feel as if you're alongside Alex Rins on the grid in Valencia.
The cool bits: This is one of the lightest bikes in the class, has the smallest projected frontal area which boosts its aerodynamics and fuel economy, and it comes with ABS too.
It handles well, happily dips its nose into tight corners and is as responsive as a Jack Russell to the sound of the postman's footsteps.
Is it for me? If you're under 25, definitely yes. It's ideal for getting to and from college or for clocking up miles and building experience.
Weight: 134kg
Power: 14.8 bhp
Price: £4,299
---
YAMAHA YZF R125
Appeal: Yamaha's kindergarten bike is their best seller. Wearing the same clothes as the much more meaty R6, this is one of the best-looking bikes in the category.
The cool bits: This comes in a white, black and blue and the deep paint finish in the darker shades makes it look a bit like Batman's Batpod Bike.
Yamaha has gone large on this machine. The engine has larger intake and exhaust valves, only by 1mm, but that still counts, right?
The throttle body is 2mm wider and the airbox is now 5.5 litres in capacity, up from 2.9 litres. But the coolest function is the dashboard that has an option to personalise the welcome message every time you turn the machine on.
Is it for me?: Again this is a bike for a younger rider in my opinion, but beware rolling the throttle too quickly at first. The acceleration will launch you from a standstill in a fashion that wouldn't be out of place at Cape Canaveral.
Weight: 142kg
Power: 14.75 bhp
Price: £4,499
---
Aprilia RS125
Appeal: Forget motorcycles for a minute. Let's talk about cars. Do you like Ferraris? Of course you do. Who doesn't? Well, you may never have to own the famous prancing horse, because this motorcycle is quicker than a Ferrari. FACT. This bike is faster than the 2012 Ferrari Spyder.
The cool bits: What more can I say without repeating myself. This thing goes like dog mess off a pooper scooper.
It's in the same acceleration category as the Yamaha and the Honda we have listed, and it looks amazing.
Aprilia's generally scare me, as do the guys and girls who ride them. If I am rolling through twisty corners up in the hills when what sounds like a Eurofighter bursts past me, splitting my eardrum, it's usually someone riding an Aprilla.
This could be you. Reviews of this machine are akin to the way 30-something-year-old blokes describe Beyonce: 'Stunning, a work of art, just beautiful'. etc etc.
Is it for me? Are you a) speed demon b) bit nuts c) a show off d) want to get the hang of the road on something quick you can grow into. If you tick any / all of these options, buy one – but take it easy. Remember you are not indestructible!
Weight: 148kg
Power: 14.75 bhp
Price: £4,499
---
Kawasaki Ninja 125 SE
Appeal: It's a Kawasaki. It looks great, feels like a big bike and sounds alright too. It reminded me of a chainsaw with a sore throat.
These things do catch admiring looks from pedestrians and motorists alike.
The company reckon 40 per cent of teenage bikers who buy these do so because it looks great, not for the performance, but then you're not much of a bike boffin when you've just finished your A levels anyway are you?
The cool bits: Once it's warm and if you catch the engine in the right mood, i.e you slide through the gearbox without missing a step and keeping the revs high, this is a joy to ride. It handles well and can be flipped around like an old 50 pence and it will stay upright (don't try that at home).
Is it for me? Absolutely. Great little bike, for tall people, short people and Mr. Average too.
Weight: 146kg
Power: 14.8 bhp
Price: £4,573
---
Honda CBR125R
Appeal: This is considered by many reviewers to be the best 125 on the market – but I prefer the Neo-Sports Café and I can't have two Hondas in my top three. But it is a highly-revered motorcycle and it looks the dogs …
The cool bits: This beauty has many finishing touches which make it stand out including the newly designed fairing which protects riders from strong gusts of wind – no, it really does.
And the powerful single light headlamp looks the part too. It is also extremely comfortable to ride, even on long journeys. And there aren't many 125s I would want to travel too far afield on.
Is it for me? The CBR 125R is a cross-generational bike. It's fast enough for a new rider to learn the ropes and grow in confidence at the same time. And its comfortable seat and lightweight frame mean commuters would be just as happy grabbing it by the horns.
Weight: 136.9kg
Power: 13 bhp
Price: £3,399
---
KTM RC 125
Appeal: I love this bike. I like the look of it, the colour of it, the styling and the shape of it. The new decals are smoking and it comes in two colours, orange and white. For all intents and purposes, this could be a 600cc bike.
The cool bits: It has every single component of its bigger, moodier siblings (the KTM RC 200 and the KTM RC 390), apart from the engine of course, otherwise it wouldn't be in this category, but you knew that anyway, right?
It has the same engine as the KTM Duke 125, which we mentioned earlier. It handles well and has as much angry grunt as dad when you break his curfew.
Its acceleration is smooth and manageable so you won't fly off the back if you give it beans at traffic lights.
Is it for me? This machine is aimed specifically at young, first-time riders so fill yer boots. If you're a 30-something commuter, move on, there is nothing to see here.
Weight: 154.2kg
Power: 15 bhp
Price: £3,199
---
SCRAMBLER
---
LEXMOTO Tempest 125 (LJ125-9A)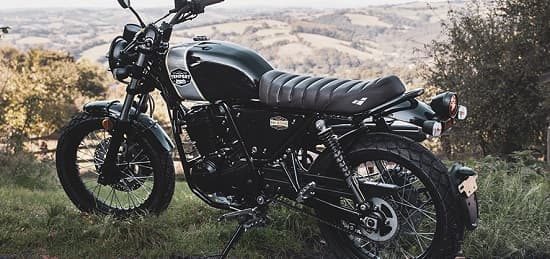 Appeal: Classic retro scrambler proudly displaying chunky octagon-shaped off-road tread on the tyres as if to remind us of its muddy heritage.
The cool bits: This bike is simply too cool for school. The stretched seat, fuel tank paint job and stainless steel exhaust slung up high above the drive chain combined with 17-inch wire-spoke wheels make this machine a show stopper. Ride this baby slowly and enjoy the green-eyed stares from passers-by.
Is it for me? Would turn heads for sure pulling up outside a Shoreditch bakery to pick up a loaf of sourdough. If you don't know what sourdough is and have never heard of Shoreditch, this bike probably isn't for you.
Weight: 126kg
Power: 9.4 bhp
Price: £1,799
---
RETRO
---
HONDA Monkey 125
Appeal: The Monkey is fun with a capital F. This is Honda's 'Marmite' machine. Many love it. Others wouldn't touch it with a dirty biking glove. Boasting a cult following and based on a contraption first created as a run-around at a Japanese amusement park in the 60s, there is much to enjoy.
The cool bits: The little 12-inch wheels give the feel of riding your little brother's trike around the garden – only with a shedload more power.
The pleated seat, piping and old skool Honda branding, including traditional 3D wings logo all yell for attention. LCD instruments and LED lighting also feature, giving a 50-year-old concept a modern twist.
Is it for me? Anyone can enjoy a Monkey. This bike doesn't discriminate. You can nip in and out of stationary traffic or cruise calmly back home along the dual carriageway. Weekend jollies aren't out of the question either.
Weight: 107kg
Power: 9.25 bhp
Price: £3,699
Further Reading
---
Image credits:
Honda motorcycles
Suzuki motorcycles
KTM motorcycles
Yamaha motorcycles
Aprilia
Kawasaki motorcyles
Lexmoto motorcycles