Second only to a crash helmet, motorcycling boots are one of the most essential pieces of riding equipment you can buy.
Like with everything motorcycle, there is a mountain of choice available, and prices vary wildly.
We will be reviewing some of the best cheap motorbike boots on the market and will also look at some higher-specced boots that offer greater protection.
As always, on Begin, we will look at boots that offer decent value at a reasonable price.
Remember, though, cheap doesn't always equal value, so if you can push the budget, it may be worth paying a bit more for a boot that offers better all-around quality and will last longer.
Best For Price
Richa Zenith
Simple, strong, effective
The Richa Zenith boots offer a great compromise between quality and price.
Upgrade Pick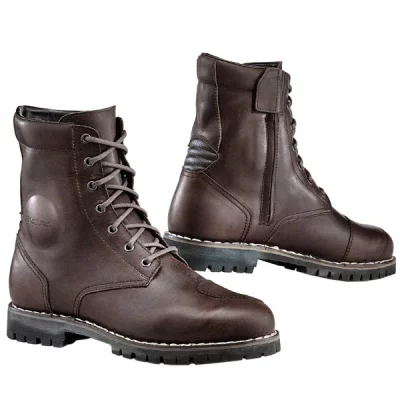 TCX Hero Waterproof Boots
Simply stunning boots that can be worn on and off the bike. Protection, waterproofing and style combined in the best casual boot on the market.
Motorcycle Boot Reviews
Let's get into our favourite boots.
---
Richa Zenith Motorcycle Boots
When you buy a pair of Richa Zenith boots, you get a lot of boot for your money. The padding and protection on these full-height boots are obvious and plentiful.
They are not full leather but a combination of leather and textile with tough rubber soles.
Check Prices on SportsBikeShop
Pros
Waterproof membrane
Zip & Velcro fastenings for easier access.
Stretch area for comfort and absorption
Good all-round protection, including shin area
Cons
Still a budget boot and may not last as long as high-end brands
Just for riding. Not an ideal boot for walking around unless you're nursing a foot injury!
---
TCX Hero Waterproof Boots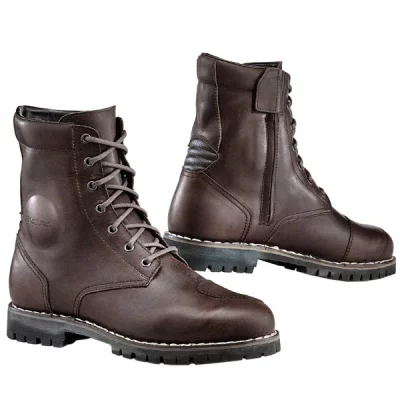 A classic and stylish-looking waterproof riding boot for on and off the bike. This fashionable footwear will be of particular interest to riders who do not wish to carry spare walking shoes.
They are deceivingly well-made to incorporate all the essential protective components while still retaining the look of a stylish boot.
Check Prices on SportsBikeShop
Pros
Full-grain vintage leather – they look good!
Waterproof lining
Reinforced toe and heel counter
Closed, waterproof lacing system
Wear-resistant rubber sole with a classic look
Cons
Expensive due to quality materials and moulding process
---
Richa Slick Men's Motorcycle Boots
RICHA Waterproof Slick Paddock boots are multi-layered and have the appearance of a rugged mountain walking boot.
With a padded ankle area and thick sole, the boots are secured by laces and a Velcro strap for maximum flexibility.
Check Prices on SportsBikeShop
Pros
Waterproof and breathable membrane lining
Oil and petrol-resistant VR sole with mixed tread pattern to give an excellent grip
Anti-crush steel shank
Reinforced gear shift pads
Good touring boot and nice-looking too
Good for walking in
Cons
Short boot and won't offer shin protection
May require extra socks in winter months
---
Alpinestars Web Goretex Motorcycle Boots
The Alpinestars Web Goretex Motorcycle Boots may not be the most stylish-looking of our five models, but sometimes less is more. No expense has been spared by this high-quality boot manufacturer.
The all-leather boot is designed for maximum comfort during long-distance riding. It is guaranteed to be waterproof, with its Gore-Tex membrane offering improved breathability.
Check Prices on SportsBikeShop
Pros
Contoured for optimised performance over long distances
Reinforced toe box construction for greater riding control
Front and back accordion flex zones for maximum manoeuvrability and riding comfort
Innovative side-entry system with zip and large Velcro closure and water-resistant gusset for secure and precise fit
Structured and reinforced shift pad to protect upper foot
Cons
Expensive. Budget boots may give better value for infrequent use or short journeys
---
RST Tractech Evo
An excellent high touring or race boot offering great overall protection with its CE-approved armour. They are also fully waterproof and breathable.
Check Prices on SportsBikeShop
Pros
Waterproof and breathable membrane
Several stylish colour options
CE approved armour protection
Toe sliders
Easy to use velcro fastener
Heavy-duty zips
Cons
Fairly stiff when new but should wear in
---
Motorbike boots buyers guide
Motorcycle boots may be high, short, waterproof, light, heavy, rigid, flexible, cheap, expensive, fashionable, or chunky like a workman's boot.
The choice can seem overwhelming, but at the end of the day, your boots are there to do only two things:
Protect your feet and ankles if you drop the bike
Protect from the weather and road debris
Let's dive in and look at what you should be thinking about before making your choice. 
Read our full motorcycle boot buyers guide.
Material
Motorcycle boots are mostly made of leather but may have other tough plastic, steel, or Kevlar protective layers or include Gore-Tex lining.
Many boots have externally attached protective components like heel reinforcements or toe-sliders.
Length
Low-profile ankle boots allow a rider more flexibility to move around and are better for walking.
I prefer very tough high boots for maximum protection, and if I need to go walking, I'll simply store a pair of shoes or trainers in my panniers.
High boots protect the shin and shield the rider from the bike's heat.
Fastenings
Lace-up fasteners generally suggest a softer boot front and allow for greater airflow.
Lace-up boots can also be supported by zips and Velcro to help when putting them on and removing them.
Snap-buckle fasteners are more common with the high off-road boots typically worn in motocross.
Sole and structure
The harder and chunkier the sole, the more protection a rider gets.
The price to pay is less control when operating the gear shift and the rear brake pedal. But how much dexterity do you need?
They're not tricky little buttons or switches.
My own boot soles are very thick and pose no problems with operating these controls.
Manufacturing a motorcycle boot is long and methodical as the multiple layers are added and assembled. Usually, the process combines precision stitching and highly advanced gluing treatments.
This ensures that none of the protective components are displaced in an impact.
Waterproofing
Nearly all motorcycle boots are water-resistant, but water ingress may occur sooner or later unless they are specifically designed and sold as fully waterproof.
Long-distance riding in heavy rain is not only uncomfortable with wet feet but may result in foot movement and some control loss.
Ankle and soft leather boots afford very little resistance from the rain unless they have a waterproof lining. Even high-length, fully enclosed boots may allow some water in.
The only way to guarantee dry feet during prolonged riding in wet weather is to buy a pair of specifically designed waterproof boots.
Casual boots with laces can still be specified waterproof but may lack overall protection compared to thicker styles.
The Gold Standard of waterproof boots is the Gore-Tex design, allowing for dry feet and breathability. We will look at examples of these in our product reviews.
Protection
Like the hands and wrists, feet and ankles are a concentration of small and fragile bones.
They must have some protection, and even the most basic design of motorcycle boot is better than shoes or trainers.
When choosing a boot, pay particular attention to protection around the vulnerable areas such as toes, heel, ankle, and bridge.
Steel toe caps are very tough, but if your foot bends at a steep enough angle during an impact, they do have the potential to inflict damage (though rare). Perhaps a tough plastic is a better alternative. The toes are first in line for an impact, so protection in this frontal position is vital to prevent crushing.
The shin is not a complex area, but this front-facing bone is also in the firing line. It benefits greatly from a full high-boot with additional shin padding.
The ankle bone juts out and is most likely to be scraped along the ground during an accident. Find a boot incorporating ankle protection on both sides of your feet.
The heel contains major tendons and small bones. Injury to the heel will likely require complex surgery and a long recovery. Protection can involve in-built padding or externally placed shock-absorbing heel mounts.
Toe sliders are typically found on the outside edge of the boot. They protect scuffing to the leather but also act as additional toe protection. Often they are removable and replaceable due to their regular exposure and contact with abrasive road surfaces.
Kevlar is five times tougher than steel and is a popular material in motorcycle protective components, along with tough plastic and thick leather.
Aside from an impact injury, riders run the risk of twisting their ankles. Strong support minimises the risk of rotating bones during an accident; the higher the boot, the greater the shin protection.
Good solid protection from the top of a boot to the bottom gives the rigidity of a ski-boot reducing movement of the leg as a whole.
Comfort and style
Quite simply… try them on, but use different types of socks and play around with the buckles and Velcro straps to gauge the level of play and movement.
Tight boots restrict blood flow, and you'll get cramping or numbness, distracting your riding and concentration.
Loose boots may lead to loss of control. You might slip from the pegs.
All boots, whether short or high, casual or thick, will come in many different styles and comfort levels.
You can pay hundreds of pounds for a pair of boots or opt for something cheaper. See our product reviews below for some great examples.
Weather
The kind of weather you'll be riding in will be a major consideration for your boot choice. A rider needs to think about the impact of rain, ice, snow, mud, freezing wind, and the summer heat.
While protection should be uppermost, devote some attention to your normal riding conditions. Think about how long you'll be on the bike during a typical journey or commute.
Riders may feel tempted to choose an easier boot for walking around in.
If so, ask yourself if it's wise to compromise weather and impact protection for convenience.
Conclusion
Boot manufacturers are addressing many issues beyond just style and protection.
The matter of hygiene has also been featured in many of our reviews, along with attention to donning and removing boots.
Protection can be a trade-off. You may not always opt for the maximum protection possible but what is essential is to establish a safe minimum for the riding you do.
Safe and happy riding to all.
Related
You might also be interested in these articles: