All riders have a preference for the type of motorcycle helmet they like to ride with.
For me, I only ride with a full-face helmet, largely due to their protective abilities over the likes of an open-face helmet.
However, there are so many options on the market it can be tricky to narrow things down even when you have settled on a full-face lid.
So, I have pulled the best options available on the market together in one list to help you find the right full-face helmet for you. 
Let's get to it.
Here are our 11 best full-face motorcycle helmets.
Premium Pick
Arai Quantic
ECE 22.06 certified, Lightweight, Exceptional Quality
Premium quality full-face helmet that prioritises safety without sacrificing useful road features.
Best Value
HJC C70
Excellent Value, Feature Rich, 5 Star SHARP Rating
A great value helmet offering features usually reserved for more expensive helmets while carrying the highest SHARP rating.
Arai Quantic
The Arai Quantic is the latest helmet from Arai and is their first to meet ECE 22.06 regulations.
Check Prices on SportsBikeShop
It is a multi-composite shell and is Arai's lightest weight construction to date while it maintains the strength needed for exceptional protective abilities.
The Quantic comes standard with a Pinlock visor and a MaxVision visor for excellent visibility.
Arai has implemented a complex ventilation system with 6 intake and 6 exhaust vents in various places that can easily be controlled to suit each rider's preference.
Speaker pockets are built-in, and the shell has been designed so that communication systems can be easily affixed.
Comfort is second only to safety on Arai's priority list, from the plush inner liner, FCS (Facial Contour System), and custom fit options with 5mm peel-away internal layers.
Pros:
ECE 22.06 approved
VAS MaxVision Visor and Pinlock
PB e-cLc (Peripherally Belted e-Complex Laminate Construction)
Speaker pockets
Custom fit
Cons:
Not yet SHARP rated
No internal sun visor
---
HJC C70
HJC has produced an advanced polycarbonate shell and stuffed it with premium features making them accessible for all riders.
Check Prices on SportsBikeShop
Despite its low price point, there does not seem to be too much compromise on quality.
The internal sun visor is as good as any on more expensive helmets, and the speaker pockets allow for a communication system to comfortably slip in.
Inclusive on a Pinlock, the wide eye port not only offers great visibility but will stay mist free too.
HJC are great at producing helmets that fit many head shapes, which is unusual; the C70 is comfortable, well-ventilated and rated 5 stars by SHARP.
Pros:
Exceptional value
5 star SHARP rated
Advanced polycarbonate construction
Internal sun visor
Speaker pockets for communication systems
Great visibility and Pinlock included
Cons:
---
Shark Race R Pro
The Race R Pro is a race-derived helmet constructed from a multi-composite shell with carbon fibre.
Check Prices on SportsBikeShop
Thanks to its lightweight properties and aerodynamic design, it is one for the sportsbike riders among us, perfected through studying racers in MotoGP and WSBK.
Protection at high speeds dictates everything about the helmet, so there are no fancy features like speaker pockets to get excited about.
This is the helmet you want for its 5-star SHARP rating to keep you safe when you are hunched over your S1000RR, with your elbows tucked in, testing your limits chasing the red line.
Pros:
5 star SHARP rated
Multi-composite, carbon fibre construction
Race oriented design
Cons:
No extra features like a sun visor, speakers, Pinlock etc.
---
Shoei NXR/NXR 2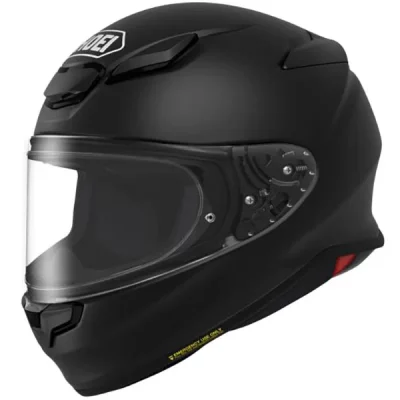 The Shoei NXR is a brilliant everyday helmet held to very high Shoei standards.
Check Prices on SportsBikeShop
It is one of their more accessible helmets in terms of price, making it very popular.
The NXR by Shoei is rated 4 stars by SHARP; it is lightweight, aerodynamic, and has a great ventilation system in place.
It features removable ear pads that help reduce ambient noise and comes with a Pinlock visor.
Shoei makes the NXR in 4 shell sizes, so whether you are an XS or XXL, the helmet is tailored to your head size for the best fit possible.
There is also an NXR 2 on the market, which is ECE 22.06 approved, so this may be worth a look.
Pros:
Lightweight
Quality materials used for the outer and inner construction
4-star SHARP rating
4 Shell sizes
Pinlock included
Cons:
---
Shark S900 Dual Special Edition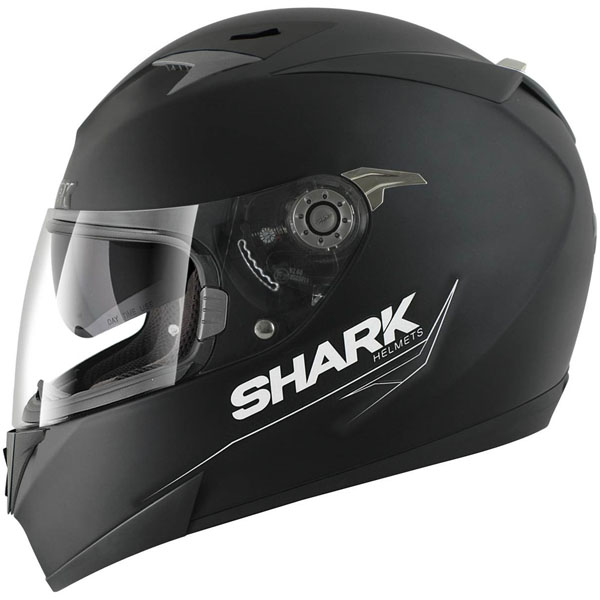 The S900 is a helmet offering excellent value for money and has a 4-star SHARP rating.
Check Prices on SportsBikeShop
It includes an internal sun visor with an easy mechanism, although it doesn't come as far down as some other helmets, so if you are a sports rider hunched over, this may not suit you.
Speaker pockets are cut out ready for a comms kit, Pinlock is included, and the ventilation system is race-derived to ensure excellent airflow.
An anti-turbulence system is fitted with a rear spoiler. Aerodynamics are great to keep wind buffeting to a minimum regardless of speed.
Pros:
Great value
Pinlock Included
Extensive Shark crash testing developed the design
Racing style ventilation system
Speaker pockets
Cons:
Internal sun visor is a little small
Noisy
---
Nolan N87 N-Com
The N87 is one of Nolan's best-selling helmets for good reason.
Check Prices on SportsBikeShop
It is a polycarbonate constructed helmet that keeps it at the lower end of the price range, but it remains lightweight and is rated 4 stars by SHARP.
Along with an ultrawide visor, Pinlock, and internal sun visor, a cool feature of the N87 is that it has side grooves for those who wear glasses to make things more comfortable.
I don't think there is anything quite as irritating as the pain caused by glasses inside a helmet, so this is a well thought out feature that I love.
Nolan has recently released the N80, which has passed ECE 22.06 regulations, so this may be worth checking out if you want a helmet that has been tested to the latest standards.
Pros:
4 star SHARP rated
Lightweight polycarbonate construction
Internal sun visor and Pinlock
Grooves for glasses
N-Com ready
Ready for Nolan's ESS (Emergency Stop Signal)
Cons:
Ratchet strap mechanism as opposed to Double D rings
---
AGV K5-S
AGV is known for their race replica helmets with Guy Martin and Rossi firm fan favourites from the lineup.
Check Prices on SportsBikeShop
The K5-S is a 4 star SHARP rated carbon/fibreglass composite helmet, built with a racer look but paired with useful road features.
An ultrawide visor allows for perfect visibility, Pinlock is included to keep you mist free, and the K5-S has a built-in sun visor.
It has been tested in a wind tunnel to improve its aerodynamic capabilities; wind buffeting should be minimal but ventilation optimal.
Unusual for a race-focused helmet, the K5-S is ready for AGVs comms system.
It is a great mid-range helmet that offers a lot of bang for the buck.
Be warned that AGV is notorious for its helmets being somewhat egg-shaped, meaning wide at the back and narrow at the front, so the shape may not suit everyone.
Pros:
Multi-composite, carbon fibre construction
Race derived technology
4-star SHARP rating
Packed with useful road features
Cons:
Not universally well-fitting
---
Simpson Venom
The Simpson Venom has bags of style, making it a winner.
Check Prices on SportsBikeShop
A strong Street Fighter vibe that doesn't sacrifice safety for its design comes with a 4-star SHARP rating and is pretty lightweight with a multi-composite construction.
Visibility out of the eye-port is second to none, and Pinlock is included; the ventilation system is great, provided you are riding in warm weather.
The vents are large, so riding in cooler weather can mean your face gets a little icy; it is also a noisy lid.
The noise doesn't matter so much around town, but it can be draining on longer trips.
Pros:
4 star SHARP rated
MaxVision visor
3 Shell sizes
Tri-Composite construction, carbon, aramid and fibreglass
Internal sun visor
Maximum visibility through the visor
Cons:
---
Scorpion Exo-1400
Scorpion as a brand tends to split the public, with some considering them a budget brand and others rating them very highly.
Check Prices on SportsBikeShop
The EXO-1400 blows the concept of what a budget helmet means out of the water.
One of the coolest designs I have ever seen comes from Scorpions 'inflatable' cheek pads.
Essentially you can pump the cheek pads up a little bit to ensure the helmet fits you perfectly with every ride; it also makes the helmet very comfortable.
The Thermodynamical Composite Technology is forging a new path in helmet design.
Keeping the overall weight super low while offering a shell that crumples on impact absorbing the energy away from the rider's head.
It is a system Scorpion has employed, not dis-similar to shell structures that Arai and Shoei use on their much more expensive helmets.
Pros:
Excellent value for a carbon fibre helmet
Internal Sun Visor
Pinlock included
Air adjustable cheek pads
Comfortable
Cons:
---
Bell Qualifier DLX
The Bell Qualifier DLX is a fairly priced polycarbonate helmet that comes standard with Bell's transition visor.
Check Prices on SportsBikeShop
The transition visor essentially changes its tint to adapt to the sunlight; when it is bright, the visor goes dark; when the sun disappears, the visor clears.
The Qualifier DLX accommodates Bell's Sena communication unit, with speaker cut-outs.
It is a lightweight helmet with a fog-free visor system and contoured cheek pads; it would make a good everyday lid.
Pros:
Bell Transition visor included
Accommodates Sena comms
Lightweight
Comfortable Interior
Cons:
---
MT Revenge
The MT Revenge is a perfect helmet for riders with a smaller budget, occasional pillions or those that need a spare helmet.
Check Prices on SportsBikeShop
It isn't packed with features, but you wouldn't expect it to be for the price.
It is, however, 5-star SHARP rated and does have a Pinlock ready visor.
The MT Revenge is the definition of "It does what it says on the tin", it is a no-frills motorcycle helmet rated highly by SHARP for its protective abilities.
Pros:
5 star SHARP rated
Pinlock ready
Inexpensive
Cons:
Heavier than any other helmet on the list
Very basic
---
Buyers Guide
Care, Considerations and Cost
---
When it comes to buying a full face helmet, there are a few things to think about. 
Your budget will dictate what is in range or not; the priority needs to be buying a helmet that fits you well and will protect you in the event of an accident.
After that, you can think about add-on features and the style you want to go for, which is the fun stuff, after all.
Here are my top tips for buying a full face motorcycle helmet:
Safety
Before anything else, your focus should be on buying a protective motorcycle helmet.
You can do some quick checks to ensure that the helmet you are looking at has been tested to a reasonable standard.
ECE Regulations
All motorcycle helmets need to be ECE certified to be legally available for sale in the UK.
In 1972 the first set of regulations came into effect, governing the standards helmets have to meet to be eligible for sale.
All ECE certified helmets will have the certification stitched onto the chin strap.
The current standards are ECE 22.05 but are transitioning to ECE 22.06, the new tougher standards.
You will see both ECE 22.05 and 22.06 on helmets for a while, until January 2024, when all helmets will need to meet ECE 22.06 standards.
SHARP Ratings
Supplementing ECE regulations, the Department of Transport set up the SHARP initiative.
SHARP independently tests helmets mimicking real-life road situations and rates them on a 5-star scale based on how well they hold up under these testing procedures.
With safety being your number one priority, going for a helmet with a 4 or 5-star SHARP rating will at least give you peace of mind knowing that it has been independently tested for its protective abilities and came out highly rated.
Fit
Regardless of budget, safety ratings etc., the safest helmet you can buy is the one that fits you best.
So, be sure to check that it sits low on your forehead, your cheeks are pushed up nice and firm, and the helmet cradles your head all the way around.
Check for gaps and pressure points; make sure it is neither too tight or too loose and a comfortable fit.
It cannot be overstated just how important it is to buy a properly fitting motorcycle helmet, which leads me into your budget for a helmet.
If a cheaper helmet fits better than a more expensive one, always go for that one.
Budget
Of course, when it comes to budget, everybody will be different.
I used to say to customers when buying their kit that they need to allocate the majority of their budget to their helmet, as it is the most important part of their riding gear.
Margins are so fine between helmets that the difference between £80 or £100 can make all the difference in buying an okay helmet versus a great one; this isn't the case with something like a jacket.
While a budget helmet can be rated 5 stars by SHARP the same as a £500 one, there will be differences in the helmet's construction, materials used, weight and features.
These should be taken into consideration along with the rating.
Features
In the last few years, particularly with full-face helmets, there have been huge advancements in technology, to the point that a helmet is so much more than just a necessity to keep you safe.
Internal sun visors are fantastic on sunny days, and Pinlock visors are the best thing since sliced bread; in my opinion, the days of riding misted up are a thing of the past.
Built-in Bluetooth comms kits or, at the very least built-in speaker pockets are very common, and ventilation channels that are adaptable to all weather conditions for the rider are exceptional. 
So when you are looking at helmets, be sure to check out what extras they have to offer and if any of these things will make your riding experience even better.
Conclusion
That's it, our comprehensive list of the best 11 full-face helmets currently on the market. 
For me, the new Arai Quantic wins by a mile, mainly thanks to its advanced construction and the fact it is ECE 22.06 certified.
However, having owned an HJC IS-17 and it being one of my most comfortable helmets, I wouldn't hesitate to buy its replacement in the form of the C70; HJC just continues to produce excellent value helmets. 
Related
If you are interested in a different style of helmet then check our general guide to the best motorcycle helmets.