Most of us have been there.
Miles from home, muscles cramping from the cold, concentration waning and wishing we'd packed better.
In the coldest conditions, a heated jacket or jacket liner can keep you warmer, better focused and safer.
All jackets liners on today's list come with the necessary cables for easy connection to your motorcycle's battery and can daisy chain to other heated clothing. Some have an optional battery pack (sold separately).
Our Top Pick
Gerbing MicroWire Pro
Durable, Packable Quality
Durable, water-resistant, highly compressible and comes with a lifetime warranty.
If you're touring or riding in unpredictable conditions, this liner really can't be beaten for value. A great all-rounder.
Best Heated Motorcycle Jackets and Liners Reviewed
Here are our top picks.
---
Gerbing MicroWire Pro Heated Jacket Liner
Gerbing's MicroWire Pro is a premium, stylish, packable design – cut to fit snugly under an outer jacket. It has a minimalist, utilitarian look but is very feature-complete.
The durability and build quality of Gerbing are well known, and they offer a lifetime warranty on all heated elements.
Check Prices on SportsBikeShop
Heated panels are in the chest, back, collar and sleeves and the jacket contain over 30 metres of heated wire for even, near-instant heat.
A complaint we've heard about this liner is that the elasticated cuffs can be a little thick when worn with an outer jacket and gloves. If you have a particularly bulky set of gloves, or your outer jacket is already a snug fit – you might need to look elsewhere.
Feedback suggests that the sizing is just right if worn over a single base layer. Anyone looking to wear multiple layers underneath should consider going up a size.
I tried a medium (I'm 5'10' and 65kgs) in a high street store, and it was very comfortable under a long-sleeved t-shirt.
Again, the fact that this can be packed safely into a side case or backpack makes it a great choice for touring or unpredictable, longer trips.
The option of a battery pack (sold separately) allows this one to serve various functions off the bike.
If I could afford it, this would be my jacket liner. Sadly, I'll have to stick to my heated vest for another season.
Pros
Built to last and looks great
Can be packed
---
Keis J501 Premium Heated Jacket
The Keis J501 is designed to be worn as a heated inside layer or casual outer jacket in dry conditions.
Its breathable, soft shell construction includes elasticated side panels for an optimum fit.
Check Prices on SportsBikeShop
Feedback on this and other elasticated Keis gear suggest going down a size. This is especially true if you're after a snug fit to wear as a mid-layer under your existing jacket.
Most people wear it over a single base layer with an outer jacket on top.
Unlike most of the kit in this list, the J501 includes a heat controller in the base price. This makes it an ideal choice for anyone expecting to ride in a range of different temperatures.
One downside; a rechargeable battery pack can't power it, so it's strictly for riding – no golfing or hiking in this one.
Pros
Includes free heat controller for variable heat
Quick heating micro carbon fibre heating element
Cons
Can't be powered by Li Ion battery packs – must be connected to motorcycle battery
---
Buyer's Guide
What to consider before parting with your hard-earned.
NOTE
Unless otherwise stated by the manufacturer, your heated clothing comes without a dedicated controller unit.Without a controller, your heated vest/jacket will typically just have two settings – on and off.
Some riders find the default setting on too hot for most weather.
If you're riding through a variety of conditions, or interested in squeezing the most out of a battery pack – a controller unit can be a great addition.
Check out these options:
We've also written more about motorcycle heated clothing controllers here.
Safety
One of the primary concerns people have when using electrically heated gear in wet conditions is safety.
Heated clothing is insulated, fused and rigorously tested for safety. It's designed not to overheat, and all electrical components are protected by a waterproof membrane – making it safe to use in wet conditions.
Some of the gear in our list has a water-repellant finish. This can be great if you get caught in a shower on a supermarket run but is no substitute for your waterproof, windproof outer jacket.
Power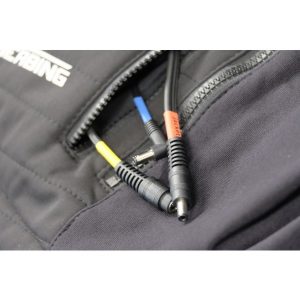 Typically, heated jackets have a power draw of about 7A.
Your motorcycle battery should have about 28A available. Operating your bike (ignition, lights, indicators etc.) requires about 12A.
Conservatively, that leaves you with 12A + to power your accessories.
Given that your jacket is the single largest draw, there should be plenty left over to power your heated gloves, insoles, and motorcycle sat nav.
All jacket liners are fitted to run directly from your motorcycle battery and come with a standard motorcycle loom connection.
The battery pack option is only useful if you plan and jumping off your motorcycle to take in the sights and want to switch over to portable heating. If your other interests are golf or hiking, you might want to consider a jacket liner with the option of battery power.
Maintenance
The manufacturer's guidelines will state whether your liner is machine washable or not.
Some people (myself included) prefer to hand wash their heated gear no matter the instructions. Machine washing tends to reduce the life of regular clothing – and this stuff is expensive.
If the product is listed as hand-wash only – use laundry detergent, warm water and a basin. Hang to drip dry.
When storing your jacket liner, hang it out of direct sunlight and any sources of localised heat.
If you store your liner with the battery connected, leave it with a half charge, as tests have shown that batteries stored fully depleted or fully charged deteriorate faster.
Conclusion
If you have the money and want the option of portable heat off your bike – the MicroWire Pro is a well-made and great-looking piece of gear.
Further Reading
For more on heated clothing