Motorcycle airbag jackets and vests are a relatively new technology for road bikes, so join us as we dig into this leading-edge safety gear.
There are two triggering systems used in these jackets; tethered and non-tethered.
We go into more detail below the reviews, but essentially a tethered airbag requires it to be physically connected to the motorcycle, whilst a non-tethered system uses wireless technology to trigger inflation.
Reviews
Let's have a look at some of the various products available:
---
Helite Touring Air Inflatable Textile Jacket – Tethered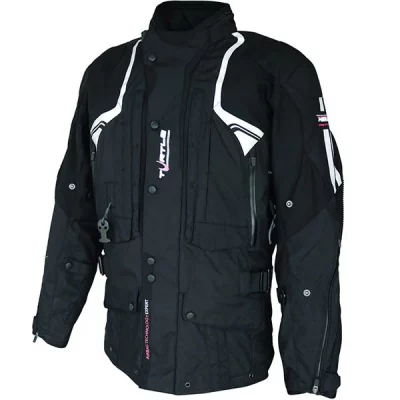 This textile jacket from Helite is an excellent piece of motorcycle clothing – even before considering the airbags.
Check Prices on SportsBikeShop
It uses 600D Cordura fabric with reinforced 1000D sections on the elbows and shoulders and features a waterproof, breathable membrane layer.
A removable thermal liner with comfort mesh means year-round use.
The airbag features are also top-notch. The head, neck, and spine are stabilized, preventing hyperextension, and your internal organs are better protected from impact.
While this is a tethered solution, it uses a multi-directional triggering system. This means the vest inflates in every situation, including when the rider is struck from behind.
This is a quality jacket with the added bonus of integrated airbags. It stands on its own as year-round technical riding gear – waterproof, windproof, durable and warm.
Pros:
Great all-round jacket
Multi-directional triggering system
Waterproof, windproof, and with a removable thermal liner
Cons:
Arguably less effective than smart/electronic solutions
---
Helite Airnest HV Inflatable Airvest – Tethered
This hi-vis vest is designed to be worn over your jacket.
It fastens in the front and uses 3D air mesh panels for comfort and airflow.
Check Prices on SportsBikeShop
As a tethered solution, this jacket inflates when the lanyard is pulled on by a force greater than 25kg (approx). And it does this quickly, taking less than 0.1 seconds.
In an accident, the inflated panels offer excellent protection to the back, neck, coccyx, ribs, and chest.
The vest also features an integrated Knox back protector and an external pocket for storing essentials.
This is a great product from Helite and comes with a good reputation.
One unexpected bonus – people may mistake you for a police officer because of the hi-vis and get out of your way. Pair this jacket with a white bike, and you'll own the road.
Jokes aside, this is an excellent tethered vest that you'll barely notice you're wearing (unless you look at its bright colour).
Pros:
Hi-vis for added safety
Good protection
Integrated back protector
Cons:
---
Ixon IX Airbag UO3 – Non-Tethered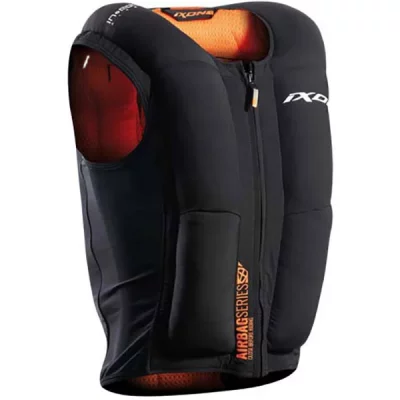 This smart airbag vest from Ixon is designed to be worn under your jacket. And at only 1.3kg, it's comfortable and barely noticeable.
Check Prices on SportsBikeShop
It uses stretch fabric for an ergonomic fit and to help it stay in place in the event of an accident. A 3D mesh and breathable fabric also help with fit and comfort.
As a smart solution, this doesn't require any lanyard or sensors connected to the bike, meaning total freedom of movement.
Rider monitoring occurs 1000 times per second, meaning ultra-fast detection and inflation times (under 60ms).
The intelligent tech behind this is upgradeable via PC and collects data for customized protection.
The drawback here is that a subscription to the In&Motion website is required for the vest to function – a pretty big caveat. This is, however, an excellent, high-tech piece of kit.
This is a good option if you have no qualms about making recurring payments after the initial purchase.
Pros:
Quality protection
Integrated back protection
No connection to your bike
Cons:
Requires a subscription to work
---
Klim Ai-1 Airbag Vest – Non-Tethered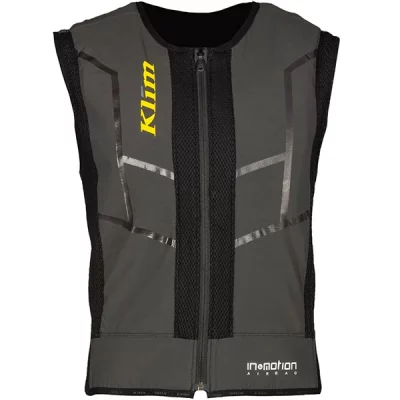 This lightweight smart vest from Klim uses a breathable, stretch textile construction with mesh for a comfortable fit.
It sits under your jacket and features an integrated CE level 1 back protector.
Check Prices on SportsBikeShop
Like the example from Ixon, this vest uses an autonomous, wireless monitoring system without any connection to your bike.
Information on rider position and speed is monitored 1000 times per second. This means lightning-fast deployment in the event of an accident.
One feature we like is the convenient indicator LEDs that tell you battery status before riding.
Its intelligent firmware is upgradable through WiFi or the app, which brings us to the next, less stellar point.
The Klim vest requires a subscription to the In&Motion website to function. This will immediately put some people off.
But if you're willing to pay a subscription fee, this is an excellent piece of kit.
Pros:
Comfortable, lightweight, and slim
LED battery indicators
Cons:
---
Buyer's Guide
---
Motorcycle airbags fulfil the same function as their counterparts in cars. Equestrians first used similar devices. Horse riding doesn't involve the same speeds as motorcycling, but injuries from falling are common. Self-inflating vests seemed to mitigate that risk.
Like most innovations in motorcycle equipment, rider airbags were first tested on the professional racing circuit. And the jury is in – airbags do help protect you in an accident!
There are two kinds of solutions here – tethered and electronic.
Tethered Solutions
Tethered air vests use a lanyard to connect to a point on your bike and function similarly to a kill cord on a wave ski or outboard motor.
But, rather than killing the engine, the lanyard on an air vest pulls a pin that pierces a CO2 canister. This canister then inflates the panels in the vest/jacket in under a second.
Typically, it takes 25-30kg of force to get the needle to perforate. This makes accidental inflation unlikely. However, being hit from the back won't always generate enough pressure to inflate the vest due to the lanyard design.
Pros:
Generally cheaper
Tried and tested over 20+ years
Cons:
Won't always inflate when rear-ended
Non-Tethered Electronic/Sensor/Smart Solutions
Smart airbag vests and jackets use accelerometers, gyroscopes, and other sensors to monitor rider position many times per second.
Any abrupt change in speed or position will trigger the vest/jacket to inflate. This type of solution uses a vast amount of data and a complex algorithm to ensure inflation only occurs in an accident.
Smart vests/jackets also offer protection when hit from behind, as they can sense this motion and don't depend on a lanyard being pulled away from the bike.
Pros:
No lanyard to remember
Effective protection – even from being rear-ended
Cons:
Generally more expensive
The subscription model annoys some people (more info below)
Electronic Subscription
Some solutions require a yearly subscription to get the most from your purchase (or use it all in some cases).
Vests from Klim, for example, require an additional purchase (either a one-time buy or a monthly/yearly subscription) to the company In&Motion to function. The "brain" of the unit won't activate and pair with the smartphone app without doing this.
Your subscription will also mean regular updates to the algorithm and optimal function of your device. Nonetheless, we are not entirely convinced by this.
Locking safety features behind a paywall for a product you've already paid for is hard to stomach. The product should, at a minimum, continue to function without firmware updates.
How They Work
Watch the video below to see how these things deploy in the real world.
Limitations
---
Tethered
It is important to understand that tethered jackets are effective in some accident scenarios but not in others.
Riding into a brick wall (should you feel the need!) will not activate the jacket on time because no distance is created to put tension on the lead and activate the inflating mechanism.
Hitting a car and flying over its roof is much better (can't wait!) because the rider will very quickly become separated from the machine, and the lead will become tight and activate the jacket well before you make an impact.
Now while everybody loves to try out their wonderful new motorcycle accessories such as gloves, GPS devices and heated grips, you'll have to take the airbag manufacturer's word for it that it works.
They probably hope you'll never use it at all. Some come with a limited guarantee, although in the event of failure, it's unlikely you'll be around to get your money back! Ok, you get the idea.
Non-Tethered
Non-tethered motorcycle airbags do not have the above limitations as they use sensors to detect rider position and can deploy instantly when they sense and impact from any direction.
What's protected?
---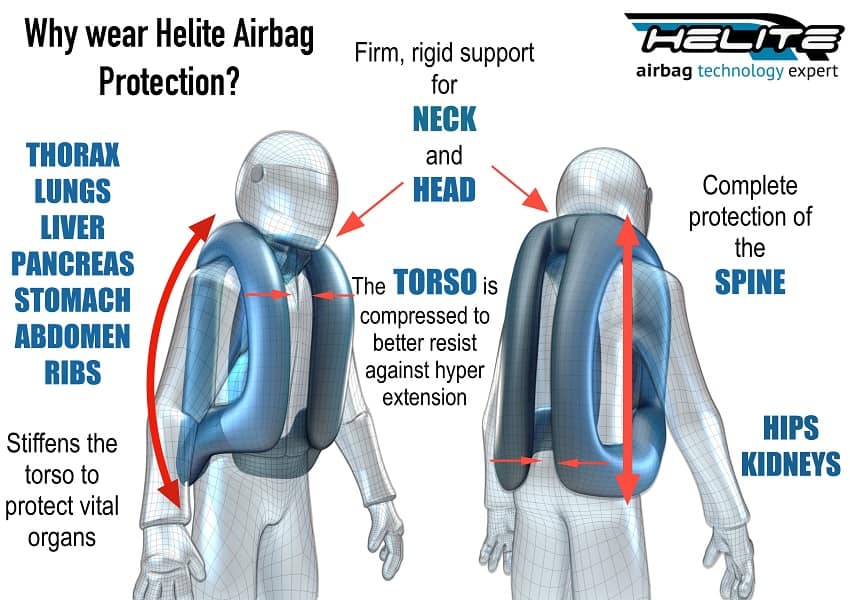 ---
The motorcycle airbag doesn't give all-around protection because it can't. Resembling a life-jacket or scuba diver's buoyancy control device, it only covers the chest and back areas.
Your other protective clothing should cover the rest of your body, such as the helmet protecting the head and shoulder, gloves, elbow and knee pads doing their job elsewhere.
The good news is that once fully inflated, preferably before impact, the rear coverage extends right up to the back of the helmet, acting as a temporary neck brace.
There is plenty of cushioning down the back below the pelvis area, and the chest is completely covered.
Legs and arms are still vulnerable, but the vital organs of the torso are protected.
How to wear it
Riders may choose to wear an airbag device under or over their regular riding jackets if the inflation isn't restricted. That would be unlikely given the temporary pressure of 1.35kg per square centimetre it exerts when deployed.
They're also less likely to be punctured or damaged during an accident if worn under an existing jacket, but you'll probably have other things to worry about!
A rider also has the option of doubling up. Choose an airbag device with a bright fluorescent colour, and you also have a high-viz safety jacket.
Another option is the integrated jacket – a standard motorcycle jacket with a built-in inflatable airbag device.
FAQ
---
Can I reuse a motorcycle airbag?
Yes, provided it hasn't been punctured or damaged, it's reusable.
Simply buy a new CO2 cartridge and replace it; you'll be ready and equipped for your next fall!
Can airbag vests fire accidentally?
Accidental deployment is unlikely given the tension of around 30kg required to activate the inflation mechanism.
If you park your bike and walk away forcefully without remembering to disconnect the lead, then the consequences are more likely embarrassing than dangerous.
Are airbags suitable for pillion riders?
Pillion passengers can wear them too by attaching their leads to somewhere solid on the bike. As long as it doesn't restrict either individual while on the road or become caught in any moving parts, it will deploy as described.
Conclusion
The airbags, when bought separately, may appear expensive compared to a regular jacket with a similar price tag.
However, an integrated model avoids duplication and absorbs much of the cost.
A rider has to decide whether protecting these vital areas can be achieved by hard armour at a lesser cost or if the airbag option is worth the extra expense.
Just don't forget to connect the cord!
---
Recommended Reading: Motorcycle Gear Hub
---
Image Credits: Featured Image Credit – helitemoto.com