It's dark, it's raining, and you've just left the office.
You remove the cover from your bike ahead of the long journey home. In goes the ignition key, and then as you turn it, you hear the dreaded whirring, clicking sound of a near-dead battery.
You take out your jump leads, but there's no one around.
Push starts, bump starts, downhill starts… you've tried them all before, and they just don't work. Modern bikes with fuel pumps and electronic ignition systems need more oomph to get them going.
Out comes the battery, into your backpack, and on goes the cover again until you return by taxi the next morning.
Owning and using a charger can help you prevent these problems but do you know what's available?
Modern devices are not just for charging but incorporate management and care systems to prolong battery life and optimise performance.
Our Top Pick
TecMate OptiMate 3 Battery Optimiser
Quality and Reliability
A high-quality, high-spec charger. The simple to fit fixed lead makes it extremely convenient to use.
It will breathe life into any battery, no matter how flat.
Top Motorcycle Battery Charger Reviews
Let's have a look at our top five models:
---
TecMate OptiMate 3 Battery Optimiser (SAE)
The Belgian-made TecMate charger has two connecting options; a traditional clip-on method with crocodile clips and leads and the permanently installed lead for quick and easy charging access.
Check Prices on SportsBikeShop
The device emits a periodic de-sulfating pulse to remove any sulfur deposits around the terminals.
It maintains a 100% charging level by connecting and disconnecting every hour.
Pros
Works with AGM / MF, STD, GEL and spiral cell batteries from 2.5Ah to 50Ah
7-stage fully automatic program control
Charges undamaged batteries from dead
Cons
More expensive but has a higher specification
---
Oxford Oximiser 900
The Oxford Oximiser 900 is a switch mode charger designed to automatically maintain, optimise and prolong the life of any 12-volt motorcycle battery.
Check Prices on SportsBikeShop
It works with all 12V battery types up to 30Ah, including Gel, MF, conventional lead, and refillable batteries.
The management system provides real-time information about the battery's condition.
Even 'dead' batteries as low as 4.1 V can be charged, provided they're not damaged.
Pros
Comes with waterproof fuse holder
Crocodile clips and bike installation cables included
Wall mounting bracket and screws
Low price, good value
Cons
Lightweight device and may be prone to damage if not treated with care
Relatively short cable but easily overcome with extension lead
---
Oxford Solariser Optimiser
The British-made Oxford Solariser Optimiser is designed for top-up charging in remote locations without a main power source.
Check Prices on SportsBikeShop
Not made for charging dead or very low batteries, its use is more to maintain charge and keep your battery operational on those long trips. Its trickle-charge current is between 10mA – 100mA.
You don't need very bright sunshine for it to work; the system charges even in normal daylight conditions.
Pros
LED light shows battery will charge with available light
Operates in extreme temperatures
Weatherproof connectors
Low price, good value
Cons
Only for top-up charging
Requires at least some light to work
---
Oxford Oximiser 3X
The Oximiser 3X is a slightly more chunky design than other charging models and comes with both the permanent cable and crocodile clip connectors.
Check Prices on SportsBikeShop
A soft start charging mode improves the recovery of deeply discharged batteries as low as just 8 volts.
New voltage sensors detect a high current drain and automatically revert to the most appropriate charge rate.
Pros
Wall bracket and screws
Permanent connectors with weatherproof cap
Charges if voltage drops below set limits
Hourly checks assess voltage loss
Cons
More expensive than some models
---
TecMate OptiMate 3 Twin Battery Optimiser
The twin battery optimiser diagnoses, recovers, charges, and maintains two batteries simultaneously.
Check Prices on SportsBikeShop
It is ideal for owners of two motorcycles or those who just wish to charge a main and spare battery together.
The OptiMate 3 x2 is suited to 12V starter batteries from 2.5 to 50 Amp-hours capacity and comes with permanent and crocodile clip connectors. Wall or ceiling mounting is also available.
Pros
For AGM / MF, STD, GEL and spiral cell batteries from 3Ah to 50Ah
7-stage fully automatic programme control
Running cost of less than one pound per year
Charges two batteries together
Cons
More expensive than single battery chargers
---
Types of chargers
Traditionally a rider would hook up a dead battery to a big lumpy charging device with a couple of small jump lead connectors and leave it running for a few hours.
Now devices are small and allow permanently installed leads to run from the battery to a point on the bike where it's easy to connect a power supply. Under the seat or somewhere relatively protected from dirt and rain is ideal.
Some modern chargers are portable and can be transported and used in different locations.
Dual battery chargers are also available and included in our list of reviews.
It is essential to check the manufacturer guidelines when purchasing to ensure that the new charger is suitable for your bike's battery.
See here for more information on motorcycle battery types.
Installation and charging methods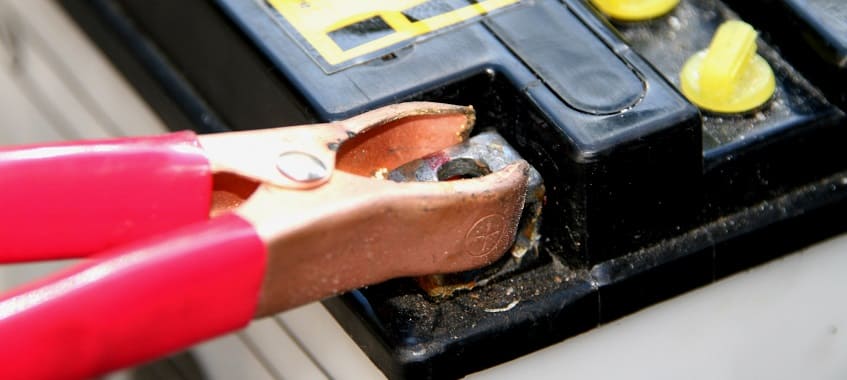 The charging device can be left overnight, with near labour-free removal after use.
Overcharging is avoided on modern units, which monitor the charging levels and adjust when full. This 'charge and check' management cycle can double the life of your battery.
Some devices have a recovery mode for deeply discharged batteries by initiating a 20v charge with a low fixed current. This can cause any sulfur deposits to drop away from the terminal heads.
Charging options are widened with modern optimisers, many of which allow the installation of permanent cables onto which you can quickly insert a power cord.
This avoids accessing the battery directly and playing with crocodile clips and terminal screws. Units can now be wall-mounted or cable-tied to a beam in your garage.
Some riders carry a portable, remote power pack in case they get caught short away from home. These can be connected to optimisers for a quick charge and could make the difference in getting home or not.
Depending on your bike's luggage storage capacity, you might even consider carrying a fully-charged spare battery as a backup, although some may find this excessive.
What causes battery problems?
Damaged or poorly maintained batteries will struggle to hold their charge and may need replacing; however, other sources can drain them.
Re-charging only goes so far when you have 'parasitic loads'. Clocks, alarms and stereo devices have memories; each can consume up to .2 amps when left idle.
Lengthy periods of inactivity, such as overwintering your bike, can also leave a battery flat.
Motorcycle batteries do not behave quite like those of a mobile phone. With a smart charging and management device, you can keep your battery permanently topped up without any resulting drop in charge-holding ability.
All things aside, a well-maintained and adequately charged motorcycle battery should give you 3 to 5 years of riding.
Conclusion
As the saying goes, prevention is better than cure; however, you can have both with a modern charging optimiser.
The old methods of charging the guts out of a battery until it expires have been replaced by sensible management and the avoidance of overcharging.
As long as there are no parasitic loads or damage to your battery, its life can be extended beyond what was considered normal.
Safe and happy riding to all.
---
Recommended Reading: