The under £200 category is probably the sweet spot in terms of value vs quality when buying a new motorcycle helmet.
All the big manufacturers are featured and you will find lots of top-line tech which has filtered down from the high-end lids.
Listed below are the best of the mid-range that will keep you protected, and looking the part.
Our Top Pick
AVG K5-S
Premium construction, lightweight and comfortable
Excellent ventilation with a premium feel.
Coming in at just under £200 – you won't do better at this price point.
Budget Pick
HJC IS – MAX 2
Cheap, adjustable and easy to operate
A must-have for beginners on a budget – unbeatable value for money and a smooth flip front mechanism.
Best Motorcycle Helmets For Under £200 Reviewed
Let's look at our top recommendations.
---
AGV K5-S Mono
AGV are a brand associated with Giacomo Agostini and Valentino Rossi – who better to follow in the tracks of?
Check Prices on SportsBikeShop
This helmet is as stable and secure as they come because it has been rigorously tested in wind tunnels to prevent it from wobbling around at high speeds.
With excellent ventilation and sporty characteristics, this lid will keep you feeling cool in more than one way.
Don't let the price tag scare you, adding this lid to your collection for under £200 is nothing short of a bargain – consider it money well spent!
See full AVG K5-S review.
Pros
Super lightweight, at 1350g
Chin curtain to prevent noise
Effective fog shield
Aerodynamic design to reduce wind turbulence
Cons
A stretch for the budget, but ultimately worth the extra couple of quid
Thickly padded chin strap is good for comfort, however it can be a hassle when fastening the D-ring
---
HJC IS-Max 2
Most competitively priced helmet in the range, with a wide choice of style options.
Check Prices on SportsBikeShop
As a new rider, and owner of this helmet myself, I can highly recommend it from personal experience. I didn't know which style to go for, to begin with, but the HJC IS-Max 2 allows me to flip it up if I get too hot, or pull it down when I'm on the motorway. Two thumbs up!
With the addition of a sun visor and closable air vents, you're able to ride in comfort whatever the weather brings.
See full HJC IS-Max 2 review.
Pros
Convenient quick release chin strap
Fully removable Nylex interior
Flip front easy to operate and faff free
Multiple adjustable features such as vents, visors and flip front
Cons
Prone to fogging up in cold temperatures
Sun visor switch is hard to find at top of helmet
---
Shark S900 Dual Special Edition
Topping the bestseller lists every year this thermoplastic resin helmet ticks all the boxes. Outstanding value combined with impressive safety stats makes for lots of happy users.
Check Prices on SportsBikeShop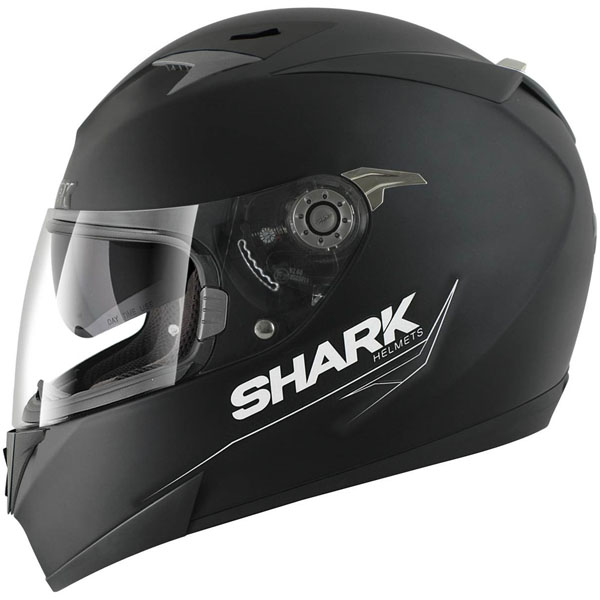 During the standard flat anvil tests run by SHARP, it scored the maximum protection rating for areas on the top and front of the head. It achieved an overall rating of 4 out of 5.
The oval shape of the S900 Dual Special Edition provides extra space in the upper half, making it feel 'roomy' for the rider.
Whilst it's not the most exciting lid to look at, this is a solid and dependable choice that will get the job done with minimum fuss.
See full Shark S900 review.
Pros
Quality construction and mechanisms
Anti-scratch and anti-fog visor
Fully removable and washable microfibre interior
Quick click visor removal
Cons
Drafty through air ducts, which is bad on cold days
Less premium feel than others in range
---
Nolan N87 Rapid N-Com
Boasts a solid polycarbonate shell, available in a vast array of mono or multicolour schemes.
Check Prices on SportsBikeShop
This helmet is known for its comfort. The secret? A newly designed inner padding, made with double density micro-perforated fabrics.
The innovative visor allows you to see more of the environment than your average helmet, a very useful feature in city traffic.
Pros
N-Com intercom system compatible
Extra large visor for improved peripheral vision
Rated highly for comfort in all sizes
Good coverage from internal sun visor
Cons
Noisy at high speeds, but this can be counteracted with earplugs
Lack of air flow through air vents, which can cause stuffiness and fogging
---
Scorpion Exo 490
An understated helmet, bang on budget for a first or a spare.
Check Prices on SportsBikeShop
The conservative appearance of this helmet may not scream style, but it does make it ideal for mounting a helmet camera if that's your sort of thing.
A well-built visor with a thumb tap on the right side makes it easy to lift when stuck at a light and holding the clutch. It's the little things that count.
The micrometric ratchet fastener attached to this helmet gives a secure fit to head shapes of all sizes.
Pros
Triple density foam cheek pads for extreme comfort
Cheaper than most mid-range lids, without much compromise
Understated, minimalistic look
Easy to fasten, even with gloves on
Cons
Interior only semi-removeable
Disappointing breath deflector causes fogging
---
Caberg Duke II
This high calibre helmet offers outstanding value, comfort for long periods of time, and great ventilation.
Check Prices on SportsBikeShop
A maximum SHARP safety rating has been awarded to the Caberg Duke II, for its excellent performance during their testing procedures. It achieved the best results possible for the front, back and sides of the head. Overall rating, 5 stars!
Wind tunnel tested, which enhances the aerodynamics and noise reduction capabilities.
See full Caberg Duke 2 review.
Pros
5 star SHARP rating
Large visor for enhanced field of vision
Premium appearance without the price tag
Powerful noise isolation for a quieter ride
Cons
Top heavy and bulky
Tight around the chin bar
---
Scorpion ADX-1
This flip-up is sure to make you stand out, with an aggressive style and plenty of attitude.
Check Prices on SportsBikeShop
Versatile appearance to suit all riding styles from touring to adventure.
The advanced LG polycarbonate shell is designed especially to disperse impact for added protection, and it is a trademark of Scorpion.
Pros
Shell composed of polycarbonate exclusive to Scorpion
Removable face shield allows racing goggles to be worn
Sun peak gives distinct adventure style appearance
Can be used for multiple riding purposes ie. on or off road
Cons
Pressure around temple area
Whistling noise over 60mph – not ideal for motorway riding
---
Bell Custom 500 DLX
Comfortable, and guaranteed to make you look the bee's knees.
Check Prices on SportsBikeShop
A custom-quilted liner adds to the lightweight aspects, making this open face almost unnoticeable to the person wearing it.
This helmet offers excellent protection as it is made of fibreglass, which is more shock absorbent than thermoplastics, and more robust.
Pros
Fashionable retro look, complete with synthetic leather holding bag
Comfortable chin strap
Lightweight, easy to take on and off
Snap on peak included
Cons
Low brow not suited to all face shapes
Tearing possible on base rubber lining
---
Nolan N21 Visor Classic
This helmet is especially suitable for scooter riders, the helmet lock ring allows you to secure the helmet to your scooter with ease.
Check Prices on SportsBikeShop
The pull-down visor provides plenty of shielding from the wind, and the sun visor is also a luxury feature uncommon to open faces.
Air flows freely through micro-perforated zones and ventilation holes, keeping you cool as you zip around town.
Pros
Exceptional face coverage for an open face helmet
Retractable sun visor
Superior ClimaComfort interior, designed to give a closer fit similar to full face helmets
Helmet lock ring, for safer storage when you're out and about
Cons
Unavoidably noisy, but this is to be expected
Not the most attractive helmet
---
Considerations and Cost
---
The key factors to consider when purchasing a helmet are:
Safety:
All helmets sold in the UK must comply with the UNECE Regulation 22.05, and carry the BSI Kitemark. This can usually be found on the back of the helmet, in the form of a yellow, square shaped insignia. All the helmets in this review meet these requirements.
SHARP are a branch of the Department for Transport, and they run various tests on helmets to establish a star rating, with a maximum score of 5. Tests include impact resistance and shock absorption, among others.
Shells are constructed using thermoplastics, fibreglass, composites or Kevlar. These materials get stronger and more expensive in this order.
Comfort:
Ventilation and air ducts are essential for ensuring air moves through your helmet. This prevents fogging, and discomfort from heat.
Effective noise control will eliminate the distraction of high pitched whistling while riding at faster speeds. See our guide to the quietest helmets if noise is a concern.
Inner padding and the lining of your helmet should provide a close and snug fit, without being overly pressurising.
Lightweight helmets put less strain on your neck, and on longer rides they will cause less fatigue.
Style:
The three most common helmet styles are full face, flip front and open face. Flip fronts offer more flexibility and practicality, but tend to be heavier.
The design on your helmet can range from subtle to outrageous, based on personal preference. Bright colours are easier to see, so are worth considering to increase your visibility to other road users.
Cost vs. Compromise
Budget helmets are made of cheaper materials, and in short, are less safe than their more costly competitors. As a rule, always look for the BSI Kitemark to ensure they meet British safety standards.
Fancy colourways and graphic designs usually cost more too, and may have you questioning your expensive taste. Plain colours may look less snazzy, but will save you some cash.
Mid-range helmets, between £100 – £200 will last for up to five years, as long as they are stored correctly, and remain undamaged. An accurate measurement for the quality of the construction can be determined by the SHARP rating, although they do not currently test open face helmets.
Have a look here for our overall guide to the top motorcycle helmets available now.
Conclusion
Ringing up at one penny under £200 is the top all-rounder helmet, the AGV K5-S Mono. Its well-built, multi-composite shell and stylish appearance grant it the best of both worlds.
For the best-priced helmet, look no further than the HJC IS-Max 2. This is an advanced polycarbonate composite lid, with ample ventilation, and changeable styles to suit any ride, on any day.