Walk into any motorcycle accessory shop, and among the vast displays of boots, helmets, and clothing, you will probably see a wall of gloves.
It can quickly get overwhelming with hundreds of pairs and so many choices.
So, to help you decide, we created this buyer's guide.
We'll look at what you need to consider when buying a pair of summer gloves and review a range of summer gloves that offer a good balance of value and quality.
Click here to go straight to the reviews.
If you want warmer gloves, check out our winter glove buying guide.
Our Top Pick
Knox Orsa Leather Gloves MkII
Comfort, Protection, Style
A step up in class from the cheaper options. These gloves offer an outstanding balance between comfort and protection.
Budget Pick
Weise Street Fight Glove
Affordable protection
Light, comfortable, and available at a great price point, these Weise gloves are a great entry-level purchase.
Summer Motorcycle Glove Reviews
Let's get into our top choices
---
Knox Orsa Leather Gloves MkII
Top All-Rounder
Coming in highly rated, the Knox Orsa's are a quality summer glove combining great venting and breathability with top-class protection.
The styling is 'in your face' and strongly inspired by motocross; these gloves are not flying under the radar!
As with all Knox products, the armour reinforcement is top-notch, protecting all key areas – knuckles, palms, and scaphoid.
In terms of fit, we love the ratchet tightener on the wrist – dialing it in is a doddle. Also, a special mention for the leather, which is beautifully soft and supple, the gloves easily flex at the fingers and 'bed in' nicely after a couple of rides.
Check Prices on SportsBikeShop
Pros
High-quality leather
Hard armour – scaphoid, knuckles, fingers
Vented and breathable materials
Boa closure system
Cons
Sizing is on the small size, may need to size up
---
Weise Street Fight Glove
Top Budget Pick
If you're shopping for a pair of sporty-looking summer gloves that give comfort and protection, then the Weise Street Fight Motorcycle Gloves are a good buy.
These short cuffed gloves have many features, including ventilated PU knuckle armour and tough, durable leather perforated around the fingers allowing your hands to breathe during hot weather.
Check Prices on SportsBikeShop
Pros
Full-grain leather
TPU shell armour
Twin layered leather to impact points
Stretch panels to top of hand and fingers to aid fit and flexibility
Chamude overlay panel to palm for improved grip
Adjustable Velcro retained strap to wrist
Cons
Stitching could be stronger in places
Somewhat cumbersome knuckle protector
---
Weise Victory Leather Gloves
Mid Range Pick
These are a great mid-range option with that reassuring Weise quality to back them up.
They are relatively cheap yet functional gloves. The quality is great, with premium goat leather and decent stitching and fasteners.
While the protection offered is not best in class, it offers a decent compromise at this price point.
Check Prices on SportsBikeShop
Pros
Memory foam knuckle armour
Soft and supple leather
Palm panel for enhanced grip
Hook and loop wrist strap
Cons
Not the best protection
May need to size up
Poor ventilation can result in sweaty hands
---
Richa Rock Glove
Most Comfortable
A short cut glove made of very supple leather, these gloves are incredibly comfortable with a great fit.
You also get a decent amount of armour for the price, with hard armour to the knuckles and protection for the fingers and scaphoid.
Check Prices on SportsBikeShop
Pros
Supple leather for a great fit
Impressive armour for the price
Knuckle, finger, and scaphoid protection
Showerproof, ideal for UK summers
Cons
Venting is not great
Velcro fasteners can be fiddly
---
Alpinestars Celer Glove
Great Protection
The Celar Glove oozes with the Alpinestar hallmark style and quality.
Crammed into this short cuffed glove is an armoury of protection combining hard PU armour to the knuckles, soft armour to the fingers, and CE level 1 certification.
Check Prices on SportsBikeShop
Pros
Goat hide outer finish
EVA foam inserts on impact zones
CE1 certified
Reinforced hand, thumb, and palm protection
Cons
Sizing is on the small side – may be worth ordering a size up
Need considerable breaking in time
---
Protection
It is essential for new riders to realize just how much damage and inconvenience can result from inadequate hand protection.
Coming off a motorcycle will likely make us reach out with our hands and shield ourselves from the worst of the impact.
Hands are delicate, a collection of small bones surrounded by skin. Splayed out, it takes very little to break or cut them open when sliding across abrasive road surfaces.
A well-designed glove will allow you protection and the ability to operate controls. What use would a glove be if its restrictive padding or armour leads to an accident?
Glove designs achieve protection in several ways:
Palm padding
Palm sliders
Knuckle protectors
Gauntlet-style wrist protection
Kevlar, carbon fibre, or plastic re-enforcement
Double-stitching and multiple layering
Palm padding puts extra distance between the cheese-grating road surface and the soft skin of your palms.
An accident might still destroy your gloves, but the job of preserving your skin will be done.
Adding palm sliders, often incorporated as tough plastic studs, can turn a potentially abrasive impact into a harmless soft slide leaving no more than minor scratches to the glove.
Riders may ask why they need knuckle protection when the more likely area of impact is the palm and the flat of the hand. Birds, insects, flying stones, and wing mirror collisions can all leave a nasty sting across the knuckles, an area of complex bone structure.
With knuckle protection, you're also more likely to come away on the winning side in the event of unexpected road rage!
Gauntlets offer more protection around the wrist area than short gloves, but some riders may find them hot in summer.
Short gloves with additional airflow will give you a cooler ride and are usually cheaper than gauntlets.
Summer gloves offer less protection than winter gloves. They are lighter and thinner, often lacking the protective accessories of their cold-weather counterparts.
Weather
Even in the summer, we may experience an unexpected downpour or a temperature change.
Our hands must also receive a nice steady airflow to prevent them from sweating and becoming slippery. With throttles and levers to operate, the last thing we want is a loss of control.
Modern glove designs often incorporate perforations allowing airflow around the hands while riding.
Also see our guide to riding a motorcycle in hot weather.
Do they fit?
Consider these factors:
Leather gloves are not always waterproof unless aided by additional material, but they stretch over time by around 5%.
Artificial textures remain fixed; they don't wear or 'break in.'
Tight-fitting gloves will restrict blood flow and lead to numbness and a possible loss of feel and control.
Excessively large gloves may cause your hands to move around and also lose control of the bike.
Most gloves come in a 'gauntlet' style or a short fit.
Either way, they should have effective zips or Velcro fasteners to keep them in place.
Sizes may differ depending on whether they're UK, US, or European made, so make sure you know your actual hand size.
This video shows how to measure your hand when sizing up for gloves accurately:
Price
Fortunately, there's a wide selection of gloves to suit all budgets.
Leather is more expensive than textile but generally lasts longer.
Higher prices often reflect quality material and stitching, and fasteners.
The extent and type of built-in protective armour will also affect the price, whether it's carbon fibre, Kevlar, plastic, or cell-foam padding.
Function
When trying on motorcycle gloves, a good idea is to grab hold of the handlebars of your bike or at least one in the showroom. Failing that, improvise with a pole to see how the glove sits in the riding position.
I once tried on a pair with so much padding and carbon fibre armour that I could barely grip my handlebars.
Ensure that the glove fits comfortably and allows you to handle your bike and perform tasks such as operating the indicator button, horn, brake, and clutch control levers.
Some gloves incorporate finger-wipes for the visor and also fingers with touch-screen capability.
Style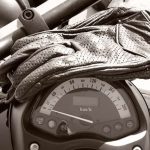 Once you've assessed gloves for function, weather, and protection, let's not forget how they look.
Most riders love stylish new motorcycle gloves, especially ones that make them look like a Super Hero (well, maybe!).
Perhaps you prefer something that matches the rest of your clothing and the bike itself.
There's another advantage to matching and fashionable gear; if you look more serious and deliberate, projecting an image of experience and mastery, you'll be inspired to ride that way too.
Regardless, like all other selections of motorcycling attire, you probably won't be at a loss for choices in fashion.
Read our in-depth guide to buying motorcycle gloves.
Conclusion
The Knox Orsa gloves are our top choice, with a great balance between comfort and protection.
If you are on a tight budget, then the Weisse Streetfighters are a decent option, although you will be compromising on the armour.