Carbon-fibre helmets are some of the best-performing helmets on the market. They are usually more lightweight and made with high-quality components. It's for those reasons they tend to sit at the top of a manufacturer's range.
Carbon fibre has been used in mixed-composite helmets for a while, weaved in with other materials like Kevlar and aramid fibres.
More recently, manufacturers decided to start building full-carbon helmets thanks to its super light weight and strength, and these have blown up the market.
Here we have the seven best of the best carbon-fibre helmets you'll find.
Best Value Carbon Helmet
HJC F70 Carbon
Not that long ago, carbon-fibre helmets were very expensive, but the HJC F70 breaks that mould. It is a very affordable lid with premium features.
The F70 Carbon has a four-star SHARP rating, an excellent ventilation system for impressive airflow, an internal sun visor, and a Pinlock insert included.
It is a lightweight, comfortable helmet with a soft antibacterial liner and a wide eye port for maximum vision.
Speaker pockets are cut out to add a communications system, and it's ready to accept the HJC SMART 10B or 20B system.
Overall, the F70 is a great choice thanks to its range of features. It isn't the quietest helmet, and there's no quick-release visor system, but those are small sacrifices for a quality lid at a great price.
Pros:
Full carbon-fibre outer shell

Excellent value

4-star SHARP rating

ACS 'Advanced Channelling Ventilation System'

Pinlock included

Internal sun visor

Glasses grooves

Emergency quick-release cheek pads
Cons:
Noisy

No quick-release visor
Best Modular Carbon Helmet
Schuberth C4 Pro Carbon
The Schuberth C4 Pro Carbon is an awesome, lightweight, premium-quality modular helmet.
Schuberth is known for producing some of the quietest helmets on the market, and the C4 Pro Carbon is no exception. It is a super quiet helmet, achieving just 85 db(A) at 100 km/h on a naked motorcycle.
The modular design is a really useful feature. Being able to just flip the front up and communicate clearly with those around you at a stop or while off the bike is an underrated benefit.
Along with producing quiet helmets, Schuberth focuses on comfort. As such, the helmet features a removable, washable Coolmax liner. The head and neck padding are seamless for added comfort, and there are integrated grooves for glasses too. They've thought of everything.
The C4 Pro Carbon comes with a Pinlock insert to keep your visor fog-free, as well as a multi-channel ventilation system.
It also comes with pre-installed speakers, a microphone, and an antenna so you can easily connect up the (optional) SC1 communication system.
Pros:
Full carbon-fibre outer shell

Very quiet

Pinlock insert included

Speaker system integrated ready for SC1 kit

Excellent ventilation system

Modular design

Integrated drop-down sun visor

Comfortable

5-year warranty
Best Sports Carbon Helmet
X-Lite X-803 Ultra Carbon
The X-Lite X-803 Ultra Carbon is a performance-focused helmet with a full carbon-fibre construction. It is a serious race helmet with lots of race-derived features that make it an excellent choice for sports riders.
It has a race-inspired breath deflector to help keep your visor clear, as well as a race airflow system with both upper and front intakes. The helmet is fitted with a rear spoiler, which is adjustable, for extra stability at high speeds.
Other important features include an emergency-release cheek-pad system, a wide-vision double-locking visor, an external Pinlock adjustment system, and an elongated chin piece.
The X-803 Carbon is a comfortable, lightweight lid that offers a lot of high-quality features at a very good price.
Pros:
Full carbon-fibre outer shell

Emergency-release cheek-pad system

Race-style ventilation

Adjustable spoiler

Good value

Lightweight

3 shell sizes

5-year warranty
Best Retro Carbon Helmet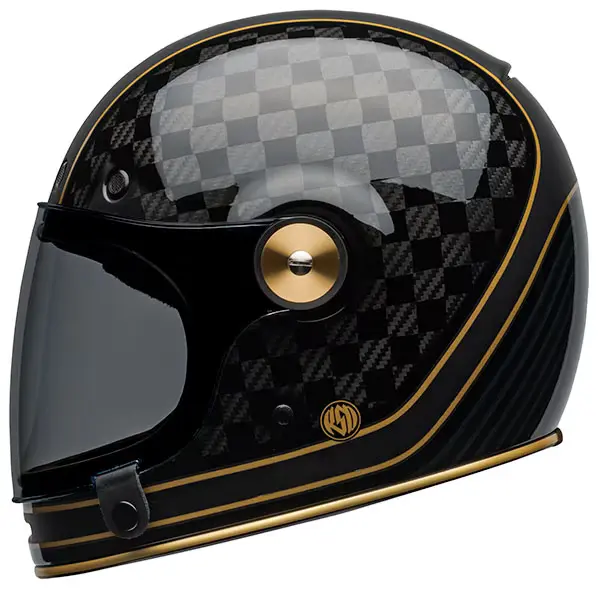 Bell Bullitt Carbon
The Bell Carbon is a fantastic retro helmet that is perfect for classic bike riders or those with a new modern-retro, like the Triumph Street Twin or Ducati Scrambler.
It is a carbon composite, so it isn't a full carbon-fibre helmet, but the composite still features the lightweight nature and strength of the carbon.
The lid comes in three shell and EPS sizes, so you can get the optimum fit. It has contoured cheek pads, a padded chin strap, and a D-ring closure.
Style is at the forefront, especially with the Roland Sands Design. A wide range of visors and face shields are available in different styles and tints to make it your own. You can also switch out the visor for old-school goggles.
The helmet is fairly stripped back, although it does offer great ventilation and integrated speaker pockets to fit a comms kit.
The Bullitt is a quality helmet with premium materials, but all that style does come at a price, and it isn't a quiet helmet.
Pros:
Carbon-composite construction

3 shell and EPS sizes

Multi-density EPS liner

Integrated speaker pockets

Good ventilation

Stylish

Comfortable

5-year warranty
Best Carbon Open Face
Caberg Ghost Carbon
The Caberg Ghost Carbon is a seriously mean-looking helmet that is certified as an open-face helmet.
The Ghost has a removable chin piece/nose shield and goggles, which adds a bit of wind protection and enhances the aggressive style. Equally, airflow is excellent, and the face shield doesn't sit too close to the face, so it will suit those who don't like feeling closed in.
It's important to remember that the helmet is an open-face helmet, so the chin piece will offer little to no protection in an impact. It's there purely from a style point of view, with the bonus of adding some wind protection.
The Caberg Ghost is a very lightweight and comfortable helmet, with details like a foam nose bridge and soft inner liner. Not to mention you'll look like a space fighter when you wear it.
Pros:
Full carbon-fibre construction

Pinlock-ready visor

Removable face shield and goggles

Excellent airflow

Bags of style
Cons:
Slightly tricky to remove visor
Best Streetfighter Carbon Helmet
Simpson Venom Carbon
The Simpson Venom is an awesome streetfighter-style retro lid with an abundance of attitude. And the full-carbon construction keeps the lid lightweight.
A wide visor, internal sun visor, adjustable chin vents, and modern EPS channels for ventilation all bring the Venom up to date for modern rider needs.
The ultra-wide viewport is Pinlock ready and offers fantastic vision, plus the internal sun visor is wide enough to cover the field of view. The main visor is also double-locking to prevent it opening up at speed.
The Venom is ready for the installation of comms kits.
Pros:
Full carbon-fibre construction

Wide-vision visor

Excellent ventilation with hot air exhausts

Chin curtain and breath deflector

Pinlock-ready, scratch-resistant visor
Best Carbon Adventure Helmet
LS2 Explorer Carbon
The LS2 Explorer Carbon is an ECE 22.06-certified adventure-style helmet packed with features at a good price.
Full carbon-fibre construction ensures weight is kept to a minimum, and a multi-density EPS liner provides excellent impact absorption.
The Explorer is the full adventure package with everything an adventure rider requires from their helmet.
An adventure peak is attached to the helmet, as well as an internal sun visor, a Pinlock-ready visor with the insert included, and a traditional D-ring closure.
A quick-release visor system, removable and washable interior, emergency-release cheek pads, and large intake and exhaust vents are all fantastic features.
Pros:
ECE 22.06 certified

Full carbon-fibre construction

Lightweight

3 shell sizes

Internal sun visor

Pinlock included

Good ventilation

Great value
Cons:
No integrated speaker pockets
---
Buyer's Guide
Care, considerations and cost
---
Carbon-fibre helmets are still relatively new to the market, but they are rapidly becoming popular due to the perfect combination of weight and performance. 
They're considered to be premium helmets, and with that, a premium price tag usually follows. However, if you get a quality product that does its job, there can't be too many complaints. 
Here are some things to think about when it comes to buying a carbon-fibre helmet.
Protection
We say it every time, but the first thing a helmet needs to do is protect your head. That is more important than anything else.
On the whole, full carbon-fibre helmets are considered to be some of the safest helmets on the market as they have fantastic properties for dealing with an impact.
In the UK, all helmets need to have ECE certification. The standards that currently apply are ECE 22.05 and 22.06. After January 2024, all manufacturers will have to meet ECE 22.06 standards. 
The certification proves that the helmet has been tested and performed well enough to meet the minimum protective standards required.
You will often hear about SHARP ratings. SHARP is an independent testing body that manufacturers voluntarily send their helmets to in order to get a rating of one to five stars (with five being the best).
To read more about SHARP, check out their website, where you can also check a helmet's rating. 
Weight and Strength
Generally, carbon-fibre helmets tend to be lighter than other helmets, particularly thermoplastic helmets. This is a huge bonus for riders as a lighter helmet means less fatigue on the neck — you can keep going for longer.
For example, the X-Lite X-803 Ultra Carbon weighs around 1300g, but a non-carbon sports helmet like the X-Lite X-903 weighs in at around 1600g. 
Another example is the Schuberth C4 Pro Carbon, which has a weight of around 1600g, whereas the non-carbon C4 Pro is around 100g more than that. 
Of course, a light helmet is fantastic, but you never want to compromise on strength, which is why carbon fibre is such a popular material. It is naturally very strong and durable, making it a great choice for impact protection. 
Features
Carbon-fibre helmets are beginning to filter into every area of the helmet market, as you can see with our picks. We have sports helmets, adventure lids, and even open-face helmets on our list.
In order to narrow your search down a little, you'll want to figure out what your helmet needs are. Start by deciding whether you want a full-face, modular, or open-face lid and go from there. All the regular features found on non-carbon lids can be found on carbon ones.
Some popular features that define purchase decisions include pinlock inserts, internal sun visors, integrated speaker pockets and comms kit ability, and adjustable vents, as well as the choice between a quick-release closure or a traditional D-ring. 
Carbon Fibre vs Carbon Composite
It can be a bit confusing when looking for carbon-fibre helmets as some are constructed fully from carbon fibre and others, like the Bell Bullitt Carbon, are carbon and mixed-composite helmets. 
The confusion comes because manufacturers add the 'carbon' to the end of a helmet's name, and if you see that, you could easily think it's a full carbon-fibre lid when in fact it is just a mixed-composite. 
One misleading example is the Shark Spartan Carbon. The Spartan is one of Shark's leading sports helmets, and the shell itself is actually a mixed-composite shell, but it is wrapped in a carbon-fibre skin. 
It is an excellent helmet with a four-star SHARP rating, but the helmet is definitely not a carbon-fibre lid.
Mixed-composite helmets are brilliant, though. The leading manufacturers, like Shoei and Arai, all use mixed-composite shells to produce the safest and best-performing helmets out there. The mixed fibres of carbon, armamid, Kevlar, and fibreglass are all specifically chosen for the different properties they add to both the helmet and its effectiveness.
However, if you are specifically in the market for a carbon-fibre helmet, then make sure you are actually getting just that. You should be able to find the materials used in the helmet construction on any manufacturer's website for clarification. 
Conclusion
There it is, everything you need to know about carbon-fibre helmets and a selection of the best options currently available. My favourite is the Simpson Venom Carbon. It is aggressive, with an old school attitude and all the modern necessities in a comfortable package. 
If I was going touring, though, I might take the Schuberth C4 Pro Carbon. It is just a phenomenal lid that oozes quality and comfort, providing everything you need and more out of a helmet.