The humble motorcycle helmet, from its early design, following studies after the untimely demise of T.E. Lawrence (Lawrence of Arabia) on his Brough Superior, to the modern life-saving helmets we have today. It's gone through significant technological advancements in the last 70 years.
Forget all that!
In this guide, we're ignoring all of that innovation and focusing purely on what's cool and 'hipster' popular. And by cool we mean the subjective 'rules' that we've decided to adopt.
To get on our list, a helmet has to:
Be 100% road legal and ECE approved (none of your DOT rubbish, see are DOT helmets legal in the UK?)
Have a unique or innovative characteristic
Have head-turning looks (it can't be a cheap lid with a fancy paint job)
Attract admiring enquiries every time you post on social media
Retro Vs Sport
Before we start, a warning for sports bike fans; more than half of the lids on our list fall into the retro bracket.
Why is this?
Apart from a few minor style tweaks over the years, sports helmet manufacturers have worked diligently to improve comfort, and most importantly, safety. Which is essential, but isn't always a recipe for cool design aesthetics.
Adversely, in response to bike trends, the retro arena has exploded, with manufacturers creating a huge array of vintage styles, themes and colours that utilise modern safety features and technology.
Even the big hitters such as Shoei and Arai, have joined the party and have begun developing retro-themed helmets.
Read our "Top of the Pops" style top ten count down to see if they've made our list.
10. Bell Eliminator Carbon – Roland Sand Design 'The Charge'
Check out latest prices at Sportsbikeshop
Our first entry, the Eliminator RSD is a beautifully designed helmet that oozes cool and will suit a multitude of bike styles from a cruiser to a streetfighter.
Billed as 'born from auto, built for the street' the Eliminator is essentially a retro-style Nascar helmet brought into the moto world.
The Eliminator's unique feature is its stand out temple vents, delivered via nine circular holes. It's so well vented that Bell realised this posed an issue in the rain, so a small plastic bib is provided, which simply slots into the vent holes preventing water ingress.
It has a wide auto-racing field of view, making it great for those crucial life-saver checks. Bell's 'pro-vision visor' comes as standard, which as well as having class-1 optics, has an anti-fog layer. So no messing about with pinlock installs.
This RSD version is a deluxe carbon model and features a beautiful mix of matt and gloss designer graphics.
Weighing in at 1350g the RSD Carbon (and matt black carbon model) is lighter than the standard 1500g model. It's made from some fancy-pants material called '6K carbon', which Bell claims make the shell light and super strong.
See more lightweight motorcycle helmets.
Key features:
Unique RSD design
Effective anti-fogging 'Pro-Vision' Visor
Well ventilated cooling system
Lightweight
Comms speaker ready
---
9. Arai Rapide – Number
Check Prices on SportsBikeShop
Our second choice is Arai's latest entry into the retro market and earns them a well-deserved spot on our list with the beautifully constructed Rapide (also known as the Concept X).
Sporting a wide range of colours and designs, the Rapide's unique feature is its chin section, which has a distinctive square jawline, harking back to 80's style helmets whilst having all the accoutrements of a modern helmet.
Our favourite, the 'Number' model, is a unique design that ramps up the retro in several different colour schemes.
Read our full in-depth review of Arai Rapide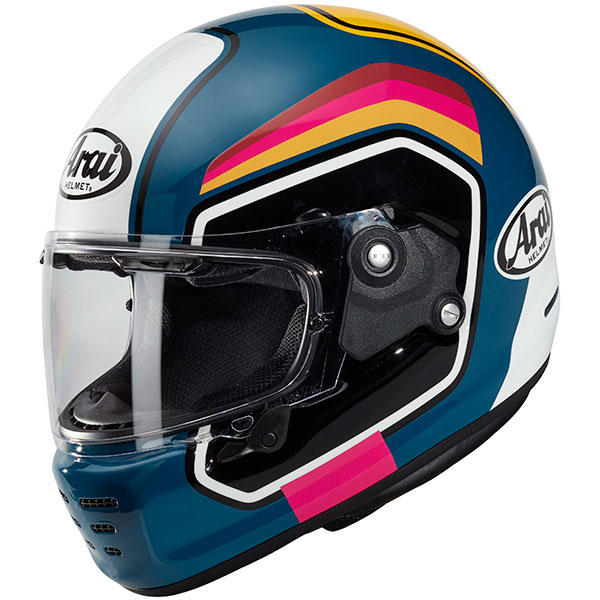 Arai has improved the visor plate design on the Rapide. They are practically flush to the helmet which is a departure compared to previous Arai models.
It has a really robust and easy to use visor catch and comms speakers fit neatly into pre-cut pockets in the cheek pads (rather than the EPS layer), there are neat brow vents built into the visor and a switch to close the chin vents.
Key Features:
Great range of colours
Well designed visor vents
Pinlock visor (in the box)
Much improved Arai visor plate aesthetics
Emergency cheek pad release
---
8. Qwart Phoenix
Not particularly well known, Qwart is an artisan brand serving the uber-cool poser community. The Phoenix makes our list as one of the most unique looking retro helmets on the market that consistently appears on the Instagram feeds of the tight-fitting trousered hipster crowd.
What makes the Phoenix truly unique is the number of customisable options available. Every component can be changed for different metallic or colour compositions. Making it a true custom lid.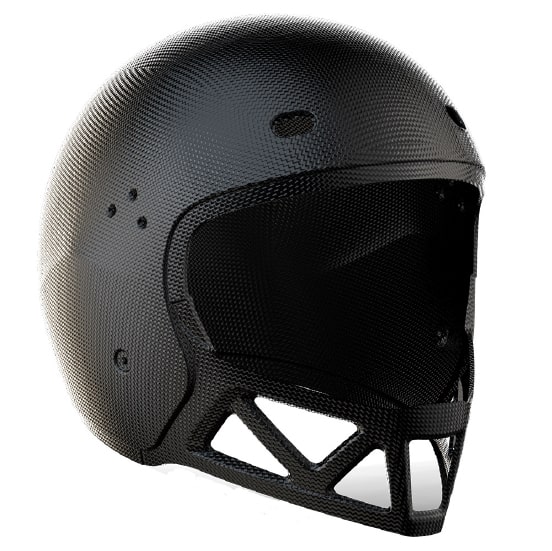 It's not going to offer a rider high-end safety and comfort features, so you will need to be fully committed to the retro cause. The Phoenix will potentially require you to sell at least one, maybe two body organs, with a current retail price at around the £600 mark.
Key features:
Light carbon shell (1.1kg)
ECE Approved
Highly Customisable
High-quality components
Removable luxurious suede-lined interior
---
7. GUANG Speed Run V2 (Black and Copper)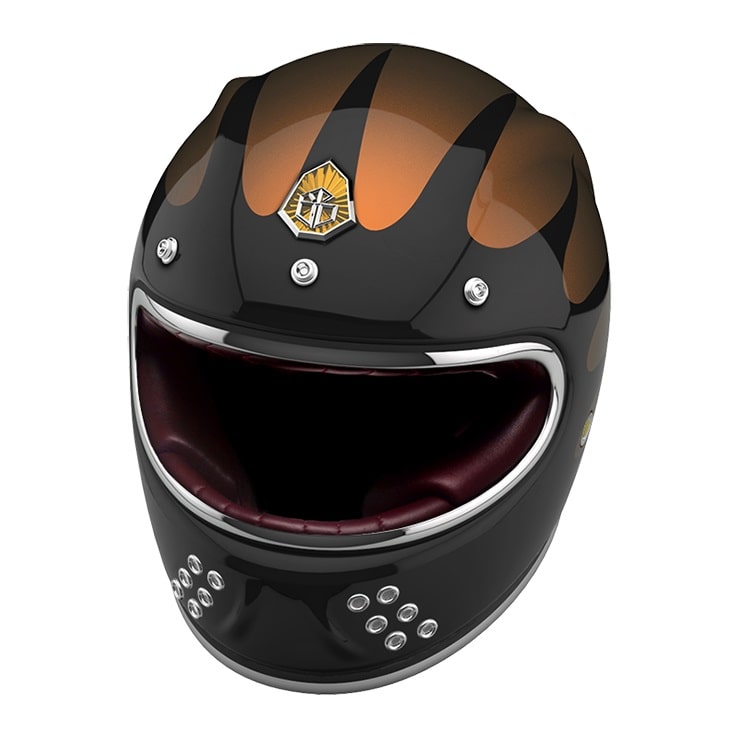 The winner of the 'Hen's Teeth' award, Guang helmets are the rarest brand on our list. These high-end handmade helmets are only available from their boutique website. Comparable to another brand called Ruby, offering similar styled bespoke helmets.
Boasting construction from the finest materials available, Guang's range offers a huge array of full, open face and jet style helmets that are ECE22.05 compliant and made to order.
Our favourite is the full face 'Speedrun V2' in black and copper (from the Speedrun collection). Which has a luxurious plush full leather interior, and is a beautiful piece of craftsmanship.
Key features:
Handmade to order
Nappa and Calfskin leather interior
Immaculate attention to detail
Supplied in luxury packaging
---
6. Shoei Ex-Zero
Check Prices on SportsBikeShop
Despite its Moto-X style, the Ex-Zero is aimed squarely at the cafe racer crowd. Its unique shell material makes the Ex-Zero outrageously light, weighing in at a paltry 1165g.
It comes with the quality construction and material you would expect from a Shoei helmet. Its huge eye-port can accommodate almost any goggles (to ramp up the cool factor).
Another major innovation is the Ex-Zero's multi-composite shell, which means it has an impressively low profile, reducing the Mekon look.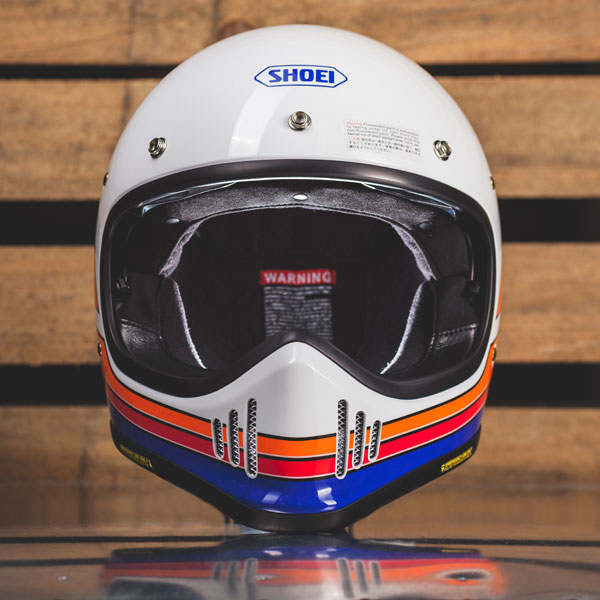 However, the Ex-Zero's party trick is its internal drop-down visor. Not only is this a highly unique feature on a Moto-X style helmet, but it's also further enhanced by its adjustable height levels, a fantastic feature if you have a massive conk.
All these features make it a highly versatile summer helmet. You can wear cool goggles, or take them off and drop down the visor. Or leave the goggles at home, pop on some shades and drop the visor down when the speed gets high.
Read our full in-depth review of the Ex-Zero.
Key features
Multi Composite
Low profile shell
Lightweight
Adjustable drop-down visor
Large eye port accommodates most goggles
---
5. Icon Airflite Peacekeeper
Check Prices on SportsBikeShop
The Airflite truly deserves a place on our list, with its aggressive looks and an innovative full-face visor. It has cut-out vents incorporated into the lower section to allow airflow into the large MX-style chin vents.
It comes in a plethora of designs, from simple matt and gloss mono colours to the range-topping graphics-packed models.
Our favourite, the boss looking 'Peacekeeper', has a black dome and sinister gold visor (a regular selfie favourite on Instagram). Some of our other favourites include the 'Synthwave', and the beautifully detailed 'Inky Blue' model.
Let's be honest, this lid only makes the cool list with a tinted visor, but annoyingly they ship with naff clear visors (in the UK), so you'll probably need to factor in the extra cost of a tinted upgrade.
But keep your mince pies open, many of the mid to high-priced models often include a free race visor, such as the 'El Centro, the 'Freedom Spitter' and the highly original 'Battlescar 2' (clearly based on Halo's Master Chief).
Read our full Icon Airflite review.
Key features:
Quick change visor
Chin curtain
Removable 'moisture wicking' liner
Speaker pockets
Multiple ventilation points
Internal Sun Visor
Lots of upgrade options (tinted sun visors, changeable rear spoilers etc.)
---
4. Hedon Heroine Racer – Stable Black
Another high end, high-quality entry, the Heroine Racer is Hedon's only full-face helmet with a proper visor. Potentially overpriced for the offering, they are sumptuous luxury helmets often seen on the cafe racer scene.
Purely aimed at the retro market, our favourite, the 'Stable Black' features beautiful leather piping around the eye ports and helmet base and has unique brass metalwork on the round brow vents, nameplate and visor clamps, giving it a unique classic look.
Although Hedon's come in at eye-watering prices, they are undoubtedly beautiful and should be seen as an investment helmet, designed to last the test of time.
Key features:
Lightweight composite carbon fibre shell
Sumptuous internals
Brass hardware
Calf leather trim and lining
---
3. Ruroc Atlas 2.0 Carbon Mercury
So into our top 3, and our next entry is often described as the 'Insta Lid'. Ruroc has quickly developed cult status with their aggressively styled helmets.
So first, the annoying stuff. Ruroc has a fierce marketing engine, and you can only purchase their products from their website. Lead times can be frustratingly long; if you then have an issue it can be a palaver trying to get a resolution. However, once you discover the correct channels their customer service is ok.
The full Atlas range offers a wide range of unique and innovative designs as well as a large number of well thought out single colour designs and finishes.
The Ruroc Atlas 2.0 Mercury is our favourite model; its metallic silver custom paint job is stunning, and its plain style makes it compatible with a large number of bike genres.
As well as being manufactured from lightweight carbon, the Atlas 2.0 is packed with features, such as the innovative Fidlock magnetic retention system and an easy tool-less visor change.
Check out our guide to the best carbon fibre motorcycle helmets.
Comms are offered via a separately purchased proprietary system (called Shockwave) that's incorporated into the helmet. This was initially disappointing but Ruroc have now developed significantly improved speakers.
Key features:
Supplied with tinted and clear visors
Tool-less visor removal
Stacks of visor colour options
Lightweight
Fidlock retention system
---
2. Shoei Glamster
Check Prices on SportsBikeShop
It's our 2nd Shoei on the list and its name is the source of much derision. Although it conjures up an image of a helmet covered in glitter and sequins on Strictly Come Dancing, the Glamster is a cool well-constructed quality helmet that delivers everything in a quiet and unassuming way.
Like the Ex-Zero The Glamster's party trick comes from its multi-composite shell, which weighs in at a featherweight 1200g.
This has allowed Shoei to create a very low profile compact shell that genuinely feels supremely light and form-fitting.
Its defining benefit is that, unlike some retro lids, the Glamster's shape will certainly stop you from looking like an astronaut from a 50's B movie.
For this style and shape of helmet, it is very quiet and has a solid waterproof seal.
Read our full in-depth review of the Glamster.
Key Features:
Lightweight
High-quality construction
Tough multi-composite material
Low-profile shell
Good range of styles
---
1. Bell Bullitt Carbon – Transcend Gloss
Check Prices on SportsBikeShop
Our number one is possibly one of the most iconic modern retro helmets and a mainstay of the hipster crowd. The Bell Bullitt was famously created by a college design student and we think it's the undisputed 'Daddy' of the retro scene.
Attention to detail is the Transcend Gloss model's strength, combining a deep gloss finish with a beautiful leather/suede interior set off with a leather visor tab. There are a multitude of visors available, but our favourite is the mirrored 'flat' visor.
The Bullitt has a massive field of view (surely one of the largest you will find on a full-face helmet). The carbon model is very light and looks extra vintage with its chrome edged detailing around the eye-port and the base of the helmet.
There is, however, a price to pay for looking like an Instagram hero. The Bullitt has a ton of ventilation, and we mean a lot. As a result, the four brow vents, a face exposing chin bar and a very simplistic visor seal means it can let water in during a downpour.
All this ventilation also equals noise, and the Bell Bullit is noisier than my Mother-in-law pumped full of Gin at a christening.
Bell has advanced the Bullit over the years, and despite some of its remaining downfalls, it remains a well-loved, iconic helmet.
For many riders, it's their most cherished helmet and harks back to simpler motorcycling times. Making it the coolest, lightest, well ventilated 'go-to lid' in the summer season.
Key features:
Plush interior
Free 'Race Visor'
Leather holdall
Large range of visors and accessories
Large range of styles and colours
---