Sometimes, 125s can have a reputation of being slow, incapable of keeping up with traffic and struggling up hills, but that doesn't have to be the case.
There are many 125cc motorcycles currently available that are competent commuters dual-carriageway warriors, and depending on your licence restrictions, they can even make good motorway brawlers for those that are brave enough.
We've pulled together the fastest 125cc motorcycles on the market for your reading pleasure.
Let's get started.
Save Money On Your Motorcycle Insurance
You could pay less than £195*
Compare quotes from 25+ UK providers
Fill in one form to compare top bike insurers
Fastest 125cc Motorcycle to Consider
Yamaha MT-125
Specs:
Engine – 124cc, liquid-cooled, 4-stroke, SOHC, single cylinder
Max Power – 14.8 horsepower
Max Torque – 11.5 Nm
Top Speed – 80mph
Seat Height – 810mm
Wet Weight – 142kg
There is no denying that the Yamaha MT-125 is one of my favourite motorcycles of all time, not just in the 125 segment.
Put in a lineup of the full MT range, the 125 doesn't look like a baby; it holds its own, strong, powerful, aggressive and looks like a full-size real motorcycle.
The engine features Yamaha's exclusive VVA, which ensures that it has excellent top-end performance while maintaining easy to use low-end power for when you need it.
This feature alone makes the MT-125 one of the best in its class for performance.
Very near the legal limit for a 125, the motor pumps out 14.8 horsepower 11.5Nm of torque and makes the highest top speed on the list of 80mph.
The MT-125 is ready for all UK roads and is highly competent to take on dual carriageways and blasts on the motorway, with enough top end for safe overtakes.
It is important to note that it is a naked bike, so the wind can be a battle at high speeds and would make the ride less pleasurable over some distance.
Key Features:
Aggressive Styling
Dynamic Riding Position
VVA – Variable Valve Actuation
LED lights
Assist and Slipper Clutch
---
KTM Duke 125
Specs:
Engine – 124.7cc, liquid-cooled, 4-stroke, SOHC, single-cylinder
Max Power – 15 horsepower
Max Torque – 12 Nm
Top Speed – 77mph
Seat Height – 822mm
Wet Weight – 141.4kg
Following closely behind the MT-125 is the KTM Duke.
Another naked motorcycle that oozes style, an aggressive monster that puts the rider in a powerful riding stance, ready to take on whatever comes it's way.
Powering the Duke is the 124.7cc single-cylinder engine, which delivers 15 horsepower and 12 Nm of torque for a top speed of around 77mph.
For a long time, the Duke was considered the fastest of the 125s, but the MT, in recent years, has succeeded in winning the title, perhaps down to refinements to the engines made to meet Euro 5 regulations.
The Duke is a great naked motorcycle that will take all UK roads in its stride.
Key Features:
LED lights
Bosch ABS
High Quality Components
Excellent Fuel Efficiency
Modern Styling
---
Yamaha R125
Specs:
Engine – 125cc, liquid-cooled, 4-stroke, DOHC, single cylinder
Max Power – 15 horsepower
Max Torque – 11.5 Nm
Top Speed – 75mph
Seat Height – 825mm
Wet Weight – 144kg
The second addition from Yamaha is the iconic R125, derived from the flagship R1.
Yamaha has let the likes of MotoGP and WSBK winning motorcycles trickle down into the R125 so that riders can be exposed to race-engineered motorcycles early on in their riding journeys.
Utilising the VVA system just like the MT-125, the 125cc motor hits 15 horsepower and 11.5 Nm of torque for a top speed of 75mph.
The Deltabox frame is known for its strength, durability and stability at speed; it has been used in various iterations for years for Yamaha bikes of all capacities.
The engine pulls smoothly from the low end right to the red line at the top. It is an exhilarating experience that throws the rider straight into real sportsbike style riding.
The R125 is also a big motorcycle; this won't stand out at bike nights as a 125cc; it is a big, beefy full-size sportsbike with a hearty engine.
Key Features:
Moto-GP style cockpit
Aluminium Swingarm
Assist and Slipper Clutch
LED lights
VVA system
---
Honda CB125R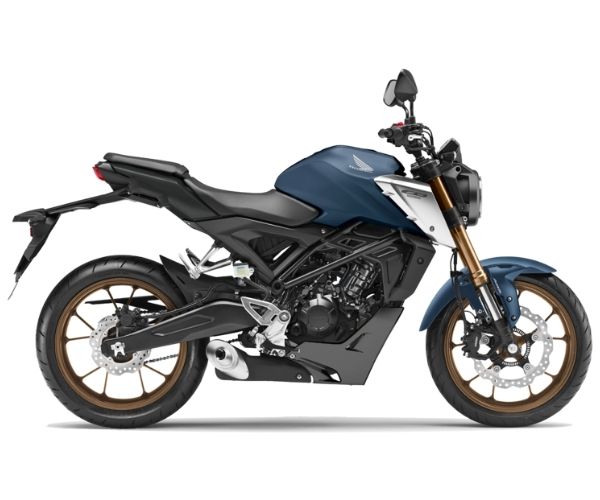 Specs:
Engine – 125cc, liquid-cooled, 4-stroke, DOHC, single cylinder
Max Power – 15 horsepower
Max Torque – 11.6 Nm
Top Speed – 74mph
Seat Height – 816mm
Kerb Weight – 130kg
The Honda CB125R utilises the all-new 125cc engine that pushes out more power and torque than previous models.
Derived from the CB1000R, the smaller sibling offers a lot of bike in a more compact and lightweight package.
Right on the line of 15 horsepower, the engine is powerful, producing a top speed of around 74mph.
Honda has spared no expense on the CB125R, using components like Showa forks. It means business and wants the rider to push it to the limit of what a 125 is capable of.
Upright and naked, the CB125R is right on the tail of the Duke and MT, giving them both a run for their money.
The engine is smooth, gear changes crisp and easy, with the power on tap for quick acceleration.
Key Features:
Bold Styling
LCD Dash
LED Lights
Showa USD Forks
---
Kawasaki Ninja 125
Specs:
Engine – 125cc, liquid-cooled, 4-stroke, DOHC, single cylinder
Max Power – 15 horsepower
Max Torque – 11.7Nm
Top Speed – 74mph
Seat Height – 785mm
Kerb Weight – 148kg
Not to be outdone by the Honda and Yamaha, Kawasaki are added into the mix with the Ninja 125.
Using the iconic Ninja silhouette, Kawasaki has produced a Ninja for new riders and those that want to ride a smaller cc bike.
It is no slouch, though, with 15 horsepower, 11.7Nm of torque and a top speed rivalling the CB125R at the same estimated 74mph.
The Ninja is a little less aggressive than the R125 in its sporty ergonomics, opting for more of a neutral, comfortable riding position.
With that said, you can still hunch over until your heart's content and squeeze the life out of the throttle to test both your own and the bike's limits.
The Ninja will have you wanting to lean over and get your knee down.
It is the perfect entry point into the Ninja line, and once you have experienced that, it will be hard to switch to anything else.
Key Features:
Slim, Compact Trellis Frame
Sports Suspension System
Ergo-Fit Seat
ABS
Supersport Styling
---
Suzuki GSX-R125
Specs:
Engine – 124.9cc, liquid-cooled, 4-stroke, DOHC, single cylinder
Max Power – 15 horsepower
Max Torque – 11.5 Nm
Top Speed – 72mph
Seat Height – 785mm
Kerb Weight – 134kg
Suzuki also has something to offer to the mix in the form of the GSX-R125.
The GSXR-125 has the best power-weight ratio, torque-weight ratio, and acceleration in the 125 class. This is combined with sporty, agile handling and brilliant fuel economy.
Suzuki has produced the GSX-R line for over 30 years, with more than a million units sold worldwide.
The engine produces 15 horsepower and 11.5Nm of torque with a top speed of around 72mph.
MCN tested the GSX-R125 against 6 other 125s, and the baby Gixxer came out on top of their track day table.
It is an agile, nifty, sporty motorcycle that prepares new riders to move on to bigger bikes down the line.
The Suzuki motor is smooth with masses of torque at all the right times, quick acceleration and enough power to keep you in the pack on country lanes.
Key Features:
Fastest 125 in the MCN Group Test
Legendary Gixxer Silhouette
Easy Start System
Keyless Ignition
---
Aprilia RS125
Specs:
Engine – 124.7cc, liquid-cooled, 4-stroke, single cylinder, DOHC
Max Power – 14.75 horsepower
Max Torque – 11.2 Nm
Top Speed – 70mph
Seat Height – 805mm
Kerb Weight – 126kg
The modern-day RS125 four-stroke stems from Aprilia's two-stroke racing motorcycles, including the incredible RS125 two-stroke.
Aprilia has made their new four-stroke version using the DNA of the two-stroke, so the styling is very much like a superbike, the racing colours, and there is even an option to buy the GP replica version.
The new four-stroke engine isn't too shabby either, pushing out 14.75 horsepower and 11.2Nm of torque for a top speed of just over 70mph.
The GP Replica features a quick-shifter and aluminium frame, which reduces weight significantly; it is the closest you will get to a road-legal competition bike.
If you want to search for an older RS125 of the two-stroke variety, you are opening yourself up to even more power on tap with a high top speed.
The old two-strokes were restricted to 15 horsepower to meet legal requirements, but de-restricted could unleash 34 horsepower and a top speed of 110mph.
If you want a track bike, then searching for a two-stroke RS125 is the way to go, as they truly are the fastest 125s around.
Key Features:
Italian Superbike Styling
MotoGP Replica Option
Quick-Shifter on the GP Model
Smooth Engine
---
Related
You might also be interested in the following related articles: