If you've done riding lessons, you may have used a Keeway before. Their popularity with rider training and CBT centres is a good endorsement for these bikes. Training centres need no-frills reliability that lasts at a decent price.
These characteristics also work for typical, budget-conscious commuters. And in recent years, Keeway has become one of the leading names for small-displacement motorcycles and scooters in the UK.
We thought we'd look at their range and what they're all about.
Save Money On Your Motorcycle Insurance
You could pay less than £183*
Compare quotes from 25+ UK providers
Fill in one form to compare top bike insurers
Who Are Keeway?
Unlike many other small displacement companies we've covered, Keeway is both designed and manufactured in China.
Keeway is the European registered branch of the Qianjiang company. Under different names, this company is the second-largest manufacturer of scooters and motorcycles in China.
The Qianjiang Group is also the owner of Italy's oldest motorcycle manufacturer, Benelli.
What Do They Make?
Keeway focus on smaller machines with good fuel economy that require minimal maintenance. Their latest range of motorcycles offers several cruiser-type bikes and one in a naked sport style. They also offer a small, functional e-scooter called the EZ Mini.
Are Keeway Bikes Reliable?
There's some lively discussion about this online. Keeway has its detractors, particularly when it comes to finding parts for repair.
Closer inspection of many of these posts reveals that they're from a few years ago. Parts and reliability have both been improved but don't compare very well to bikes from the big three.
Parts availability has also improved dramatically UK-wide as Keeway has become more established here.
The Keeway Range
---
Keeway K-Light 125cc E5
The K-Light uses a big outline, low seat, and forward pegs to create a cruisey, weighty feel that's uncommon in 125cc bikes.
And it handles how it looks.
It's smooth, responsive, and feels good through corners. Like many other recent lower displacement bikes from the region, this has some custom classic touches.
At only 145 kilos, the responsive power from the small engine is enough for some fun too.
Traditional front forks and twin rear shocks give good feedback on country and city roads.
A teardrop-shaped tank and the shortened mudguards give an old-school feel. But the air-cooled, Euro 5 engine delivers reliable, modern performance. The little touches like the CNC machined alloy pegs, stubby exhaust, and low seat are guaranteed to turn heads.
---
Keeway RKF 125cc E5
The RKF is going after a naked sports look. And its 125cc, liquid-cooled, single-cylinder engine delivers decent street performance.
A collaboration with Italian manufacturer Benelli means the introduction of Multi-Valve, Multi-Spark engine, BMT technology. This is designed to increase fuel efficiency without affecting performance.
To achieve this, the RKF mixes fuel and air above the theoretical air-fuel ratio of 14:7:1. The BMT platform uses a higher compression ratio, making it possible to ignite the fuel that would otherwise be too lean.
This is great and makes the RKF a sound option for someone after a cheap motorcycle. Aesthetics like the upside-down forks, upswept exhaust, futuristic-looking LEDs, and digital dash will also attract attention.
This is definitely built in a contemporary style. It handles well in urban environments and looks right in them too. And its large fuel tank makes this capable of a few country lanes too.
---
Keeway Superlight 125cc LTD E5
The Superlight is a true cruiser model and one of the best examples of this type of bike in the 125cc cruiser category.
The fuel-injected single-cylinder engine is as reliable as they come and capable of a whopping 110mpg. And thankfully, the performance is also reasonable. Despite its big-looking frame, this is not a heavy machine. And its dual-balanced, air-cooled cylinder feels sufficient for city streets and country lanes.
Like most of the Keeway range, it's apparent what kind of experience to expect by looks alone. This has that custom cruiser front and rear end but uses a slightly more upright seating position.
The combined braking system felt responsive and uses modern front and rear discs. The handlebars and cockpit go for a classic feel and the large 15L tank also helps with this. The blacked-out components and engine block help the chrome detail and gloss paintwork stand out.
---
Keeway Superlight 125cc SE E5
The Superlight SE model uses the same chassis and fuel-injected single-cylinder engine as the Superlight LTD.
The differences here are in the details that come as standard. The SE model ships with a windscreen, saddlebags and protective engine crash bars already installed. Some other detailing differences are also present, giving the SE an even more classic look than its cousin.
---
Keeway E-Z Mini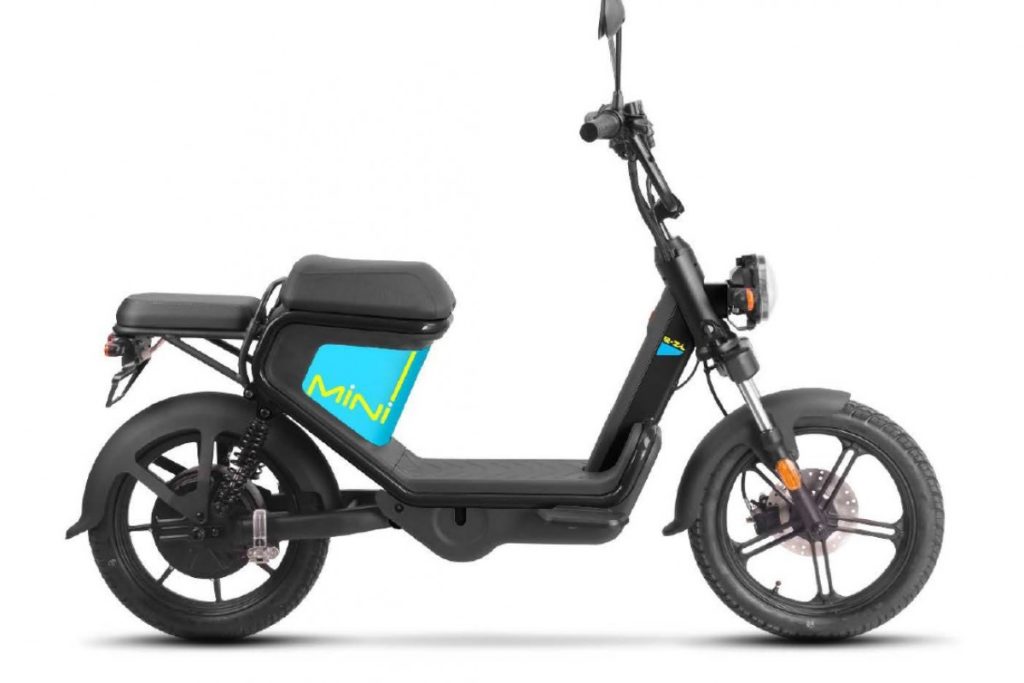 The E-Z Mini is a no-frills, all function little e-scooter on a budget. And while they've kept the price relatively low, the LED lights, LCD panel, alloy wheels, multiple power modes, and 48v rear hub motor feel like premium features.
It uses a 48v 20AH, lithium battery and is deliberately capped at 45kph to meet UK scooter license requirements. This makes the E-Z mini an attractive option for someone with a full driving license who wants a micro runaround.
And it feels surprisingly good to ride. Decent suspension, a comfortable riding position, and responsive brakes (front disc, rear drum) make for a nimble feeling in city traffic.
With a charge time of 7 hours and the option to swap out the battery instantly, this could make for a decent delivery vehicle in an urban environment too. Commuters could probably get away with a single battery, charging it up either while sleeping or working.
---