For some 16-year-olds, few things are more exciting than getting your first set of two wheels.
While some may wait another year until they are 17 to access the wider range of 125cc bikes, an excellent selection of 50cc bikes is available to get you out on the road as soon as possible.
Whether you are after a mini sporty beast, a supermoto, or something with bags of retro style, we have got you covered with our 10 picks for the best 50cc road legal bikes.
Also read – how much is moped insurance for 16 year olds?
Save Money On Your Motorcycle Insurance
You could pay less than £183*
Compare quotes from 25+ UK providers
Fill in one form to compare top bike insurers
Road Legal Bikes for 16 Year Olds
Bluroc Hero
What was once known as Bullit has been rebranded as Bluroc, and the Bluroc Hero 50 is a retro-styled Scrambler with all the attitude of a big bike.
The single-cylinder air-cooled 49.7cc engine is super punchy, loves being revved, and has an exhaust note that few other bikes in the class can match.
You get an inverted fork paired with a rear mono-shock that will have you in control and comfortable from the get-go.
This bike is for young riders who are passionate about simple, classic, traditional motorcycles but will enjoy the modern benefits of a new bike.
Read our Bluroc motorcycles review.
---
Aprilia RS50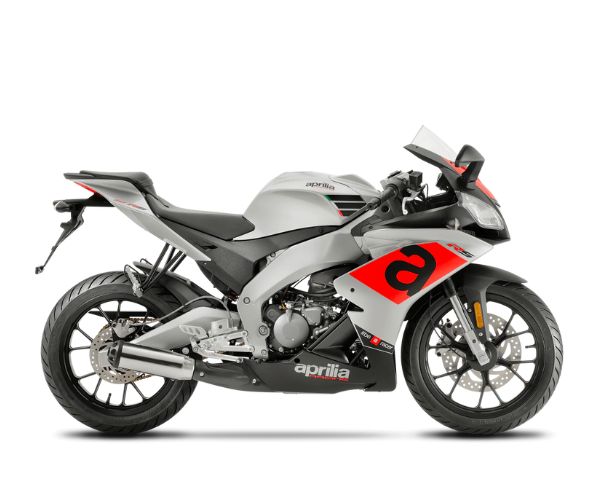 The Aprilia RS50 has all the DNA of Aprilia's racing pedigree. It is dripping in class and sports styling enveloping all of Aprilia's Grand Prix racing legacy.
This is the two-stroke, 50cc that will get your hearts racing and welcome you into the fold of sportsbikes for life.
Sleek fairings, aluminium frame, aggressive sports styling, racing decals, small windscreen, and genuine sports ergonomics make a proper sports bike in small capacity form.
You even get a full instrument panel with an analogue rev counter and a multi-functional digital display.
The RS50 is the gateway to the iconic RSV4 Superbike once you have some years of experience under your belt.
---
Aprilia SX50
Another area where Aprilia has seen great success is with its Enduro and Supermoto ranges.
The SX50 is the smaller brother of bikes with a prestigious run of off-road successes, with Aprilia repeatedly taking home titles.
What Aprilia does well is taking the details that led to successes in competition and filtering them down to even the smallest of their range to ensure that riders get the same premium features and feel regardless of engine size.
With the SX50, you get a tapered compact saddle slightly lower to the ground than previous models for better control and access for riders of varying heights.
17" alloy wheels are fitted with larger tyres which keep steering light, brakes are excellent and provide quality stopping power.
The bike is even loaded with a digital travel diary displayed on the dashboard.
---
Rieju RS3 50 LC
The Spanish company Rieju are giving Aprilia a run for their money in the small capacity sportsbike class with the RS3.
Evolved from the popular RS2 range, the RS3 is upgraded and refined for an even better riding experience.
Firstly, Rieju has fitted a new frame that has found the perfect balance between strength and agility.
There has been no expense spared with a Showa fork fitted up front, and powering the bike is the reliable two-stroke, Yamaha-Minarelli liquid-cooled engine.
The bodywork has been styled for positive aerodynamic capabilities, and beefy Superbike looks to get your heart racing.
It is a bike that looks bigger than it is and won't look out of place next to bigger sportsbikes at local bike spots.
---
Derbi Senda X-treme 50 SM
The Derbi Senda X-treme is a Supermoto offering professional levels of quality and design to the 50cc class.
To start with, it looks incredible, aggressive, sharp, and modern; it has the looks to stand out for sure.
The stable handling, multi-terrain capabilities, lightweight chassis, and top-quality braking set-up back this up.
Equipped with a 50cc two-stroke engine with an electronically controlled carb, the engine is ready to perform and will give the rider the utmost satisfaction.
The Aprilia has inspired this offering from Derbi, that is very clear; however, if you don't want to pay Aprilia prices, then the Senda X-treme is a great alternative.
---
Mash X-Ride 50
Circling back to a more retro vibe, you could opt for the X-Ride 50 from Mash, a retro Scrambler-inspired liquid-cooled, four-stroke 50cc.
The X-Ride is stylistically a cross between a modern supermoto and a classic scrambler which would naturally encourage me at least to test it on some light off-road trails and for commuting.
A big retro headlight will light up the way, a metal sump guard protects the engine if you dare to get knee-deep in mud, and there is a number plate on the side to put your race number on.
The X-Ride is new for 2022 and appears to have replaced the similar Dirt Track 50.
Read our Mash motorcycles review.
---
Mash Fifty 50
This simple, stripped-back, traditional air-cooled, single-cylinder slightly nods to the cafe racer scene.
The classic chrome (look) exhaust sweeps back reminiscent of the Triumph peashooter pipes, and there is even a kick start if you want to go really old school.
The built-in cowl to the seat gives the cafe racer vibe but leaves plenty of space on the actual seat for movement, which makes it reasonably comfortable on longer trips.
In terms of riding position, it is upright, natural, and confidence-inspiring, which is all you can want out of your first bike.
The neutral footpegs and wide bars will have you mastering the basics quickly as you have complete control over the bike at all times.
---
WK Colt 50
If you are a big fan of the Honda Grom that has taken over the internet in recent years, with lots of YouTube riders taking the baby 125cc and making crazy trips on them or doing insane custom jobs, then the WK Colt 50 might be right up your street.
The WK Colt is similar in stature to the Grom but comes with a 50cc engine.
It has a super low seat height of just 760mm, and the short wheelbase means it is agile, allowing you to grow your skills once you have the foundations down.
The Colt is a brilliant first bike, thanks to its light weight, ease of use and neutral riding position.
You get LED lights all around and an LCD dash with a full gear indicator inclusive of neutral, which can be handy when just starting out.
Read our WK motorcycles review.
---
WK Scrambler 50
There are a couple of companies producing retro-styled small-capacity bikes (mainly 125's). These include Mutt, Herald and Mash.
The Scrambler from WK is similar to these bikes, with a clean aesthetic, blacked-out paint scheme and brown leather seat.
The riding position is neutral, upright, and spacious, with wide bars. The bench seat allows plenty of movement to get comfortable and carry luggage.
Priced attractively, the Scrambler still features details like LED lights and steel braided brake lines; you also get an LED Dash and spoked alloy wheels.
---
AJS JSM 50
The AJS JSM 50 has been pulled from the lineup; however, dealers across the country still have them in stock, and AJS are still supplying parts. For that reason, we haven't ruled them out.
The JSM 50 has a supermoto style, but its stature and ergonomics make it more of a conventional upright road bike.
It is wider than most supermoto's, so you have a secure seat to rest on, and this will be more comfortable over longer rides.
Low to the ground, getting your feet down won't be an issue.
The seat rises in the back and pushes forward to the bars, giving you a slightly aggressive stance but nothing too extreme.
The two-stroke, water-cooled engine is economical but remains punchy for an exciting ride.
Read our AJS motorcycles review.
---