Mutt is a UK-based company making small engine, retro-inspired bikes, using reliable design principles borrowed from older machines.
Their bikes are all in the 125cc and 250cc categories and the inspiration from the golden era of British scramblers is clear to see in the look and feel of this range.
Save Money On Your Motorcycle Insurance
You could pay less than £195*
Compare quotes from 25+ UK providers
Fill in one form to compare top bike insurers
Who Are They?
---
Mutt started out building custom motorcycles and saw a gap in the market.
They wanted to make bikes with the look and feel of a customized classic at a much lower price point. To do this, they use a modified version of Suzuki's GN engine, made by Suzuki partners in "the Far East" (just say "China", fellas – no one is judging!).
These engines have a reputation for being bombproof (many of you will be familiar with Suzuki GNs as a staple courier/delivery driver bike).
Parts for the drivetrain and chassis are also custom made to Mutt's specification, helping give their bike's a signature look.
They've placed an emphasis on high-end detailing and easy customisation.
The look they're going for is stripped-down, flat-backed with mostly spoked wheels – features that usually require time, effort and money to add to your stock bike.
Comparisons
---
In our opinion, it'd be unfair to compare Mutt to any of the other companies doing similar things. These bikes are designed and built to a standard more comparable to machines from the big three manufacturers (Honda, Suzuki, Yamaha).
They mightn't have the latest technological innovations or the all-out speed. But handling, performance, and finish are much higher than an average Chinese import bike.
Honestly, the most accurate comparison is probably to a well-modded, custom Suzuki GN 125/250.
This is a compliment.
People have been doing great things with Suzuki GNs for years and they run forever with minimal maintenance. These are bikes for anyone who wants a cool-looking flat tracker/brat/scrambler aesthetic, without getting busy with a grinder, welder, and aftermarket parts.
The Mutt Bikes Range
---
RS13 125cc/250cc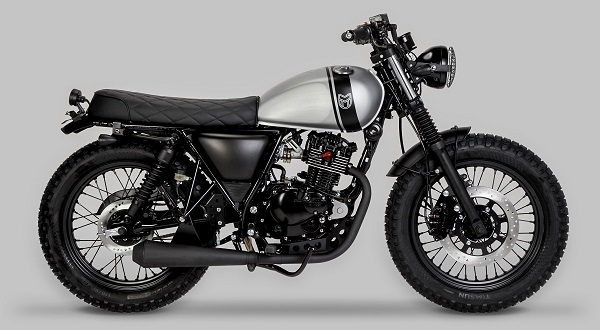 Fat, knobby tyres, Renthal bars, a strip of raw steel across the tank, and a matte black grill over the lamp give the RS13 a very custom look.
It goes for an ultra stripped-down approach with shortened mudguards and an upright, tracker-style seating position.
The 250cc model uses a slightly longer swingarm than the 125cc but both are lightweight, torquey, and classic-looking.
Before Mutt, the only way to get a bike looking this good required grinding, welding, and elbow grease.
Note: This bike was also featured in our roundup of the best lightweight motorcycles.
---
FSR 250cc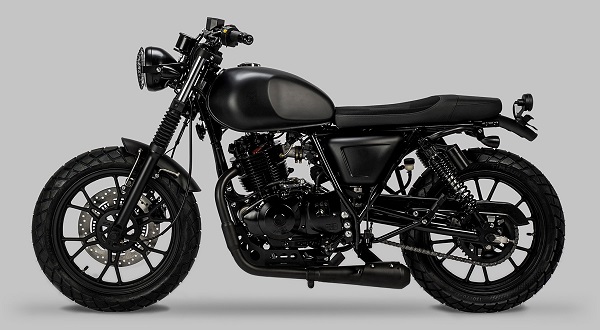 Mutt has gone for a "sporty" (in relative terms) look for the FSR, sticking to smaller, lightweight 17" cast wheels and tyres with a more dedicated road tread.
If you want to lean around corners on a Mutt, this is probably the bike for you.
It uses the same twin shock frame and minimalist approach as the rest of the range but with its low seat height, it's a particularly good fit for shorter riders or those who love that feeling of being close to the road.
---
Razorback 125cc
The Razorback is a tall (88cm), mono-shock, tubular frame, perfect for sitting up high in traffic so you can see and be seen.
This one only comes in a 125cc design and takes inspiration from lightweight enduro classics.
A slim, 1960s-inspired tank, 18 inch, spoked wheels, short, stubby pipe, and inverted forks give this the look of a homemade scrambler.
It's aptly named too with its slim, straight seat sitting high above that rear wheel.
Both colourways are aggressively styled but we love the all-black version. It looks like it would fit in the Mad Max universe.
---
Mongrel 125cc/250cc
This is a simple, lightweight, retro throwback.
It uses a flat back, clean lines, and a black-on-black clour scheme to achieve a classic look.
An upright position with low, wide handlebars make this a fun way to rip around town and the 250cc version has enough grunt for the motorway.
Mutt has managed to give both models an impressive low-end rumble. There are many beautiful touches, helping to make this a cut above cheaper import bikes. The diamond pattern, tan grips, matching seat, Mutt-branded bar ends, and custom sump guard names a few.
It mightn't be a true off-roader but it looks like it could handle some light romping pretty well.
---
Mastiff 125cc/250cc
The 17-litre tank designed for the Mastiff and GT – SS models gives a chunkier outline and light touring capabilities.
The chunkiness continues with its super-wide, deep tread tyres on 18 inch, black rims with black stainless steel spokes.
Little touches like CNC machined fork caps and headlight brackets look like high-end custom work. O
f Mutt's range, this bike and the GT – SS come closest to looking like custom cafe racers, finished to a very high standard.
The pin lining on the tank, flat back with diamond pattern seat, anodised black bars, and custom mudguards all contribute to the sense that you're looking at a custom classic.
We like the drilled sump guard and matching master cylinder too.
---
GT – SS 250cc
Using the same 17-litre tank as the Mastiff, the GT – SS also opts for a more road-friendly tyre.
The comfortable seating position, stunning paint job, and abundance of chrome mean this was made more for the road than the trail.
Mutt's blog and website mention customers and staff riding these things from Bristol to London and even into Europe.
There's no reason why a smaller bike can't go touring, other than the typically small fuel capacity. This would make an ideal commuter too.
---
Hilts 125cc/250cc
Some element of Steve McQueen-Esque cool runs through all of Mutt's range but none more so than the Hilts.
Knobby tyres, a flat back, and a slightly aggressive stance make it look like a prop from a classic movie.
This one is available in gloss grey or matt green.
Both are detailed with monograms and logos and the custom seat is hand-finished to a very high level.
The micro indicator brackets, blacked-out wheels, and shortened mudguards make this look very low-key custom.
---
Sabbath 125cc/250cc
This is the meanest, moodiest-looking stock bike we've ever seen.
It's black from tip to tail, built on Mutt's usual tubular frame, and features a longer swingarm than the 125cc model of the same name. This 250cc engine has plenty of power for commuting, country lanes, and even motorways.
The street-custom look is finished out by narrow, black handlebars, a short, loud tailpipe, black, aluminium indicator brackets, and diamond tread pattern on the grips and seat.
Mutt's naming conventions are good, generally. But we particularly like this one. It's hard to hear the word "Sabbath" without thinking "black" – and it's certainly appropriate here.
---
Akita 125cc/250cc
As the name suggests, the Akita takes inspiration from some iconic Japanese designs of the '70s and early '80s.
The knobby, wide tyres, black on black spoked wheels, short, flat seat, and chopped tailpipe all help to give it the look of a classic, Japanese street bike that's seen some serious customization.
But our favourite thing, and maybe the most evocative of those '80's Yamaha designs, is the rectangular, 17-litre tank.
Black, anodised aluminium indicator brackets, pegs, and shifters help keep the colour scheme muted.
And handmade, tig-welded stainless rear mudguard mounts and sump guard have the look of true, custom-fabricated parts.
Totally subjective, but this is our favourite one. A lightweight streetbike in a chunky, retro, big bike outline.
---
More Information
Check out the full range on Mutt motorcycles website.
You might also be interested in: