A motorcycle helmet is the single most important purchase you will make, second only to your motorcycle.
I used to work in a store selling motorcycle gear, and I always advised customers to allocate the biggest part of their budget, time, and energy to getting the right helmet.
You only get one noggin; it pays to look after it!
I have pulled together 11 of the safest motorcycle helmets currently available.
Unless otherwise stated, every helmet selected is ECE 22.05 approved with a minimum SHARP rating of 4 stars.
You can read more about ECE standards and SHARP ratings in the buying guide.
Let's get to it.
Here are our 11 safest motorcycle helmets.
Best Premium
Arai RX-7V
5 Star SHARP rating, 4 Shell Sizes, Exceptional Quality
A premium quality protective motorcycle helmet that offers a custom fit for maximum safety and comfort.
Best Value
HJC C70
Excellent Value, Feature Rich, 5 Star SHARP Rating
A great value helmet offering features usually reserved for more expensive helmets while carrying the highest SHARP rating.
Arai RX-7V
I may be a bit biased when it comes to Arai helmets as my personal opinion is that they are simply the best on the market; that may be because they fit me exceptionally well.
Check Prices on SportsBikeShop
The RX-7V is the pinnacle of the Arai range, with a 5-star SHARP rating and constructed of their strongest super fibres.
They offer a custom fit with a removable 5mm liner, and Arai will swap the cheek pads if necessary to give you that perfect fit.
Field of vision is brilliant; the helmet is lightweight and aerodynamically efficient.
Pros:
5 star SHARP rated
4 Shell Sizes
VAS Max Vision Visor and Pinlock
Strongest PB-SNC2 R75 shell construction
Emergency release tabs
Race technology derived with road features like speaker pockets
Cons:
---
HJC C70
The HJC C70 replaced the IS-17, which a few years ago was the best selling helmet from HJC; it was also one that I loved to sell.
Check Prices on SportsBikeShop
For the C70, the shell construction has been improved, and it is 5 star SHARP rated.
You get a lot for your money with the C70, such as an internal sun visor, Pinlock visor, speaker pockets etc., all things you expect to find on more expensive helmets.
Alongside that, however, you get a relatively lightweight lid with excellent visibility from the eye-port, and HJC seems to be good at constructing helmets that fit most head shapes.
Pros:
5 star SHARP rated
Advanced polycarbonate construction
Internal sun visor
Advanced ventilation
Great visibility
Cons:
---
Shoei X-Spirit 3
The X-Spirit 3 is Shoei's version of the Arai RX-7V, their flagship race helmet developed mostly for the track.
Check Prices on SportsBikeShop
It features an impressive 6 layer multi-composite construction and a multi-layer inner lining.
The 4 shell sizes mean that the helmet is catered to your head size to ensure the right fit; the interior is also adjustable so you can make sure the helmet fits properly.
It is lightweight, with excellent aerodynamics, and has a rotating interior that can adapt to suit your riding position, i.e. tucked in at speed.
Pros:
5 star SHARP rated
6 layer AIM+ shell construction
4 shell sizes
Emergency quick release system
Excellent ventilation channels
Cons:
Pinlock not included
Pricey
---
Shark Race R Pro
The Race R Pro is another race-derived helmet constructed from a multi-composite shell, including carbon fibre.
Check Prices on SportsBikeShop
By using carbon, the shell is extremely durable while remaining lightweight.
Developed predominantly for Sharks racers like MotoGP and WSBK, the Race R Pro is a helmet perfect for cutting through the air with minimal buffeting.
Protection at high speeds is at the forefront of the construction, and therefore the helmet is a great safe choice for road riders.
Pros:
5 star SHARP rated
Multi-composite, carbon fibre construction
Race derived technology
Cons:
---
AGV Corsa-R
The Corsa-R is a lightweight carbon, mixed fibre composite helmet with a brilliant field of view.
Check Prices on SportsBikeShop
It comes in 4 shell sizes, so the Corsa-R is built to fit you whether you are an XS or XL.
It includes a Pinlock visor, so you can be sure to be mist-free on your rides, but aside from that, it is a no-frills helmet.
Ventilation is good, and the inner lining offers a reversible option, with a cool or warm side of the fabric so you can adapt to your comfort level depending on the conditions.
Pros:
5 star SHARP rated
Mixed carbon and fibreglass construction
4 shell sizes
Pinlock included
Cons:
Few useful road features as very track performance focused
---
Caberg Duke II
The Duke II is the only 5 star SHARP rated modular helmet to make the list.
Check Prices on SportsBikeShop
It is only one of a handful of modular helmets to receive a 5-star rating from SHARP at all.
It is nice to have access to the ease of a flip front helmet while knowing it has passed the same testing as 5-star full-face helmets.
The ventilation system is good, and it comes with a Pinlock visor.
One big downside for me is that it only comes in 1 shell size, so the different sizing is made up of different levels of padding, as opposed to the actual construction.
Pros:
5 star SHARP rated
ABS shell construction
Excellent ventilation
Pinlock included
Cons:
---
Arai Quantic
Two helmets made the cut despite not being SHARP rated at all; bear with me, there is a very good reason for this.
Check Prices on SportsBikeShop
The Arai Quantic and Shoei NXR 2 are two of the few latest helmets that have passed ECE 22.06 regulations.
All other helmets I have included have been ECE 22.05 certified with a SHARP rating of 4 stars or above.
ECE 22.06 regulations are much tougher than 22.05, and the only reason SHARP does not yet rate the helmets is that they are brand new to the market.
The Quantic features Arai's latest laminate construction which maintains strength while being very lightweight.
Ventilation is second to none, and the MaxVision visor ensures the most visibility possible.
As with the RX-7V, you get all the custom fit options, too, so you can be perfectly comfortable and safe.
To give you some peace of mind if the SHARP ratings are what you stand by, the preceding Quantum helmet by Arai was rated 4 stars.
Pros:
ECE 22.06 approved
VAS MaxVision Visor and Pinlock
ERS – Emergency Release System
PB e-cLc (Peripherally Belted e-Complex Laminate Construction)
Cons:
---
Shoei NXR 2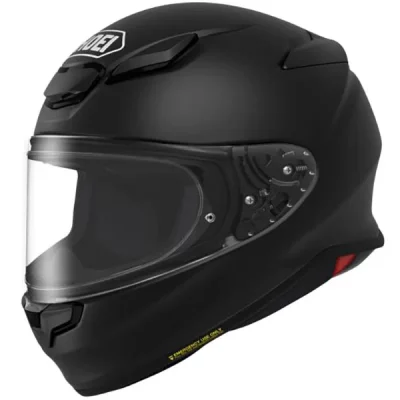 As with the Arai, the preceding NXR by Shoei was rated 4 stars by SHARP, so it would be likely to see the same if not better rating again on the ECE 22.06 model.
Check Prices on SportsBikeShop
The NXR 2 is very lightweight and aerodynamic to prevent any buffeting.
View distortion prevention means that the visor is clear at all angles, so you have maximum visibility.
Large vents at the front let cool air in, while multiple rear vents let hot air out.
If you are looking for a quality protective helmet that meets the latest ECE 22.06 standards, the Arai or Shoei would be a good choice despite the current lack of SHARP rating.
Pros:
ECE 22.06 approved
Visor has view distortion prevention
4 Shell sizes
Multi-Composite construction
Pinlock included
Cons:
---
Nolan N87 N-Com
Nolan makes the list with more of a budget option; despite this, the N87 still has a 4-star SHARP rating, so it is nothing to be scoffed at.
Check Prices on SportsBikeShop
Although constructed of polycarbonate, it is a lightweight helmet packed with useful rider features such as an internal sun visor, Pinlock, and easy opening vents.
The visor is ultrawide, so you have maximum vision, even at the peripheral. It is ready to have Nolan's Emergency Stop Signal fitted if you wish, which is a cool little safety feature.
Pros:
4 star SHARP rated
Lightweight polycarbonate construction
Internal sun visor
Excellent ventilation
Pinlock included
Ready for Nolan's ESS (Emergency Stop Signal)
Cons:
---
Simpson Venom
Having owned the Simpson Venom and the similar Biltwell Lane Splitter, I can confirm that the Venom is the better of the two and also just a pretty great helmet.
Check Prices on SportsBikeShop
It is the only Street Fighter style helmet to make the list, but it comes with a 4-star SHARP rating and is constructed of carbon, aramid fibres and fibreglass.
It is reasonably lightweight but not quite as good as the race helmets on the list; however, visibility is brilliant.
3 shell sizes allow for a comfortable fit despite your head size.
Ventilation is very good; the downside, however, is that the helmet is noisy, which can get quite distracting and irritating on a long journey.
Pros:
4 star SHARP rated
MaxVision visor
3 Shell sizes
Tri-Composite construction, carbon, aramid and fibreglass
Internal sun visor
Maximum visibility through the visor
Cons:
---
LS2 Valiant
LS2's Valiant is the only other modular helmet on the list, and it comes with a 4-star SHARP rating.
It is definitely more of a budget option, but it is feature-rich with an internal sun visor and Pinlock.
For those looking for a modular helmet, perhaps for commuting or using as a delivery driver, the LS2 is a solid protective option that doesn't cost the earth.
Pros:
4 star SHARP rated
Internal Sun Visor
Pinlock included
Value for money
Cons:
Only 1 shell size
Ratchet strap closure mechanism
---
Buyers Guide
Considerations, care and cost
---
There is just one question to think about when buying a motorcycle helmet:
How safe is it?
Sure, they look pretty, and you may want an AGV Rossi replica, but it needs to fit you well and protect your head. If that means that AGV lids aren't a good fit for your head shape, but the plain Arai is, then so be it.
From safety ratings to fit, read through our buying guide to help you get the best helmet for you.
Here are my top tips for buying a safe motorcycle helmet:
ECE
Since 1972 when the No.22 Regulation came into effect from the Economic Commission for Europe, there have been a set of standards that motorcycle helmets have to meet to be eligible for sale in the UK (and 47 other countries).
At the time of writing, the law is in a revision transition from ECE 22.05 to 22.06.
As it stands, you can still purchase ECE 22.05 certified helmets until December 2023; however, from January 2024, all helmets will need to meet the updated 22.06 standards.
All ECE certified helmets must have the ECE label stitched into the helmet's chin strap.
If a helmet has not got the ECE certification, then it is not legal for road use in the UK and, more importantly, has not been tested for its protective abilities and therefore should be avoided.
You can read all about ECE 22.06 in our article explaining the ins and outs here.
SHARP rating
SHARP testing was launched in 2007 as an initiative by the Department of Transport.
The SHARP rating scheme complements the ECE regulations for helmets, and they do their own independent testing procedures.
The programme is based on the most comprehensive study of motorcycle crashes conducted in Europe from 2001 called "COST 327".
Simply put, the SHARP testing procedures are said to mimic 'real-life' road experiences based on the COST 327 data of head injuries, and the helmets tested are then rated from 1-5 stars depending on how well they do in the tests.
Fit
Above everything, your helmet must fit you correctly.
A helmet can have a SHARP 5-star rating, but if it is ill-fitting on your head, it isn't going to offer you the level of protection you expect despite the rating.
The helmet needs to sit low on your forehead, and you need to have excellent visibility out of the visor.
The helmet should feel like it is cradling your head all the way around with no pressure points or gaps.
When you try the helmet on, focus on the cheek pads, are they in line with your cheekbones and are your cheeks pushed up nice and firm without being uncomfortable?
Take your time trying on the helmet, and be sure it fits properly before committing. It cannot be stated enough just important it is that your helmet fits properly.
See our guide to how a motorcycle helmet should fit
Other considerations
Weight
Lightweight helmets are great for riding, they put less stress on your neck, meaning you can keep going for longer, and you don't get horrible cramps which can be distracting.
Multi-composite shells mixed with carbon fibre tend to be the lightest helmets on the market while offering excellent protection properties.
Visibility
Being seen on the road as a motorcyclist is essential to survival.
However, it seems no matter what we wear, some drivers are just blind to us.
Arguably a white helmet or brightly coloured one should increase your visibility on the road, but there is contradicting research about this.
Double D Rings
Double D rings are considered the safest retention mechanism as opposed to ratchet straps.
Only helmets that use Double D rings can be used on the race track.
Ventilation
A helmet with good ventilation will keep you nice and cool and avoid overheating.
If you are uncomfortable inside your helmet, you can get distracted by headaches or the heat\cold, which is best avoided.
Go for a helmet with a good ventilation system, with exhaust vents at the rear to expel the hot air.
Internal sun visor
An internal sun visor is great for ensuring you have maximum visibility at all times.
There is nothing worse than turning a corner and being blinded by the sun. Having a visor, you can just slide down is brilliant, as it saves you from pulling over and putting on sunglasses.
Race developed helmets
Helmets developed for racers have been built for maximum protection, particularly at high speeds.
It stands to reason that these are the safest helmets in all circumstances, with the best quality materials and latest tech.
However, they lack useful road features that many other helmets have come to have, such as inbuilt communication systems, sun visors, etc.
This is a balance you will need to decide for yourself as to what is most important and apply common sense.
If you plan on doing some track days and ride a sportsbike heartily on the weekend, then you will benefit from the safety features of a race helmet.
Conclusion
There it is a comprehensive list of the safest motorcycle helmets currently on the market.
The Arai RX-7V offers a premium package, with a custom-fit and race-derived technology leading the design process from the materials to the aerodynamics.
If you are looking for something at the lower end of the price scale, the C70 from HJC is an excellent choice that offers protective features above its retail price.
Related
For more on helmets in general, see our guide to the best motorcycle helmet options.