Motorcycle boots are worth spending some money on. They can be the difference between walking away from a fall and wearing a cast for several months.
But they can also keep you warm, dry, comfortable, and better able to focus on riding.
We've listed our favourite waterproof motorcycle boots in various styles and prices.
Best Overall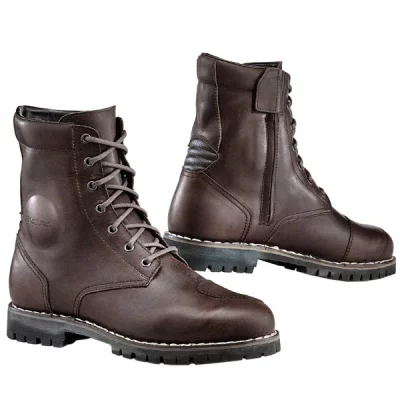 TCX Hero Waterproof Boots
Great looks and functionality
The TCX Hero are a very popular boot for a reason. They will keep you dry and protected while looking just like a regular, vintage military/hiking boot. And they're comfortable to walk in too.
Four Season Pick
Alpinestars Web Gore-Tex Boots
Year-Round One Pair Solution
An excellent choice if you're after a single pair of boots for all four seasons. Solid protection, excellent waterproofing, and the breathability of Gore-Tex - great in all weather.
TCX Hero Waterproof Boots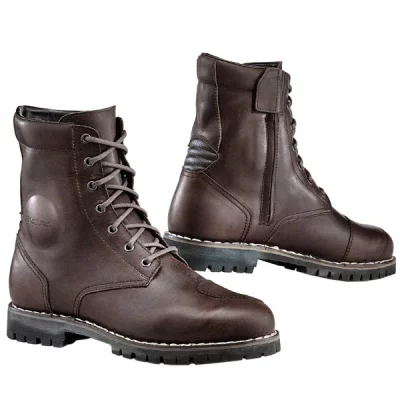 These boots from TCX use a classic combat boot style with modern touches. The full-grain leather construction ensures good abrasion resistance, and heel and toe counters protect sensitive areas from impact.
Check Prices on SportsBikeShop
Waterproofing comes from a membrane under the leather and is effective in wet conditions.
The footbed is comfortable for walking and is replaceable, meaning you can get many years of use from these boots.
The traditional-looking stitched-down soles complement the classic outline. Thankfully, these are also welded for durability and waterproofing.
The quality of the leather may play a role, but these are known for being very comfortable boots. Requiring very little break-in time, many riders opt to wear these when out for a stroll. They are comfortable and stylish enough to wear to a cafe or pub.
The lace-up system looks the part, but there's also a convenient zipper.
All in all, these are an excellent option for someone who values classic looks and functionality.
Pros:
Look great
Well made
Good waterproofing
Cons:
---
Alpinestars Web Gore-Tex Boots
Alpinestars are worn by enough high-level riders to make our endorsement a bit meaningless. But they do make gear worthy of its premium price point.
These year-round, subtly-styled touring boots offer excellent waterproofing, breathability, and comfort while maintaining high protection.
Check Prices on SportsBikeShop
A Gore-Tex membrane under oiled leather keeps out water but lets perspiration evaporate. The flexible instep section, anatomic footbed, and EVA foam also help with comfort on and off the bike.
Riders with larger calves rejoice. The hook-and-loop calf adjustment is large enough to accommodate a wide range of people. And despite that, these are low-key looking touring boots. They're pretty simple and discreet for the level of weather and crash protection they offer.
CE-certified protection comes from moulded plastic shin plates and reinforced toe and heel counters.
The high-end, oiled leather offers good abrasion resistance but gives good feedback on the gear selector and rear brake.
Comfortable, breathable, and with CE-certified protection, these are easy boots to recommend.
Pros:
Quality, durable construction
CE protection
Gore-Tex lining
Cons
---
Richa Slick Waterproof Boots
This urban-style boot is cut just above the ankle and uses a relatively slim design (compared to a touring boot, for example).
Check Prices on SportsBikeShop
They're also lightweight and a little more comfortable to walk around than some touring style options.
The waterproofing is achieved using a Hipora membrane. This material is breathable but not to the level of Gore-Tex. Hipora is effective at keeping water out. However, in a downpour, water ingress at the cuff would be a problem without gators or trousers covering them.
Comfort and feedback are excellent here due to the lightweight suede and leather construction. These are not an especially warm pair of boots. Fine for late spring, summer, and autumn, but you may need a thermal sock on colder days.
The solid construction creates a supportive feeling boot that offers decent protection. Sturdy counters at the heel and toe reinforce the structure, and a leather pad covers the toe area in contact with the gear selector.
Pros:
Comfortable
Easy to walk in
Decent waterproofing
Cons:
Short ankle means water ingress
---
RST Tractech Evo 3 Waterproof Boots
RST make some serious gear. These waterproof sports-style boots offer hi-tech protection at the cost of some mobility and comfort off the bike.
Check Prices on SportsBikeShop
Waterproofing is achieved using a membrane. We couldn't discover from the marketing copy which material they've used, but it's pretty breathable and very effective.
Like most sports options, these are made with crash protection in mind. Thermoplastic urethane protection in the shin and heel protects from impact, and a hinged ankle protects from overextension. A durable, replaceable toe slider is also included.
Like with most of these systems, this ankle hinge allows you to walk, but not as naturally as boots without this feature.
Stretch panels in the calf help with comfort and allow these to fit a range of people. The microfibre interior helps with comfort too.
These are great waterproof, protective equipment but remember – these boots were not made for walking. The stiff, anti-twist sole, hinged ankle, and armour inserts will take their toll on comfort off the bike.
Pros:
Very sturdy race-style boots
Waterproofing is quality
Cons:
Not super comfortable to walk in
---
TCX ST-Fighter
These boots from TCX come in more of a sports touring style.
Check Prices on SportsBikeShop
Generally, this means some attention has been paid to comfort off the bike in addition to crash and weather protection. Certainly more so than with a dedicated sports boot.
Using an Airtech membrane under their leather outer, these boots remain highly breathable while maintaining decent breathability.
These are CE-certified boots made in a semi-rigid construction with injection-moulded inserts. Like the RST Tracetech boots, these feature a torsion control system to prevent overextension of the ankle. And these feel like walking is a little more natural than the previously mentioned boots.
Replaceable polyurethane toe sliders also help protect your feet in an accident. A semi-rigid midsole helps protect from crushing injuries, and its placement doesn't affect walking much.
The zip and velcro closure, microfibre upper, and breathable Airtech inner make for a comfortable boot on long rides.
They also feel good on the controls, offering feedback on the gear lever and rear brake – a serious pair of boots.
Pros:
Good crash and weather protection
Good breathability
Cons:
Premium pricing (but worth it)
---
Richa Vortex Waterproof Leather Boots
The Vortex gloves from Richa are affordable but pack features from a premium set.
Check Prices on SportsBikeShop
And they'll keep you dry. They use polyester urethane-coated leather to form an initial layer of water resistance. A membrane below this layer prevents any water ingress.
Flex zones at key points in the boot help with comfort, especially when off the bike.
The heel and toe counters here provide the expected protection, and the extra padding and reinforcement at the ankle are a cut above many boots.
These are not the warmest boots on our list. Those wishing to get four seasons from these may also need to invest in some quality thermal socks.
Still, these are no-frills, quality waterproof boots from a known brand at a reasonable price.
Recommended at the price.
Pros:
Excellent waterproofing
Good protection
Cons:
---
TCX X-Blend Waterproof Boots
These CE-certified boots from TCX are another example of a classic combat boot aesthetic with a few modern touches.
Check Prices on SportsBikeShop
More than many on our list, these boots look like regular footwear.
They use a full-grain leather construction with a T-DRY waterproof, breathable lining and boast decent safety features.
Reinforced heel counters, toe counters, and subtle ankle armour keep you protected in an accident. A durable patch covers the toe area in contact with the gear shifter.
Despite the chunky aesthetic, these have good feedback on the shifter and brake. Due to the quality leather construction, these may take a short time to break in.
All in all, these are a great set of boots that look even better once broken in.
Despite this, their waterproofing and construction are hard-wearing and long-lived. You should get many years riding out of these boots.
Pros:
Look like regular footwear
CE certified protection
Quality waterproofing
---
Spada Pilgrim Grande CE Leather Boots
These leather boots from Spada go one step further in search of that vintage look by oil-distressing the leather.
That might sound slightly over the top, but the result looks cool.
Check Prices on SportsBikeShop
These boots use a Hipora lining that does a decent job of keeping the rain out while allowing the skin to breathe.
Of course, using organic material like leather for the outer construction also helps with this breathability.
And while these may look like a simple set of vintage boots, their protection level is surprisingly decent.
Thermoplastic polyester urethane inserts protect the ankle. Reinforced counters protect the heel and toe, and a gear shift patch is included to protect the toe from wear.
A zip closure is included for convenience. But thankfully, the lace-up front is kept for aesthetic reasons.
The sole uses wood and leather construction for a vintage look but is better sealed than traditional boots using these materials.
These boots might be a good call if you've got a vintage classic and want appropriate footwear to take it out on a Sunday.
Pros:
Classic looks
Good waterproofing and protection
Cons:
Looks won't be for everyone
---
Buyer's Guide
---
Material
There was a time when leather was your only option for a motorcycle boot. Hard-wearing textiles offer similar performance nowadays, but many of the boots on our list still use a combination of cowhide and synthetic materials.
Read our motorcycle boot buying guide.
Structural integrity is the most important thing you want from your boot material, and leather holds together very well in high-speed contact with the road.
Waterproofing
Like most motorcycle clothing, Gore-Tex is the gold standard for a waterproof, breathable solution.
Other membranes like Hipora offer excellent waterproofing but aren't quite as breathable. A PU coating on the leather or different outer fabric can increase effectiveness.
The Richa Vortex, for example, use a PU-treated outer layer in combination with a waterproof membrane.
Protection
In motorcycle boots, heel and toe counters (the extra bit of material that wraps the toe and heel) are usually stiffer than regular footwear.
These features and a stiff, anti-twist sole help give basic protection to a motorcycle boot.
Extra features like TPU armour inserts and hinged heel protection (which allows you to walk but prevents overextension) can increase the cost of the boot and compromise walking and comfort.
Final Thoughts
There you have it, 8 quality waterproof boots to choose from.
We recommend the TCX Hero; its casual style and excellent functionality will suit most riders.
For those looking for a premium product that justifies its price tag, you can't go wrong with the Alpinestars GoreTex boots.
Related
You might also be interested in our other waterproof clothing guides: