The vest, a simple mid layer, normally associated with your childhood and Rab C Nesbit.
Armoured vests occupy that territory between a full on jacket and a fully armoured under shirt. Here we review a number of current options on the market and offer some sage advice:
Comfort and Protection
Extremely comfortable low profile vest.
CE Level 2 back protector for maximum protection. Check SportsBikeShop
Lightweight Protection
Highly breathable and suitable for machine washing.
A great affordable option with top notch level 2 back protection. Check SportsBikeShop
Best Armoured Motorcycle Vest Reviews
Lets look at our top options.
---
Knox Track Vest MKIII
Best Overall
Containing Knox's Aegis back protector, which has movable parts to assist with back alignment and contain channels to aid venting and cooling. The MKIII utilises lightweight stretchy, machine washable lycra.
Check Prices on SportsBikeShop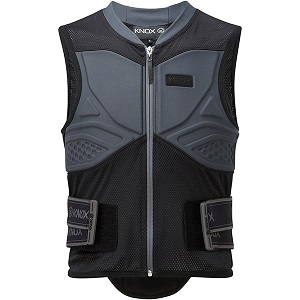 Designed to be compatible with Knox chest protectors (such as the Knox Micro-Lock), but this will need to be purchased separately. The garment has a good quality feel and uniquely the back protector can be removed and worn separately.
Pros
Good quality m/c washable garment
Comfortable
Premium back protector (that can be used separately)
Cons
No chest protection
---
Forcefield Pro XV Vest
Best Budget Pick
The XV is the older version of the XV-1 and newer XV-2, but strangely has chest protection that is missing from the XV-1. This 'old stock' item is still available from Sportsbikeshop so don't hang around.
Check Prices on SportsBikeShop
This vest offers a comfortable fit, utilising adjustable straps and includes Forcefield's DRI-M back protector (removable).
This moulds well to your back (once warmed up) and the Eco vent system and Forcefield's 'BeCool' material ensures good ventilation and heat porting.
Pros
Reasonable price point
CE Lv 2 back protection
Chest protection
Cons
No CE rating for chest protectors
Zip can come undone from bottom
---
Rukka Kastor 3 Armoured Vest
Best Premium Pick
The newest vest from Rukka, seeks to improve the Kastor 2 and is made from abrasion resistance Cordura.
The Kastor 3 also has adjustable shoulder straps and utilises lightweight D30 CE level 2 back and has the added feature of CE Level 2 D30 chest protection.
Check Prices on SportsBikeShop
Made with a 'temperature regulating membrane', making summer riding more pleasant, and also has a connection zip for Rukka jeans to prevent 'riding up'. As this is our only review vest with CE level 2 armour we've awarded this our premium pick.
Pros
Lightweight CE Lv2 D30 back and chest protection
Good quality, long lasting garment
Good sizing and comfort
Cons
Not cheap
Check SportsBikeShop Check On Amazon
---
Alpinestars Track Vest 2
Best Ventilation
Made from a 'technical stretch net', the Track Vest 2 has a CE Level 2 certified back protector and a chest compartment with removable PE foam. This can be upgraded to Alpinestars' Nucleon chest protectors if desired.
Check Prices on SportsBikeShop
The vest also comes with an adjustable and removable kidney belt and offers a lightweight well-ventilated garment.
Pros
CE Lvl 2 back protection
Kidney belt
Chest protection pockets
Cons
Limited 'foam pad' with included chest protection
Additional cost to upgrade to Nucleon chest protectors
Check SportsBikeShop Check On Amazon
---
HELD – Ladies Nagato
Best Ladies Option
A notable inclusion, as this particular vest helpfully adopts a more suitable fit for Women riders. It's made from a hypoallergenic lycra material and includes a body-hugging waist belt to gain a greater fit.
Check Prices on SportsBikeShop
Its back protector utilises premium SAS-TEC armour and is CE 2 approved. The vest is stylish, and users report that the back protector is soft, whilst the sizing is spot on. However some feedback suggests that the velcro strap isn't effective and the vest can ride up.
Pros
Premium armour
Waist Belt fitting
Reasonably priced
Cons
Short vest, prone to 'riding up'
Velcro strap can be ineffective for some
---
Buyers Guide
---
Armoured vests generally tend to be made from an abrasion resistant material and various types of back armour.
Safety First: Back and Chest Protection
Whatever vest you get, a back protector is essential, and if possible some form of chest protection. Most vests on the market appear to contain superior level 2 back protection (look for EN1621-2 certification).
And those that do describe chest protection mainly provide simple padding but it pays to get a vest with at least level 1 chest armour (look for EN1621-3 certification).
As a reminder, there are essentially two main certification standards that manufacturers can apply to their products:
CE-1 – this is the lowest bar armour has to clear in order to make CE approval, and is often cheaper than CE-2.
CE-2 – offers a higher level of protection, and we reckon it's the best choice, especially for back armour that looks after your spine, although it may cost a little more.
For a full guide including armour standards see our: Motorcycle Armour Guide
Armour Types
The best armour tends to be polyurethane foam, which is malleable, light and excellent at dissipating impact. The two most well named brands being D30 and SAS-TEC.
Comfort and Fit
Like any type of clothing, look out for straps and adjustment options. None of us are built the same, and some vests offer good adjustment points to minimise poor fit.
Also, heat venting and air channels are a must to ensure that you don't end up in your own private sauna.
Conclusion
So what's the point of an armoured vest? Simply put, it's about options. A decent armoured vest will allow you to add back/chest protection to an existing jacket that already contains elbow pads and shoulder protection.
If you also have numerous jackets that all require different back armour, one good quality vest can cover them all and save you a fortune in back protectors.