Pit bikes have really taken off in the last decade. Somewhere between a dirt bike and a mini moto, these machines are tons of fun for all ages. Though most focus on dirt track racing and casual romping, their origins differ.
The 'pit' in the name comes from the pit complexes around racing tracks. 'Pit bikes' were first created for riders and crew to get around the complex on small-wheeled, nimble machines.
Someone, somewhere along the line, decided to put knobby tyres on there and built a dirt track. Fun-lovers haven't looked back since.
But unlike the motocross market, the pit bike scene has yet to settle into a shortlist of recognisable brands. Many of the manufacturers are based in China and are relatively unknown.
We've listed some of the best models available in the UK.
10Ten MX 140R
Engine: Petrol Single Cylinder 4-Stroke
Frame: Chromoly
Cooling: Oil-cooled
Weight: 85kgs
Top Speed: 50mph+ (with factory gears)
One of the most fun stock bikes you can get, the MX 140R is a quality, out-of-the-box option. It's a great machine to get among the dirt quickly. And like most pit bikes, it's also reasonably easy to work on.
It uses knobby tires on 17″ front and 14″ back wheels, built onto tough aluminium rims. Lace-up spokes complete the wheelset, ensuring the bike can soak up bumps and knocks without buckling the wheels.
Adjustable, upside-down forks and a rear mono-shock make for excellent handling over a variety of terrain.
The extended swingarm helps stability at high speed or when landing on uneven ground. All this makes the MX 140R accessible for a pit bike.
The handling is neutral and confidence-inspiring, and the gear changes are smooth and clicky. And with an age rating of 14+, these bikes make an excellent intro to dirt biking for teenagers. Its rugged design and fold-back levers also mean it can stand up to some hard use.
The oil-cooled, 140cc engine is punchy, delivering good torque for its size. The stock gearing is designed for motocross track use and will go in excess of 50mph in these conditions. Playing around with their gear ratio for better all-out speed is possible.
There are some premium touches here for an off-the-peg bike too. The gripper seat holds you in place more effectively than standard PU leather. And the large, wavy brake discs allow heat to dissipate. Combined with the hydraulic braking system, this means good performance even under high-stress, muddy racing conditions.
---
M2R KM160SM Racing Supermoto
Engine: Petrol, Single Cylinder, 4-Stroke
Frame: Chromoly Steel
Cooling: Oil-cooled
Weight: N/A
Top Speed: 50mph+
This supermoto take on the pit bike will appeal to those looking to race on tarmac surfaces. Its 18bhp engine is powerful but not unwieldy, making it a good choice for those stepping up from a mini moto.
It uses Mitus slick tires on alloy, mag wheels. The tread is road-ready, offering stability and grip on racing tarmac.
SP fully-adjustable front forks and adjustable rear mono-shock also contribute to feelings of stability and fine control. The rear suspension is lowered for better response and grip through corners. Braking is taken care of by a twin pot system for the front and rear discs. These discs are large and feature a wavy pattern that helps them dissipate heat quickly.
A Race-Ready model is also available. This upgrade provides slightly better engine performance and an upgraded chain. Both models come with hand protectors and feature durable levers and switchgear.
Some assembly of this bike is required. Handlebars, front wheel, front mudguard, and rear suspension must be fitted and adjusted upon arrival. But a household set of tools will do the job. A fun and relatively cheap way to get started on the track.
---
Honda CRF 110F
Engine: Petrol, Single Cylinder, 4-Stroke
Frame: Steel
Cooling: Air-cooled
Weight: 77kg
Top Speed: 55mph
Sure this bike will cost you more than a lesser-known brand. But it's a Honda. In the world of motorcycles, no brand is as well-known for its build quality as the mighty H.
And even though this is made for the 8-11-year-old category, it has a big bike feel and specifications. The electric-start engine is built to require minimal maintenance and provide years of riding. It's tuned just enough to feel fun but also run for a long time.
And at 109cc, this makes a great starting point for young riders who will eventually move on to larger capacity, competition-focused bikes. It's not ultra-powerful. But there's more than enough grunt here for lightweight riders.
The CRF features two types of independent clutch. One is engaged for setting off and the other for shifting between gears. The result is much smoother and faster shifting than a regular clutch and gearbox.
The steel frame has the right stiffness properties under acceleration but enough flex to throw around confidently. It uses telescopic front forks and a rear mono-shock.
Neither opts for the high-spec fanciness of some other bikes on our list. But they are tried-and-tested, Honda quality.
The drum brakes sound similarly low-spec at first but offer very controlled braking on uneven terrain.
It'd be easy to look at the CRF and write it off as primitive. But this is a reliable choice if you're looking to buy a pit bike for a youngster. That's especially true if the rider has younger siblings they can pass the bike on to.
---
Stomp Z3 140R
Engine: Petrol, Single Cylinder, Four-Stroke
Frame: Steel
Cooling: Oil
Weight: 71kg
Top Speed: 55mph
These bikes from Stomp are fun on wheels and available in a 14″/17″ big wheel configuration or a smaller 12″/14″ setup.
The Z-40 cam engine delivers 14bh. This exclusive to Stomp configuration offers 2hp extra over any other YX140 engine on the market. The Z3 is also available in various colours and supports loads of aftermarket aesthetic bits. This might appeal to younger riders looking to make their bikes stand out.
The 4-stroke engine is smooth and reliable. And the same can be said for the 4-up gearbox. It offers clicky feedback and good engagement.
Like most bikes on this list, it supports in-gear starting. This can be important for getting back into a race after a minor spill. It's also light enough that most people should be able to pick it up after hitting the dirt.
Wavy brake discs dissipate heat, and the dual pot callipers make for responsive, reliable braking.
Drop-forged, oil-filled forks offer good dampening without feeling spongey. The rear mono shock is large and high-quality. It can be adjusted to accommodate a wide range of rider weights.
For those concerned about all pit bikes looking like weird circus props, this will assuage your fears. In the larger variant, this looks and feels like a real motorcycle. Its seat is at about waist height for an average-sized human male.
Check it out on Pit Bike Direct
---
Apollo DB X18
Engine: Petrol, Four-Stroke, Single Cylinder
Frame: Reinforced, Tubular Steel
Cooling: Air-Cooled
Weight: 67kg
Top Speed: 50mph+
For a budget 125 bike, there's much to like about the Apollo DB. It's a stylish-looking mid-size pit bike with decent performance and a low price.
The 8hp that the engine produces sounds meagre at first. But for a newcomer on a lightweight machine, there's plenty of power to be found here. Top speed is around 50mph+ (the marketing copy says 55mph, but this is often clock speed and not actual road speed).
Both kick start and electric start are possible thanks to the inclusion of a CDI unit. Like the other medium-to-large models on our list, the DB X18 uses a 14″ rear and 17″ front wheel.
Knobby, motocross-style tyres are included as standard.
Suspension is reliable but not as premium as in some of the competition. The front forks and rear mono-shock are not adjustable. But the bike comes with a carry limit of about 220lbs. It should handle well for anyone aged 13+ under that weight limit.
Some extra touches include two-way, foldable brake and clutch levers, a performance carburettor with a built-in choke lever, and a tubular steel frame.
Brakes are similarly high-end. Quality hydraulic callipers and a large, heat-sinking design mean these cool down much faster than a traditional braking system.
This is a great option for someone starting in this category. The only quibble is that some home assembly is required. The stock carburettor also doesn't offer the same level of performance as some of the higher-end models on our list.
---
Thumpstar TSX 140
Engine: Petrol, Four-Stroke, Single Cylinder
Frame: Steel Quad Bar
Cooling: Air-Cooled
Weight: 80kg
Top Speed: 55mph
Another popular YX 140 engine variant, the TSX, features a high-spec design.
The engine is as reliable (if unremarkable) as expected. But the quad bar, three-beam frame and linked suspension are unique for this price point.
The suspension system upgrade results in better handling and responsiveness, and the frame redesign allows them to add a caged airbox. This houses a larger-than-usual, dual-layer air filter, preventing gunk from entering the carburettor. It's also easy to access by removing two 10mm bolts.
New features in the hub design include a heavy-duty, 20mm axel and increased anchor points for the rear sprocket. Most mini moto and pit bikes typically use a four-point mounting system for the rear sprocket. The Thumpstar range uses six bolts. Stainless steel spokes and tough alloy rims round out a solid wheelset.
Dual pot callipers in the front and a single in the rear bite onto wavy, heat-sinking discs. One nice design feature here is the header pipe. It tucks under the frame to reduce the possibility of pipe burns to your legs. The adjustable steering stop is also a good feature. It allows you to tinker with different handlebar configurations without damaging your tank.
The front forks feel stiff when needed but can soak up larger bumps comfortably. The rear linkage means the shock is not attached to the top of the swingarm.
Instead, it's secured to the bottom, like most racing models. This results in better handling overall. The header pipe and pipebomb exhaust also help with performance. Its design allows gases to expand, cool, and ramp back up when exiting the can. Apparently, it helps with the low-end response.
---
X-Pro 125
Engine: Petrol, Four-Stroke, Single-Cylinder
Frame: Steel Tube
Cooling: Air-Cooled
Weight: 61kg
Top Speed: 55mph
Built on a reliable Zongshen engine, the X-Pro 125 is another budget pit bike. And for its low price, it covers the most important bases. The tubular steel, cradle-style frame is solid. And its components are all solid and dependable – if not particularly exciting.
The suspension comes in the form of non-adjustable, upside-down forks in the front and a non-adjustable mono-shock in the rear. Their quality and responsiveness are certainly adequate for a beginner.
The trade-off is the lack of adjustment for weight. But the bike is available in a larger 17″/14″ wheel configuration and a 14″/12″ setup. The latter is geared towards shorter, lighter riders, and its suspension is tuned accordingly.
One area where there has been no sacrifice to meet costs is the brakes. They use single callipers on the front and back, but they are powerful and bite onto a larger 220mm front and 190mm rear disc.
The air-cooled engine won't win any innovation awards. But it does idle nicely and offer enough power to be fun in the muck. This bike requires some assembly (nothing major) and is considered one of the better offerings at this low price point.
---
M2R Racing KXF 125
Engine: Petrol, Single-Cylinder, Four-Stroke
Frame: Chromoly Steel
Cooling: Air-Cooled
Weight: 65kg
Top Speed: 40mph (dependant on gearing)
M2R's KXF 125 is a competent mid-sized pit bike. Its reliable 120cc engine is fitted with a racing-style gearbox. This places neutral at the bottom, and 1,2,3 and 4 are all up from that position.
Its wheels are blacked out with anodising on the alloy parts and powder coating on the steel. The results look great and, thankfully, can take some abuse on the trails too. Chunky, knobby tyres complete the set.
M2R have opted for gold anodised, upside-down front forks. These offer quite a bit of travel, soaking up bumps and jumps. Both these and the rear mono shock can be adjusted. They contribute to neutral and forgiving handling that can be tuned according to weight, ability, and riding style. The extended swingarm helps with stability on landing, when clearing ruts, or at high speed.
Single calliper brakes at the front and rear offer good stopping power. The 190mm discs at the front and rear are vented and wavy to dissipate heat more effectively. The levers to operate these (and the clutch lever) are snapback designs, reducing the risk of damage in a crash.
The gear selector lever is similarly designed. This bike also requires some minimal home assembly. These M2Rs can be found cheaper than many of the competition. For the price, the quality and reliability make them a compelling option.
---
WPB Race 140
Engine: Petrol, Four-Stroke, Single Cylinder
Frame: Chromoly Steel
Cooling: Air-Cooled
Weight: 71kg
Top Speed: 50mph+
With its 17hp dyno engine, the WPB race 140 delivers serious fun in the muck.
It's built on a Honda CRF 110-inspired template which has quickly become one of the leading designs in the field. It uses a triple beam chassis that gives a bigger, more real bike feeling in the 17″/14″ and 14″/12″ configurations. The large valve, high lift camshaft delivers some punchy performance too.
Twin pot callipers from HSK in the front and a single in the rear provide excellent stopping power. The vented, wavy discs also prevent overheating in racing conditions. The big bore, straight exhaust pipe is a mix of alloy and aluminium, meaning no risk of corrosion. The stock pipe is loud, however. Thankfully, a quieter version is available to those who have noise pollution concerns.
A longer gullwing swingarm gives the machine a sleek, racing look. This curve supposedly increases torsional stiffness, explaining why the design is used in high-end racing machines.
WPB boast the longest pit bike suspension front-to-rear in the UK.
They've also included a lot of travel in both the front and rear shocks. Foldable brake, clutch, and gear levers ensure minimal damage when you hit the deck. As it states in WPB's copy, this is an excellent machine for under a grand in the UK.
Check it out on Welsh Pit Bikes
---
Stomp Z3 160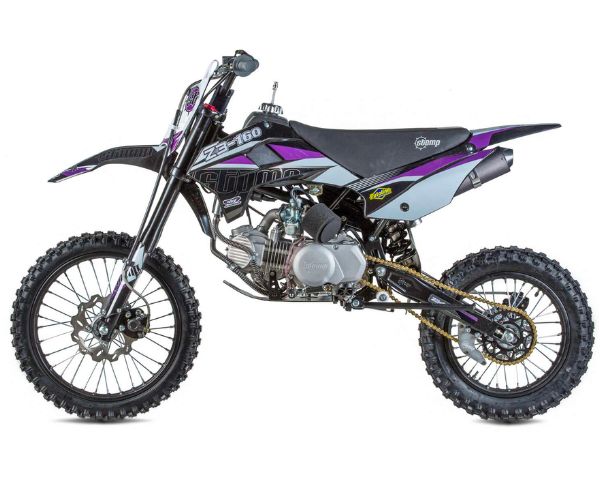 Engine: Petrol, Single-Cylinder, Four-Stroke
Frame: Steel
Cooling: Air-cooled
Weight: 71kg
Top Speed: 55mph+
The Z3 is the most powerful bike in the Stomp range at 17hp. The ZS 155 engine that this machine is built on is slightly more expensive than its older YX 140 counterpart. But crucially, it also delivers more power and performance.
This is a race-winning design, used by some serious riders. The aesthetics from Detroit Plastics are also a cut above the average, cheap pit bike.
HSK brakes use single callipers on the front and rear, gripping onto Super stop wavey discs. This setup limits the build-up of heat through friction. Steel braided hose lines round out a quality setup.
The wheelset is equally impressive. Superdry wheel bearings are recessed to keep out moisture and grime. And the alloy hubs are polished and sleek.
A long travel rear shock over the extended swingarm keeps the rider in control in all situations. The upside-down front forks are finished in anodised titanium and offer good feedback and control.
Beefier crankcases, improved Needle Roller gearbox bearings, and the excellent ZS 155 engine make this a lot of bike for the price point. Check out how well the stock version of this bike can compete in races if you don't believe us.
---
Save Money On Your Motorcycle Insurance
You could pay less than £195*
Compare quotes from 25+ UK providers
Fill in one form to compare top bike insurers
How to Choose the Right Pit Bike?
The by-design undersized nature of these bikes makes it less obvious which bike is right for you. The usual metrics for selecting a motorcycle don't necessarily apply.
Let's look at some of the critical factors that should influence your decision.
Size
Though, in recent years, pit bikes have started to look more and more like full-sized machines, they are smaller. Their original design was intended for short trips and casual off-roading. The bikes started to get bigger as competition and racing became more serious.
It can be hard to tell the difference between a pit bike and a mini-moto at a glance.
Typically, an adult pit bike has a higher seat height and larger ground clearance than you might first assume. But a pit bike's smaller wheels make them suitable for kids learning to ride too.
Many models on our list offer a large and small wheel variant to cover both bases. Adult bikes typically have a seat height of 32″ and up. Kids' bikes are usually under 30″.
Engine
The first generation of pit bikes was based on 50cc and 70cc engines. But as people began to use these bikes for racing and dirt biking, the engine sizes increased. Now, 125cc, 140cc, and 160cc models are common.
The engine's displacement should be the first factor you consider. Remember that a pit bike is significantly lighter and has more torque than a commuter.
A generic no-name engine is more likely to develop problems than one from the likes of Zongshen or Lifan.
Look on the UK pit bike forums to see what people are saying about the model that appeals to you. Don't expect the grunt you'd find in a 2-stroke dirt bike. But the lightweight nature and small wheels make these things fun on wheels.
Also read our guide to the fastest dirt bikes.