Bobber type motorcycles go back to the 1920s; Bobbers were the first true custom scene in motorcycle history.
Today production Bobbers are common in manufacturers' line-ups, thanks to an increase in popularity of the style.
Save Money On Your Motorcycle Insurance
You could pay less than £195*
Compare quotes from 25+ UK providers
Fill in one form to compare top bike insurers
What is a Bobber?
Bobbers got their start by Harley Davidson owners cutting down their frames and lowering the seat of their 'J' series motorcycles.
From there, racers removed anything that wasn't essential, including cutting the rear fender down and removing the front altogether.
This process was called the 'bob-job', and the purpose was to increase performance by reducing weight.
Today and increasingly so, manufacturers produce factory Bobbers as an ode to the past, and there are some pretty cool options on the table.
Bobbed fenders, low seat heights, chunky tyres, stripped back and moody are all the tell-tale signs of a modern Bobber.
Here are 11 of my favourite Bobber motorcycles:
Indian Scout Bobber
Specs:
Engine – Liquid-cooled, 1133cc, V-twin
Max Power – 94 Horsepower
Max Torque – 97 Nm
Seat Height – 649mm
Weight Ready to Ride – 252kg
I must admit that I am completely biased when it comes to Indian Motorcycles. I love them, love the history, the story, the legend, the classic bikes and the new ones; the standard Scout Bobber is no exception.
The Scout Bobber is a variation of the Scout, with all the engine, mechanics and power delivery being pretty much identical; the difference comes in the styling.
Slammed, low-slung and blacked out aggression oozes out of the bike.
There is a superlow seat height of 649mm, and the seating position is completely relaxed and neutral, so, despite the bikes heavy weight, most riders should find the bike manageable.
The extent of the mod-cons equates to ABS and a handy USB port; other than that, the bike is as bare bones as it gets.
The punchy 1133cc V-twin produces abundant torque, making riding smooth and easy, but when you want to go, you have 94 horses ready to take you to the limit.
Check it out on Indian Motorcycle
---
Triumph Bonneville Bobber
Specs:
Engine – Liquid-cooled, 1200cc, Parallel Twin
Max Power – 76.9 Horsepower
Max Torque – 106 Nm
Seat Height – 690mm
Weight Ready to Ride – 251kg
When Triumph unveiled the all-new Bobber in 2017, it caused uproar and was very divisive among Triumph fans and the general motorcycle population.
Even I have to say I wasn't best pleased with this new model, it was one of the first statement 'modern production bobbers'; surely that's some sort of blasphemy to custom builders who are still using 50's Triumph engines for their designs.
I'm not too proud to admit, however, when I got up close and personal with a lovely purple version that had some mini-apes thrown on, I fell in love fast.
Triumph took the classic Bonneville aesthetic, stripped it back completely, even down to fitting a mono-shock with a floating solo seat, and created a genuinely good-looking production Bobber.
It isn't all about the looks though, the upright neutral riding position gives complete control, and that's a good thing as the bike has the performance to match its style.
106 Nm of torque means the parallel-twin pulls you along like a freight train, and there are plenty of rider aids that remind you that you are not on a 50's road bike.
Torque-assist clutch, riding modes, ABS, heated grips, cruise control, are just some of the features that come standard or as optional extras.
Check it out on Triumph Motorcycles
---
Harley Street Bob
Specs:
Engine – Milwaukee Eight 114, V-twin, 1868cc
Max Power – 86 Horsepower
Max Torque – 155 Nm
Seat Height – 680mm
Weight Ready to Ride – 297kg
There is no way we could have a list of Bobbers without acknowledging Harley Davidson's offerings, especially as the early HD's are the foundation of the original Bobber style.
The first Street Bob hit the streets in 2006 as part of the Dyna line-up, it was considered one up from the Sportster series, with a bigger engine and general bigger bike feel.
The Street Bob has remained consistent to its initial design, stripped back with short fenders, with the main changes being made over the years consisting of a shift to the new Milwaukee Eight engine and modifications to the paint schemes.
It has a stretched riding position despite having mid-mounted foot controls; the seat is low, which is good as the bike is heavy.
Despite its 297kg running weight, the Street Bob is the lightest of the Softail line.
In terms of torque, the Street Bob is an absolute monster, with an abundance of it. Whether commuting to work or heading across the country for a week, the Street Bob is a capable choice.
Check it out on Harley-Davidson
---
Harley Fat Bob
Specs:
Engine – Milwaukee Eight 114, V-twin, 1868cc
Max Power – 93 Horsepower
Max Torque – 155 Nm
Seat Height – 710mm
Weight Ready to Ride – 306kg
Harley's Fat Bob is a bigger version of the Street Bob; it is beefed up, bigger, meaner and a whole lot more aggressive.
Despite the styling and components used to beef the Fat Bob up, the bike shares the same Milwaukee Eight engine as the Street Bob.
Unlike traditional Bobber's, the Fat Bob accommodates a passenger with a pillion seat; the seat height is also pretty tall.
The seating position is also different with a more relaxed approach.
Both of Harley's Bobbers are united in that they are stripped of tech features seen on a lot of modern bikes and leave the V-twin experience to be enough for the rider.
As with all Harley's, there is an almost endless number of ways owners can customise their Street or Fat Bob's and make them their own.
Check it out on Harley-Davidson
---
CCM Spitfire Bobber
Specs:
Engine – Liquid-cooled, single-cylinder, 600cc
Max Power – 55 Horsepower
Max Torque – 58 Nm
Seat Height – 760mm
Weight Ready to Ride – 150kg
Something a little different to add to the list, is the CCM Spitfire Bobber and it is one good looking motorcycle, maybe even the best looking modern Bobber ever.
Only 500 units of these will be produced and individually numbered.
No expense has been spared in creating a premium motorcycle, from Marzocchi forks, Brembo brakes, YSS shock to the steel trellis frame that can be powder coated to the customers requirements.
The rear subframe is lower than all others in the Spitfire range, making it the most accessible bike for shorter riders.
If Bobbers were initially made for performance by stripping bikes of everything that wasn't necessary, then CCM have nailed it, it is the most stripped back that a legal road bike can possibly be.
Check it out on CCM Motorcycles
---
Honda CMX500 Rebel
Specs:
Engine – Liquid-cooled, single-cylinder, 471cc
Max Power – 46 Horsepower
Max Torque – 43.4 Nm
Seat Height – 690mm
Weight Ready to Ride – 190kg
In 2017 Honda renewed the Rebel name with the release of the CMX500 Rebel, an affordable, lightweight, short in stature, bobber style bike aimed at the youth.
For 2021 Honda upped the ante with the release of the CMX1100 Rebel, which took all the same qualities as its baby brother but upped the capacity and opened up the Honda Bobber to a broader audience.
The smaller CMX500 Rebel is an excellent bike for new riders or those who want to slow down their pace a little from bigger machines.
You sit in a relaxed, natural position, with mid-mounted pegs and a low seat height instilling confidence in those slow speeds manoeuvres and stops.
LED lights front and back and ABS are about as modern as things get along with the LCD, which gives the rider all the basic info needed.
The Rebel connects the rider to the road and the past when you would sit on an engine between two wheels and just get on with it.
It is a refreshing addition to the modern world of bikes, which are flooded with rider aids, including self-balancing features.
---
Honda CMX1100 Rebel
Specs:
Engine – Liquid-cooled, parallel twin, 1084cc
Max Power – 85.8 Horsepower
Max Torque – 98 Nm
Seat Height – 700mm
Weight Ready to Ride – 223kg
The CMX1100 is a head-turner; it sits on bulky tyres, with a beefy frame and a fat parallel-twin engine.
Intended to capture the hearts of those who like the CMX500 Rebel but who find it a bit too small.
The bigger model remains stripped to the bare bones and captures the Bobber essence wonderfully.
The riding position is the same neutral situation as the smaller bike and is meant for confident, controlled riding.
With over double the capacity, there is over double the power and torque, which means the bigger Rebel is up for different types of riding, such as longer trips and motorway stretches.
By Honda keeping the two siblings identical stylistically, the bigger bike doesn't dwarf the smaller, so there is an equal balance of power between the two, with riders of either feeling equal in their choice.
I think this is a nice touch. Harley Sportsters are often seen as 'baby' Harley's or 'not real' Harley's, which is usually a cultivated concept by those on bigger capacity bikes in the line-up.
With the Rebel line, Honda has nailed the gritty, moody edge that riders ask for in a Bobber from days gone by and have turned that concept into two production machines that are excellent bikes.
---
Moto Guzzi V9 Bobber
Specs:
Engine – Transverse, 90 degree, V-twin, 853cc
Max Power – 65 Horsepower
Max Torque – 73 Nm
Seat Height – 785mm
Weight Ready to Ride – 210kg
Moto Guzzi probably isn't the first manufacturer you think of for Bobber motorcycles, but the V9 Bobber is well worth a look if you want something different.
Different is the keyword as the V9 Bobber is about as far from a traditional Bobber as it gets.
You do get short rear and front fenders and beefy tyres along with minimalistic blacked-out styling.
However, the seat height isn't particularly low, and there is no typical low slung, slammed stance that you would expect for a Bobber motorcycle.
The two cylinders poke out from the side of the frame on either side, with twin exhausts running underneath them.
It is a motorcycle that could transform into anything you want it to be. Want to carry a passenger or touring luggage? No problem. Fancy a Cafe Racer? Stick a headlight cowl on, and some clip-ons and you are set.
Maybe Moto Guzzi thought that blacking out the V9 and making some slight tweaks would constitute it as a Bobber.
I would suggest it is more of a unicorn in that department but whatever it is, it is still a cool looking bike, with good everyday performance.
---
Indian Scout Bobber Twenty
Specs:
Engine – Liquid-cooled, 1133cc, V-twin
Max Power – 94 Horsepower
Max Torque – 97 Nm
Seat Height – 649mm
Weight Ready to Ride – 260kg
Indian produced the Scout Bobber Twenty as a nod to the original 1920 Scout.
Engine and power are the same across the Scout range, except for the previous year's Scout Sixty, which had a 999cc engine.
The Scout Twenty differs from the standard Bobber in its styling and riding position.
You get mini-ape bars with bar-end mirrors, forward pegs, so you have a more cruiser layout, and of course, the iconic Indian headdress tank emblem.
The model has a little bit of extra class over the standard, but in truth, it doesn't offer anything mind-blowingly different, and Scout Bobber owners could quite easily throw on forward pegs and mini-apes if they wanted to.
Check it out on Indian Motorcycle
---
Kawasaki Vulcan S
Specs:
Engine – Liquid-cooled, parallel-twin, 649cc
Max Power – 61 Horsepower
Max Torque – 63 Nm
Seat Height – 705mm
Weight Ready to Ride – 229kg
The Kawasaki Vulcan is undoubtedly more of a cruiser than anything else; however, the Vulcan has a certain way about it that indeed nods its hat to the Bobber scene.
In the Metallic Flat Black paint scheme, the Vulcan S is an understated moody two-wheeler.
You get a low seat height and long wheelbase which gives the bike that low Bobber style and chunky tyres.
The Vulcan S is the most comfortable motorcycle I have ever sat on. The seat is huge and soft; it cradles you as you relax back into the riding position, which is pretty neutral.
Nothing is intimidating about the Vulcan S in its power delivery either; it isn't clunky and difficult like counterpart V-twins; the engine is smooth and easy to navigate.
It is a light handling bike despite its appearance and therefore makes for another excellent bike for newer riders like the smaller Honda Rebel, but maybe a better option for those taller in stature.
---
Ducati Diavel 1260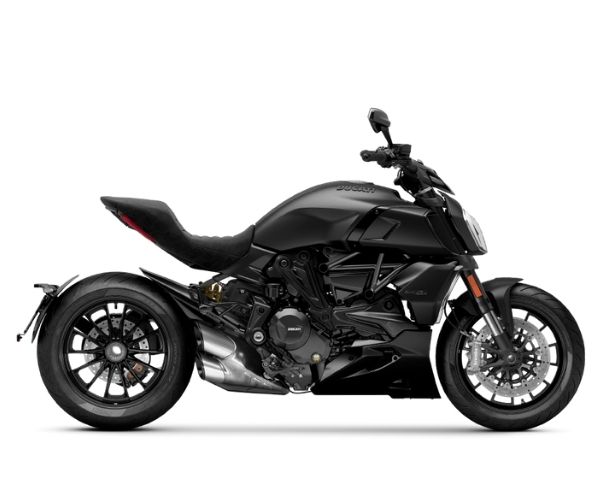 Specs:
Engine – 1262cc, Testastretta
Max Power – 162 Horsepower
Max Torque – 129 Nm
Seat Height – 780mm
Weight Ready to Ride – 247kg
Another curveball for the list.
Ducati defines the Diavel as a 'Muscle Cruiser', now I don't want to go head to head with one of the biggest motorcycle manufacturers in the world, but the Diavel ticks a lot of Bobber type boxes in my book.
Chunky tyres, performance-based, chopped fenders, low seat height, slammed look, minimalistic and stripped back?
The Diavel is a modern-day Bobber on steroids… but maybe 'Muscle Cruiser' is a better definition for sales purposes.
Ducati uses the famed Testastretta engine in the Diavel, and with 162 horsepower and 129 Nm of torque produced, the model is not to be scoffed at when it comes to performance.
It is a big bike and not one for the fainthearted; Ducati is known for their racing machines and success; all of that race knowledge and tech has also gone into the Diavel.
So if you are expecting performance akin to a V-twin HD or Indian, you are looking at the wrong kind of bike.
The Diavel Dark Stealth is a blacked-out version and is definitely a motorcycle Batman would be proud of.
The Dark Stealth version also accentuates just how much of a Bobber the Diavel actually is, certainly as much as the Triumph, Indians and HD's on the list anyway.
---