Is your motorcycle safe and legal?
To legally ride your motorcycle on UK roads you need to have a valid MOT test certificate; a confirmation that your bike has undergone a number of mechanical safety checks.
Primarily these involve brakes, lights and steering mechanisms but since 1960, when testing first began, the checklist has vastly expanded.
That list may constitute a minefield of defects, faults and problems any one of which can result in your motorbike failing its MOT test.
Do you know what's on that list?
What, where and when?
The Ministry of Transport (MOT) no longer exists; vehicle testing is now authorized via the Department of Transport but the age old test name of MOT, remains.
Quite simply, the MOT is a test… an inspection of your motorcycle once it is more than three years old.
After that, the MOT test is required every year to ensure that your bike is safe, roadworthy and legal.
Only authorized garages or test centres may conduct an MOT test on cars or motorcycles.
You'll see them all over the country displaying the official logo:
What does a motorcycle MOT cost?
The price of an MOT for any motorcycle is £29.65.
Bikes with a sidecar pay £37.80.
That compares favourably with a saloon car priced at £54.85.
MOT Checklist
You can improve your bike's chances of passing an MOT with advance knowledge of what the garage will test it for.
Cleaning, polishing and putting air in the tires is all very nice but an authorized MOT testing facility has a long list of mechanical and electrical inspections to carry out.
A bike sitting in a shed for months on end poses no risk to others but out on the road any number of weak points can lead to serious injury or death to both riders and others.
Here's yourt checklist broken down with some more detail, check all these areas before heading down to the testing station.
Lights and Signaling: Motorcycle lights are to see and be seen. MOT testing ensures they're securely attached, they're in good condition and that they work properly.
Your indicators, rear lights and reflectors should be fully functional.
The headlight's aim must be set correctly to avoid dazzling drivers ahead or casting an unsafe short distance beam.
---
Steering and Suspension: The condition of the steering and suspension is inspected to assess whether the forks, handlebars, grips mountings, head bearings, swinging arm, shock absorbers and damping effect are secure and properly working.
Pay particular attention to the fork seals. If there's any excessive oil leaking your bike is going to fail. Try grabbing the handlebars, squeezing the front brake lever and pushing the bike forward to check the damping action.
Check the rear wheel damping action also for any free play or looseness.
---
Wheels and Tyres: In poor condition wheels and tyres are a source of risk. Are yours the wrong size, badly fitted or with worn tread? Take a look.
It's a good idea before the test to check for loose spokes and any distortions.
Current UK regulations require 1mm of tread across 3/4 of the tyre. Are the front and rear tyres compatible and suitable for road use?
Inflate the tyre pressures to their correct pressure or they may affect the outcome of the brake test.
---
Frame and Structure: During the MOT the frame of your bike is checked for cracks, damage, distortion and corrosion which could have an adverse effect on steering and braking.
---
Brakes: The ability of a rider to safely control their motorcycle's braking system requires a separate efficiency test assessing the brakes performance, condition and controls.
The best you can do on a pre-check is to spin the wheel and press the brake lever. It should grind to a halt. Ride the bike too and test the brakes by stopping.
During a test the bike is placed on a roller device that produces a computerized readout.
---
Exhaust System: Is your exhaust system secure and quiet? Some exhaust systems are louder than others such as those on certain Harley Davidson models.
As long as the noise is intentional and not ear-shattering it will probably pass. If the excessive noise source is attributable to a leaking or broken exhaust pipe then it will fail. Read more about motorcycle exhaust laws in the UK
---
Other Inspection Areas
The fuel system will be checked for leaks and that its components are secure. Leaking fuel may cause a fire or explosion.
Is the seat properly attached and secured?
Horn: working and suitable for the vehicle? If you've fitted a ship's claxon then it's probably time to tone it down a little!
Chains and guards along with the sprockets are checked for wear and tension. A chain slipping or locking up on damaged sprockets may lead to an out of control motorcycle.
The throttle cable and clutch lever are also checked to see if they're working properly. The clutch lever shouldn't be bent, damaged or shortened.
Footrests are inspected to check that they're present and firmly attached. Look out for any obstructions, looseness or damage.
Less mechanical areas that are checked include the license plates, vehicle identification and frame number. Are they in order, visible and undamaged?
Here's a couple of short videos featuring MOT pre-checks for motorcycles:
Why do motorcycles fail their MOT tests?
The reasons vary but ignorance is a key factor. Why not give your bike a 'trial run' before putting it through its MOT? At the very least you can visit the government website for the MOT motorcycle inspection list.
This avoids making silly mistakes like having your bike fail over a minor fault such as a broken light bulb.
According to government-produced MOT test statistics 18.2% of motorcycles failed their initial tests during the year 2015 to 2016.
Lighting and indicators, brakes, steering and tyres where the main culprits so check these carefully before putting your bike in for an MOT.
What happens if you fail a motorcycle MOT test?
Hopefully you won't but you'll have ten days to fix any problems and take a free re-test. After that you pay the full price for a new test.
If the vehicle is grounded on serious issues such as corrosion or structural damage then it will fail outright and no short term re-test is possible. In such cases you'll need to fix the problem and take a completely new test.
One could argue that test garages might be tempted to overstate the faults in order to benefit from any corrective work.
It would be unfair to label all garages this way and it's really down to the rider and the garage to thoroughly discuss the testing procedures and condition of the bike beforehand.
Try and build a good long term relationship with a reputable garage that you're comfortable with.
Even if you have very little mechanical expertise a simple visual inspection of the listed items allows you identify problems in advance and arrange to have your bike fixed by a mechanic before inspection.
Exempt motorcycles
Certain motorcycles are exempt from the MOT test if they fall into two categories:
1. Very new motorcycles.
2. Very old motorcycles.
Motorcycles less than three years old do not require an MOT. Once they are older than three years they must take an annual MOT test.
Motorcycles and cars built before 1960 are somewhat controversially exempt from an MOT test.
The 2012 rule change came about largely through East Yorkshire MP, George Knight, who campaigned on behalf of the All Party Parliamentary Historical Vehicles Group.
He argued that classic vehicles did not have ABS brakes and catalytic converters. They were also unlikely to be driven much on public roads.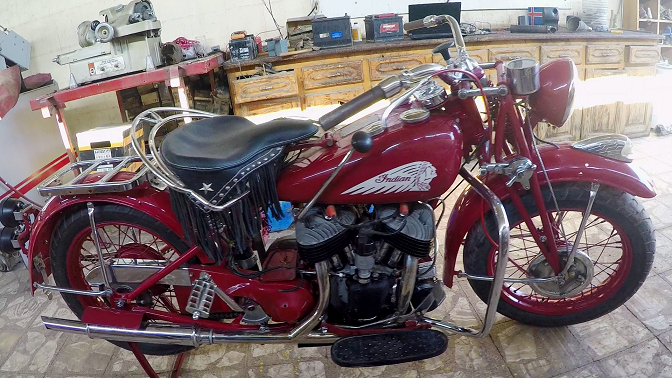 The spirit of the MOT test is of course centered on the safety of riders and others and with that in mind owners are still legally responsible for ensuring that their bikes and cars are both safe and roadworthy. They are also still free to take an MOT if they wish.
Exemption is not an excuse to drop standards. Using an unsafe motorcycle on public roads remains illegal and dangerous.
Conclusion:
Why not make yourself a cup of coffee, put your bike up on its stand somewhere quiet and check all the items on the MOT inspection list?
You will hopefully catch minor faults… any one of which could result in a fail.
If your current MOT certificate has expired then you're legally permitted to ride it to the test centre for a new MOT provided you have a pre-arranged appointment. You're also allowed to ride it to a garage for repairs but avoid any multi-day, 1,000 mile detours!
A lot can happen in a year. Don't let complacency creep in once your bike has passed its MOT test. Regular maintenance and pre-ride checks will catch new or developing problems.
A motorcycle remains safe, valuable and a pleasure to ride when in sound and reliable mechanical condition.
Safe and happy riding to all.
---
Image Credits
By Acabashi (Own work) [CC BY-SA 4.0], via Wikimedia Commons
By Ranjithsiji (Own work) [GFDL or CC BY-SA 3.0], via Wikimedia Commons