AGV and Shoei are two top-tier names in motorcycle helmets. Both offer a range of products, from the latest track-inspired, technical helmets to more comfort-focused commuter solutions.
Both are also companies that are widely considered to be worth the extra money.
A quality helmet is one of the most important investments you can make. Choose a respected brand and always check a helmet's ECE rating. Everything for sale in the UK should have a rating stitched into the liner.
Let's dive into these two brands with a comparison article.
Save Money On Your Motorcycle Insurance
You could pay less than £195*
Compare quotes from 25+ UK providers
Fill in one form to compare top bike insurers
Origins and History
---
Shoei
Shoei is a Japanese company that produced its first motorcycle helmet in 1959.
The company's founder, Eitaro Kamata, originally owned a plastics company that made safety helmets for the construction industry. In 1960, he began to produce helmets for the motorcycle racing sector.
Later that year, they began to produce a line for commercial use that met the new JIS (Japanese Industrial Standard). 
Shoei helmets are still handmade in Japan to this day. Since its inception, the company has led the way in material innovation, introducing the first commercially available carbon fibre helmet in the mid-70s.
All their helmets are a result of countless hours of R&D, testing, and refinement. Their current MotoGP professional racing team includes riders like Josh Grant and Marc Marquez.
AGV
AGV's history reaches back to 1947. It was then that Gino Amisano began producing what some consider to be the first modern, multi-density, impact-absorbing helmet.
These early examples were made using baked leather to form a hard outer shell and softer, shock-absorbent layers underneath. In 1954, AGV claimed to have created the world's first fibreglass motorcycle helmet – a significant step forward.
AGV's development as a company has also been driven by innovations on the racetrack.
From the early adoption of fibreglass for its team riders in the 1950s to the use of full-face helmets in the 1970s, AGV helmet design has always been at the cutting edge.
Helmet Shell And EPS
---
Shoei
Shoei's AIM (advanced integrated matrix) and AIM+ systems use various layers of organic materials, fibreglass, "special fibres" (meaning trade secrets), and resin. The results are lightweight helmets with good impact protection.
Shoei also likes to point out the relationship between comfort and correct fit. Their helmets ship with a variety of different-sized EPS inserts of variable densities. These different densities help to slow impact down in stages.
AGV
At the top end of their range, AGV helmets use materials like carbon fibre and fibreglass for their outer layer.
Helmets at the lower end of the price range use injected thermoplastic to achieve a high resistance outer shell with decent overall weight.
All of their helmets use multi-density EPS padding that ships in different sizes to help you dial in a perfect, custom fit and to improve impact protection.
The addition of a range of thermoplastic helmets means you can find some AGV helmets at a lower price point than Shoei.
The safety rating of thermoplastic helmets often compares favourably to fibreglass/composite ones. The main trade-off is increased weight.
If weight is an important factor for you, check out our guide to the top lightweight motorcycle helmets.
Fit, Comfort, And Liner
---
Shoei Fit
The interior system is critical to getting a good fit and performance – especially at higher speeds.
Shoei uses multi-density padding to provide comfort but also help with stabilisation when travelling fast. Padding that's too soft will compress at speed and leave space for the helmet to wobble.
This effect can also produce excess noise even when it's not causing buffeting.
Read:
Liner
The materials used for the liner were originally developed for racing and motocross. These activities are a lot more strenuous than a typical commute and therefore produce more sweat.
Shoei uses ultra-absorbent materials. Many of the interior components are removable, washable, and replaceable.
Vents
Shoei has a good reputation for creating well-ventilated helmets without too much noise.
In addition to the typical vents to create airflow, these helmets are also designed to maximise pressure. Air intakes are at areas of high pressure in the front while the shape of the helmet creates an area of low pressure at the rear.
Using the Venturi Effect, this difference in air pressure increases the rate of airflow when the vents are open.
AGV – Fit
AGV's proprietary way to refer to their safety system is called Extreme Safety (so no points for originality). It's an attempt to balance all aspects of design, materials, and engineering to provide maximum safety.
Liner
The interior of AGV's helmets uses an Adaptive Fit system. This is a series of pads of varying thicknesses that can further customise fit and comfort.
The reversible crown pads are also a nice touch. One side is covered in thermal fabric for colder rides, the other is a cooler feeling fabric for hot weather.
Vents
Many AGV helmets feature 4 front vents with 2 lateral extractors. This setup also does a decent job of increasing airflow over many competitors' helmets.
Ventilation is further improved by using cool Ritmo fabric for the liner. Some helmets also use airflow channels in the EPS insert to maximise airflow.
Sample Helmets
---
Shoei NXR2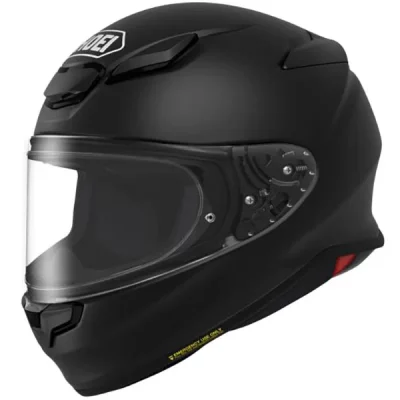 This is one of Shoei's more affordable options but uses their typical, high-end construction.
The lightweight shell is made using their proprietary AIM system and the inner from multi-density EPS. These components are enough for this helmet to score a 5 on Sharps' testing despite its lower price point.
Check Prices on SportsBikeShop
The vents are effective, too, with air intake points at the brow and jawline and outlet vents at the rear. It manages to remain fairly silent despite this airflow too. Detachable, washable pads and four different-sized EPS shells help you get a custom fit.
Pros:
Scored a 5 on the Sharp website!
Lightweight
Breezy and silent
Cons:
Vents can be fiddly with gloves
---
AGV K1
The K1 from AGV is a thermoplastic helmet with a viewport optimized for racing and tunnel-tested aerodynamics. It's an entry-level racing-style helmet. But makes for an excellent all-around helmet for riders of sports bikes.
Check Prices on SportsBikeShop
Multiple density EPS lining and a removable, washable Dri-Lex interior fill out the inside. The airflow channels running through the shell are something different here and do a great job of keeping this cool even in the hottest weather.
For the price, there aren't many helmets this well made. Using gear inspired by track innovations usually increases safety. Here, all these features make for a safe, comfortable, and great-looking helmet.
Pros
4-star rating from Sharp
Comfortable, breezy, and quiet
Cons
Heavier than composite construction