Light motorcycle helmets are simply fantastic. They reduce rider strain and fatigue, resulting in longer, more comfortable rides.
With new technology and materials emerging over the last few years, manufacturers have been able to significantly reduce the weight of their flagship helmets without compromising performance.
We have researched and reviewed the best lightweight motorcycle helmets available. Let's take a look.
Lightest Motorcycle Helmet Reviews
Let's dive into our top picks.
Lightest Open Face
Bell Scout Air
The Bell Scout Air is about as stripped back as a motorcycle helmet can legally be. In fact, the lightweight tri-composite shell weighs in at a mere 900g.
The Scout Air takes after the half-shell lids in the US, those synonymous with big V-twin riders. Although half-shell helmets are illegal in the UK, the Scout pushes the boundary by having enough shell for it to be considered a ¾-shell helmet.
There is really not much to the helmet, to be honest. It has a traditional D-ring closure system with removable snap peaks, and it looks pretty cool.
It does run small, though, so you might want to consider ordering at least one size up from your normal helmet size.
Weight: 900g
Pros:
ECE 22.05 certified

Super lightweight

D-ring closure
Lightest Retro
Shoei Ex-Zero Helmet
The Shoei Ex-Zero is a retro, street-fighter style helmet that weighs in at around 1115g.
It's constructed from a lightweight AIM multi-composite fibre-layered shell with a multi-density EPS liner.
The helmet comes in three different shell sizes for the perfect fit and is equipped with an E.Q.R.S (emergency quick release system) for easy removal in the event of an accident.
Instead of a full visor, Shoei has used the CJ-3 visor (similar to their open-face helmets), which drops down in three different positions to suit the rider.
As a result of this and the chin vents, the helmet is very well ventilated. There are several snap poppers if you want to add a face shield for added wind protection.
The Ex-Zero is one of the best-looking and lightest motorcycle helmets currently available.
Weight: 1115g
Pros:
AIM multi-composite construction

Multi-density EPS liner

Drop-down, 3-position visor

Excellent ventilation

Stylish
Lightest Carbon
Scorpion Exo-1400 Evo Carbon Air
The Exo-1400 Carbon Air is an exceptional helmet constructed from a carbon composite which keeps its weight down to around 1200g.
Aside from the lightweight nature of the Exo-1400 Carbon, it is also packed with features that make it an ideal helmet for any rider.
The adjustable Airfit cheek pads are unique to Scorpion helmets. The user can inflate the pads to achieve the perfect fit — the bonus here is that as the cheek pads wear down, you can just add more air to keep the fit nice and tight.
It comes with a recessed MaxVision visor and Pinlock insert, which sits in the visor along with an internal drop-down sun visor.
The helmet comes in three outer shell sizes so riders can get the right fit regardless of head size.
With an ECE 22.06 certification, the Exo-1400 Air Carbon is a fantastic sports touring helmet. The light weight will for sure have you riding for longer.
Weight: 1200g
Pros:
Lightweight, carbon-composite construction

ECE 22.06 certified

Adjustable Airfit cheek pads

MaxVision visor and Pinlock insert

Sun visor

3 shell sizes

Great value
Lightest Cafe Racer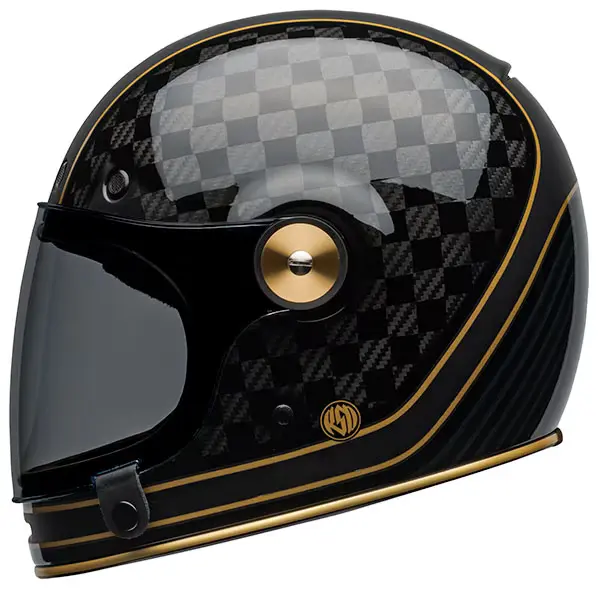 Bell Bullitt Carbon
At around 1280g, the Bell Bullitt Carbon proves that you can still have style and modern performance in a retro package.
Bell is arguably the master of modern retro helmets, and the Bullitt Carbon is the ultimate lightweight cafe racer lid. It is the icing on the cake to finish any classic or modern retro bike and rider combination.
The Bullitt comes in three shells and EPS sizes for the best fit. The EPS liner is multi-density for good impact protection and the composite-carbon construction keeps everything super lightweight.
You can easily customise the Bullitt with the range of visors and shields available, or you could switch to a pair of goggles for a really old school look.
Weight: 1280g
Pros:
Composite-carbon construction

3 shell and EPS sizes

Awesome styling

Multi-density EPS liner

Range of customization options
Lightest Shoei
Shoei Glamster
Just like the Ex-Zero, the Glamster is a step outside the box for Shoei. It focuses heavily on style, but, being a Shoei, you already know it's backed by performance.
At 1300g, the Glamster is one of the lightest Shoeis on the market, and, aside from the slightly ridiculous name, it is a pretty cool all-round lid.
It meets the latest ECE 22.06 regulations, featuring Shoei's AIM multi-composite shell and a modular multi-density EPS liner.
The Glamster comes in three shell sizes, all with excellent airflow thanks to front intake vents.
Overall, it's a compact lid with a low profile that screams class.
Weight: 1300g
Pros:
ECE 22.06 certified

AIM multi-composite shell

Modular EPS system

3 shell sizes

Good ventilation
Lightest Race
X-Lite X-803 Ultra Carbon Helmet
The X-Lite X-803 is a carbon-fibre race helmet that weighs in at just 1300g.
Everything about the X-803 is race derived, from the ventilation system to the comfort liner, from the breath deflector to the rear spoiler.
The helmet has a traditional D-ring closure and expanded foam cheek pads for maximum comfort. A double-action visor lock stops the visor from unexpectedly opening at high speed, and an elongated chin piece provides more room and comfort.
There are very few super lightweight helmets, especially those that are as full of track-based features as the X-803.
The wide-vision visor increases lateral vision, which is great for all riding situations, whether on the track or street — more vision is always a good thing.
Weight: 1300g
Pros:
Lightweight carbon-fibre construction

3 shell sizes

Race ready

Race airflow system

Comfortable

Good value
Lightest Modular
CABERG DUKE II
Finding a lightweight modular helmet can be pretty tricky as, due to the extra 'flip-up' mechanism, weight tends to rise compared to a standard full-face lid.
However, the Caberg Duke II comes in at around 1500g, which is far from excessive. On top of that, it is one of the very few dual-homologated helmets around, which means it can be used in both the open and closed position.
It also benefits from a five-star SHARP rating — modular helmets generally struggle to achieve SHARP certification at all — so this is a big safety bonus.
The Duke II is offered at an attractive price. It has great ventilation, an anti-turbulent design, an internal sun visor, and the Pinlock insert is included.
Weight: 1500g
Pros:
5-star SHARP rating

Dual homologation

Good ventilation

Anti-turbulence design

Pinlock included
Cons:
Heavier than other helmet styles
Buyer's Guide
Lightweight helmets are fantastic at reducing rider fatigue and neck strain, but they're not all created equal. There are some key things to look out for in a lightweight helmet so you know you're getting a good all-round lid that can meet your needs even at a reduced weight.
Safety
The first essential thing to think about with any motorcycle helmet is how safe it is and whether it is fit for purpose. Fortunately, regulations are in place to make sure all helmets legally sold in the UK meet a minimum set of safety standards for motorcycle use.
You need to be looking for the ECE certification label that is usually stitched onto the retention strap.
Until January 2024, ECE 22.05 and ECE 22.06 are the two certifications that apply. After that date, though, all helmets on sale will be required to meet the 22.06 standards.
After that, you can look at SHARP ratings. SHARP is an independent testing body that puts helmets through even more rigorous testing. SHARP has a rating scheme of one to five stars depending on how they perform under the testing. A four- or five-star rating is what you should look for.
You can check out the SHARP initiative here and check to see if a helmet has been SHARP rated.
Factors That Affect Weight
Type of helmet
There are three main types of helmet: full-face, open-face, and modular helmets.
Open-face helmets are the lightest type of helmet simply because there is less to the structure. There is no chin piece or face shield and usually very few additional features.
Generally, full-face helmets are lighter than modular helmets as the modular mechanism tends to add weight to the helmet.
The style of a helmet is what attracts riders in the first place, for example, you may be riding a BMW GS and want the adventure-style lid that works with that aesthetic.
The problem here is adventure helmets can be loaded with features like a peak, multiple visors, comms kits built in, etc.
All of that adds weight, so if you don't actually need an adventure helmet, as you only ride your bike on the road, then opting for a standard full-face with fewer features will significantly reduce the helmet's weight.
Construction
With the development of design and production technology, along with the use of new materials, manufacturers are able to keep weight down significantly.
The use of carbon fibre in helmet construction is relatively new. Carbon fibre is very lightweight but extremely strong, making it a brilliant material for helmets.
Leading helmet manufacturers tend to construct their helmets out of mixed fibres, weaving fibres such as Kevlar and carbon to produce a strong, impact-resistant shell.
These mixed-composite shells are lighter than the thermo-plastic/injection moulded helmets. Not only are they lighter, but they are also generally deemed to have better protective properties.
Full-carbon helmets are the lightest type of helmet, followed by mixed composite, and then thermo-plastic helmets.
Shell Sizes
A helmet's weight will vary by size as there is simply more material used in a bigger helmet compared to a small helmet.
As the rider, there is not much you can do about the size of your head and the helmet you need, but it's worth knowing as you may notice weight discrepancies between sizes.
Sacrifices for Weight Reduction
Modern helmets are loaded with useful features for all types of riding. These include things like built-in comms kits, internal sun visors, Pinlock inserts, and breath deflectors.
All these things, however, add weight, so if you are really trying to keep the weight down, you will need to make some sacrifices.
There is nothing wrong, after all, with going old school with a stripped back lid, ignoring the latest tech, sticking your sunglasses on when needed, and enjoying the cool breeze on your face.
Conclusion
There you have it, all of our favourite lightweight helmet picks and all the things you need to look for in a quality lightweight motorcycle helmet.
The Bell Scout Air is undisputedly the lightest helmet at 900g. It is as stripped back as you can legally get.
However, for those who want a bit more protection, the Shoei Ex-Zero is an excellent choice with a low weight of just 1115g, and the Scorpion Exo-1400 Carbon Air is a simply awesome carbon-fibre helmet that sacrifices very little for its weight of 1200g.