Cafe Racers or 'Neo Retro' bikes have now become a deeply embedded part of modern motorcycle culture. The boom in restoration and customisation projects initially stimulated this demand for retro bikes.
Keen to cash in, manufacturers began creating new retro-style bikes, led by companies such as Triumph, Royal Enfield, and Moto Guzzi.
See our Cafe Racer Guide and our Top 10 Cafe Racers motorcycles.
This trend has created a vast retro and customisation scene with a new branch of bike gear, aftermarket bike accessories and the birth of companies such as The Bike Shed, Bafflehause, Idle Torque and Koti Autotalli.
As a result, the Retro Helmet market has blossomed, with every manufacturer developing a range of retro 'Cafe Racer' styles.
Here we've reviewed a selection of popular helmets regularly seen at hipster hangouts and a buyers guide to help you navigate your way to the ideal purchase.
Retro and Cafe Racer Helmets Reviewed
Best Open Face
Bell Custom 500
The Bell Custom 500 is an iconic motorcycle helmet with a history going back to 1954.
There is no other helmet that evokes nostalgia quite like the Custom 500. It draws direct inspiration from the original fibreglass Bell helmet design, named the "500" by founder Roy Richter.
In terms of design, little has changed with the modern Custom 500 from the original. It is still a round-shaped open-face helmet with a comfortable padded liner. However, modern materials ensure the modern helmet meets current safety standards, which far exceed those of previous years.
A composite fibreglass shell provides good impact protection, especially as it is paired with a multi-density EPS liner, and a classic D-ring closure ensures the helmet will stay put. The microfibre cloth interior provides comfort, as does the padded chin strap.
If you want to change things up, there's a wide range of aftermarket visors and face shields to choose from. Whether you're after a simple peak or a fancy bubble shield, the Custom 500 has a five-snap pattern for you to attach your accessories.
The Custom 500 is best suited to round head shapes as it can sit quite high on other shapes. When you try it on, make sure your head feels cushioned all the way round with no gaps.
Pros:
Composite fibreglass construction

5-snap system for visors and peaks

D-ring closure system

Classic retro design

5-year Bell warranty
Cons:
Can sit quite high on some head shapes
Best Cafe Racer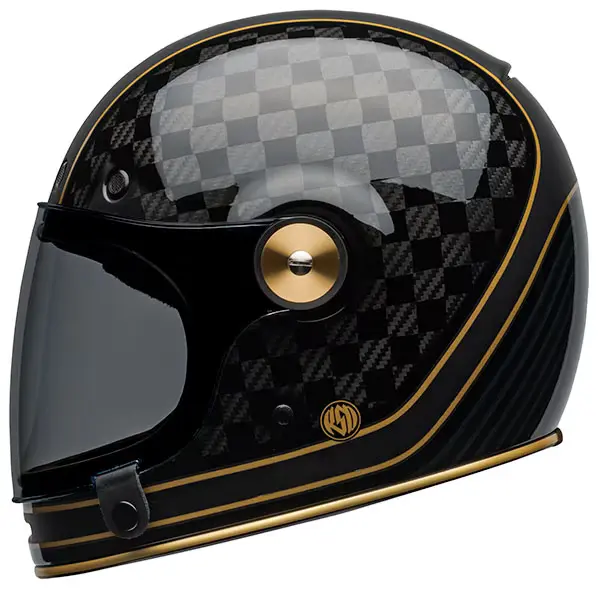 Bell Bullitt Carbon
Another iconic Bell helmet is the Bullitt, and the Bullitt Carbon is the peak of the range. This is the ultimate cafe racer lid. If you're riding around on a modern retro from the likes of Triumph or Ducati, you'll want this helmet on your head.
We picked the Roland Sands version of the Bullitt Carbon because it's just an awesome design from a legendary motorcycle designer. The chequered carbon effect with gold pinstriping adds a touch of class to an already cool design — it looks ready to race.
If you want something a bit more understated, you can choose from a range of Bullitt's, including a simple matt black option.
Bell has used a composite-carbon construction with a multi-density EPS liner, a D-ring closure system along with three shell and EPS sizes for the best fit and protection. A soft comfort liner and contoured cheek pads provide the most comfort possible.
Intake and exhaust vents provide good airflow and remove hot air to help prevent condensation.
One neat modern touch is the built-in speaker pockets for you to add a communication system.
Pros:
Fantastic design

Carbon-composite construction

Comfortable

Integrated speaker pockets

5-year warranty
Best Modern Classic
Shoei Glamster Helmet
Shoei are most known for their premium sports and touring helmets, but with the explosion of modern retro motorcycles, it made sense for them to put their designers to work to meet the demand of the market.
It's safe to say they met the demands and, some would say, exceeded them. Aside from the slightly ridiculous name, the Glamster is a pretty cool helmet and really hits the retro style.
The AIM construction features a series of composite fibre layers that make a rigid shell and the multi-composite EPS liner has different impact-absorption levels.
Other features include three shell sizes, lower and upper vents, D-ring closure, and a modular EPS liner.
The Glamster is a comfortable, lightweight helmet, but it can get a bit noisy at speed as the lower vents can't close, so there is constant airflow.
Pros:
AIM multi-composite fibre-layered shell

Modular EPS system

Good ventilation

Three shell sizes
Best Retro
Shoei Ex-Zero
Another addition to Shoei's retro line is the Ex-Zero. It's an aggressive throwback streetfighter helmet with an abundance of attitude.
Just like the Glamster, the Ex-Zero has an AIM multi-fibre composite shell and a multi-density EPS liner along with a D-ring closure. However, the Ex-Zero also features an Emergency Quick Release System (E.Q.R.S), so emergency personnel can safely remove the helmet if needed.
Unlike most other full-face helmets, the visor is integrated into the interior of the shell. The visor drops down from the interior to three fixed points so you can fix it where you want it to be.
The helmet's unique visor means this helmet is more akin to an off-road lid with goggles, so noise levels are pretty high as it allows a lot of air to come through.
Pros:
AIM multi-composite shell

Multi-density EPS liner

E.Q.R.S

Standout design

Comfortable
Best Premium
Arai Rapide
Just like Shoei, Arai is known for their premium sports helmets. However, the Rapide resembles a retro helmet without sacrificing the modern features that we have come to expect and appreciate.
The Rapide is pretty subtle in its retro design. It has the classic Arai shape, but the vintage nod comes from the vents in the chin piece and colourways.
Arai has used their multi-composite PB e-cLc construction, which is multiple layers of various fibres for maximum strength.
The comfort liner and pads are removable and washable, but the standout feature is that Arai will swap your liners for the perfect fit. In fact, the Rapide actually comes with a 5mm peel-away temple and cheek pads, too, in case your helmet is that bit too snug.
The VAS Max Vision visor includes a de-mist toggle switch and comes with pinlock as standard.
To prevent overheating and keep you comfortable on long rides, Arai has fitted the Rapide with their Free Flow air ventilation system for excellent airflow.
Pros:
Multi-composite PB e-cLc outer-shell construction

Excellent ventilation

Very comfortable

Emergency quick-release system

Speaker pockets

Custom fit options
Best Old School Streetfighter
Simpson Venom
Back in the 1970s, Simpson launched the Bandit helmet out of Texas. It was a hugely successful design but illegal in the UK as it didn't meet our standards. Simpson has reinvented the original Bandit design, modernised it, and created the Venom!
The Simpson Venom is an aggressive old-school helmet with a streetfighter attitude. It's constructed with a Tri-Composite (carbon, aramid fibre, and fibreglass) for strength and rigidity.
There are big intake vents in the chin piece and hot air exhaust vents at the rear, plus a chin curtain and deflector prevent hot air fogging up the huge visor. You can also easily close the intake vents on colder days.
Vision through the massive eye port is great, and the full visor is Pinlock ready for your anti-fog needs. You also get a drop-down internal sun visor, which is a great add on feature not normally found on retro-style helmets.
Pros:
Tri-composite shell

Excellent vision

Lightweight

Great ventilation

Internal sun visor
Cons:
Run big, so go for a size down
Best Value
AGV Legends X3000
The X3000 is a well-priced classic fibreglass lid that is well-styled and comfortable. Plain colours are very competitively priced for such a good-looking lid.
It's fair to say it's the only bona fide replica on our list, mirroring the helmet worn by the Italian legend Giacomo Agostini, the 122 times GP winner (hence the name).
For a budget Cafe Racer lid, it has some nice touches, such as a leather-styled interior, good venting and a decent visor mechanism.
Available in several very attractive retro colour schemes (that vary in price), the X3000 offers a nicely styled, affordable helmet. It isn't whisper quiet, so it would probably suit riders who are 'not in a rush'.
Pros:
Wide field of view

Three shell sizes

Looks
Cons:
Prices rocket for fancy paint jobs

No pinlock

No comms recess
---
Buyers Guide
Care, Considerations and Cost
---
It's fair to say that until recently, retro helmets were pretty bad. Most were open-faced or built for speeds under 40mph and leaked like a sieve.
But all that changed when the big manufacturers began to jump on the retro bandwagon.
Luckily there aren't too many extra things to consider when buying a Cafe Racer-style helmet compared to a modern-styled lid. But here are a few key things to watch out for:
Protection
Retro helmets look cool, absolutely, but you need to make sure they're going to protect your head — that is their only job. 
Certification
All motorcycle helmets in the UK need to have ECE certification. The current standards are ECE 22.05 and ECE 22.06. The helmet should have this stitched onto the retention strap so you know it's ECE certified.
ECE 22.05 is only relevant until January 2024, after which all helmets need to meet 22.06 standards.
Knowing your helmet has met ECE certification ensures it can protect you in an impact.
Beyond legal certification, look for helmets that are SHARP rated. SHARP is an independent testing body that puts helmets through more rigorous testing. If protection is your priority, a helmet with a 4- or 5-star SHARP rating is your best bet.
You can read more about the SHARP initiative here and see whether your helmet has been SHARP tested. 
Retention
In keeping with the retro vibe, the classic double D strap is a staple on most Cafe Racer helmets. However, some cheaper models have ratchet systems that may not offer as much safety (not much value in having a helmet if it flies off your head).
Noise and Ventilation
Noise levels can be very subjective (you will see widely differing views on review pages). A rough rule of thumb is that the more you spend, the better the sound damping. However, foam earbuds are very cheap and do a great job.
Read our guide to the quietest helmets.
More vents usually equal more ventilation, and switches are always a bonus.
Visors
Many manufacturers offer anti-scratch coatings, and most come with pinlock, but the catch is often the most crucial part of any visor system. This can only really be assessed by trying the lid on. 
Some mechanisms offer a ratchet allowing you to pop the visor and leave it in fixed positions, which is very handy for demisting in the winter and venting in the summer.
Goggles
A good set of goggles is a must if you're going 'open face'. Not only are they part of the Cafe Racer vibe, but they're also great in poor weather; make sure you get a pair with good venting/anti-fogging capabilities.
However, be warned, not every pair of goggles fits every open-face lid, so be aware of aperture sizes and check before buying.
Many riders recommend 100% Barstow's for the super cool look, or go full vintage with a pair of retro Bertoni Aviators.
Comms
Check that the helmet contains recesses to insert speakers. Also, the bottom of the helmet often needs to be able to clip on a Bluetooth unit like a Cardo or Sena. If they are wide or have rubber seals around the base of the helmet, they often can't be fitted.
Rounding Up
The undisputed king of cafe racer/retro helmets has to be the Bell Custom 500 for that authentic vintage style. 
However, if you're looking for more protection from a full-face helmet, or just more features, then the Simpson Venom is one pretty cool retro choice. 
Related
Finally, check out our guide to the Top 10 Coolest Helmets containing many other interesting lids.