We're going to attempt the impossible and narrow down all the motorbikes in the world to just 14 of the coolest bikes ever.
This is a completely subjective list, with as broad a perspective as possible, made up of current and older models.
Of course, my imaginary motorbike garage has far more than just 14 dream bikes in it, so this is arguably the hardest article I've ever had to write.
Let's see how many of these you agree with.
Ducati Panigale V4 (Current Model)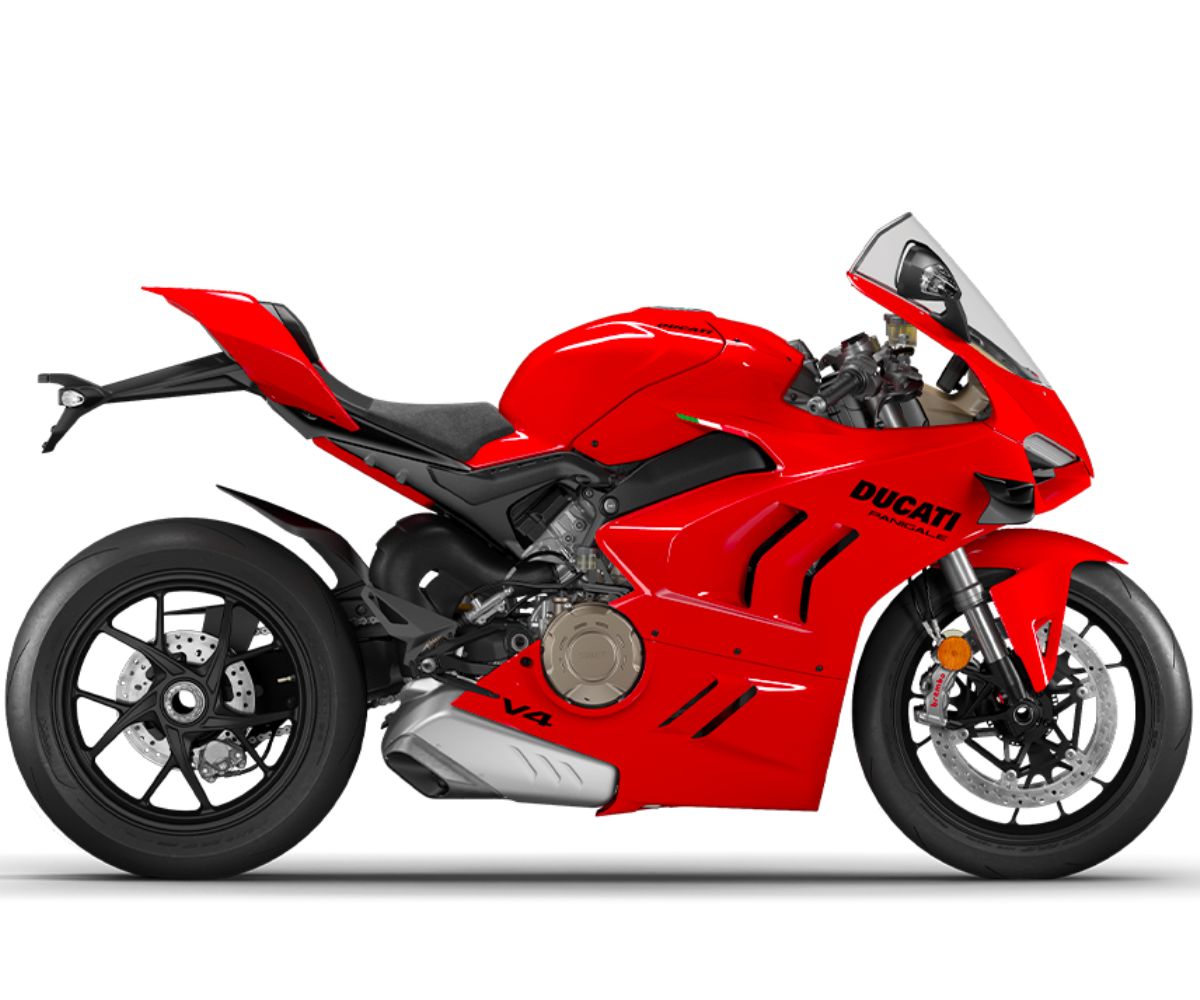 Specs:
Engine: 1,103cc, Desmosedici Stradale V-4
Max power: 215.5 horsepower
Max torque: 123.6 Nm
MSRP: £22,295
The Panigale V4 is the peak of Ducati's sports-bike range and, in my opinion, the peak of all sports bikes without question. Just one look at the Panigale sets my blood alight; it ignites excitement and fear in equal measure. 
Ducati has updated the model in all the key areas for 2023, including aerodynamics, engine, chassis, ergonomics, and electronics. They claim that the result of the updates means it is faster on the track, is more intuitive, and causes less fatigue — the idea being that the bike is just as suited to an amateur as a professional.
There are three Ducati Panigale V4 models: the V4, V4S, and the V4 SP2. The SP2 is solely designed to be the ultimate track weapon, as close to a MotoGP bike as you can get.
If you need further convincing that the Panigale V4 is easily the best sports bike on the market, just look at it. Ducati heritage pours through the Panigale, oozing class and quality, and, dare I say, drawing inspiration from the 'World's Most Beautiful Motorcycle', the Ducati 916.
---
Ducati 916 (Classic Model)
Specs:
Engine: 916cc, demo, L-Twin
Max power: 114 horsepower
Max torque: 90 Nm
Average used price: £12,000–£30,000
The Ducati 916 was crowned 'The World's Most Beautiful Motorcycle' upon its release and rightly so. It is a work of art, the equivalent of da Vinci's 'Mona Lisa' or Michelangelo's 'The Creation of Adam'.
I could wax lyrical about the 916 all day long, but I shall simplify it to this — it is a masterpiece. 
Massimo Tamburini is widely considered one of the greatest motorcycle designers in history. He had already made a name for himself as a co-founder of Bimota and as a great designer when Claudio Castiglioni (head of Cagiva) hired him following Cagiva's takeover of Ducati in 1985.
He was tasked with creating a new model to revive Ducati from financial suffering, and in the process, he became obsessed with creating the 'perfect' motorbike. 
The result was the 916, a perfectly balanced machine featuring Tamburini's steel trellis frame — used previously in the TT2 — as well as the engine from the 851, only with a bigger displacement and new engine-management system. 
It is arguably not the 916's achievements in terms of sales or on the track that are most impressive but that the bike paved the way for everything that came out of Ducati's factory thereafter, right up to today's Panigale.
---
Kawasaki H2R (Current Model)
Specs:
Engine: 998cc, liquid-cooled, inline four, with Supercharger
Max power: 310 horsepower
Max torque: 165 Nm
MSRP: £50,000
We can't live in a world where the Ninja H2R exists and not mention it on our coolest list. It is a supercharged Ninja; I could simply end my case here. When the Ninja H2R debuted in 2015, it changed the definition of a supersport motorcycle altogether.
Already a solid bike, the Ninja ZX-10R was mean, aggressive, fast, and competitive, but Kawasaki wasn't ready to stop there and had the genius idea of supercharging the bike. 
It now produces 310 horsepower and 165 Nm of torque and has an estimated top speed of around 248 mph, making it the current fastest motorcycle.
That's no surprise when you look at it. Indeed, the H2R looks like a rocket ship. It has a futuristic edge paired with super-aggressive angular lines.
Kawasaki has thrown every tech feature and high-quality component they could at the H2R, and rightly so, with a starting price of £50,000.
---
Suzuki Hayabusa (Original and Current Models)
Specs for the 2023 Hayabusa:
Engine: 1,340cc, four-cylinder, liquid-cooled, DOHC
Max power: 187 horsepower
Max torque: 150 Nm
MSRP: £17,999
Average used price: £2,5000–£10,000
There is nothing new I can say about the Hayabusa that you probably don't already know. The Busa is a legend, an icon, and an absolute monster of a bike that has reigned supreme over all sports tourers since its release in 1999, even during a lapse in production.
It is bulky and intimidating and poses an ultra-aggressive stance that will take no hostages. Suzuki didn't come to play when they released the Hayabusa. The name 'Hayabusa' literally translates to 'Peregrine Falcon', a bird of prey that dives at speeds of up to 200 mph.
A more important point is that the Falcon's prey is a Blackbird, and Suzuki's Hayabusa was unleashed to challenge Honda's Super Blackbird.
With a story like that, the Busa is without a doubt a cool motorcycle, and the fact is it has the performance to back the story up even today — 187 horsepower and 150 Nm of torque is nothing to be scoffed at.
---
MV Agusta Rush (Current Model)
Specs:
Engine: 998cc, four-cylinder, liquid-cooled,
Max power: 208 horsepower
Max torque: 116.5 Nm
MSRP: £34,000
This hyper-naked is guaranteed to turn your head. It is a truly fierce motorcycle born out of drag-strip racing and raw muscle.
From the side, there is no empty space anywhere on the Rush. Everything is super compact and purposefully placed.
MV Agusta is the first to call the Rush arrogant, and if the bike were a person, it would be the epitome of arrogance. It looks the business, knows it does, makes no apologies for it, and gloats in its glory. 
However, there is a fascinating charm about such a motorbike that has you coming back for more, studying every angle from top to bottom.
---
Norton Commando (Classic Model)
Specs:
Engine: 745cc / 828cc, air-cooled, OHV, parallel-twin
Max power: 58 horsepower / 60 horsepower
Max torque: 65 Nm / 75.9 Nm
Average used price: £7,000–£14,000
The Norton Commando is one of the most iconic British bikes to have ever existed despite its production having roots in a very turbulent time in British motorcycling history. Originally, production started in the Matchless factory in 1968 before moving to the Villiers factory in 1969. 
The engine was pulled from the Norton Atlas and was placed into a newly designed frame. It was the new chassis that eliminated the vibration issues that British parallel twins were suffering at the time.
Dr Stephen Bauer, a previous engineer for Rolls Royce, developed isolatic suspension of the engine for the Commando. It was this development that changed everything for British bikes' performance and meant they could now compete with the Japanese competition. Norton built six different models of the Commando and, by 1973, increased the capacity to 828cc. 
There is no doubt that the Commando is just a really cool motorbike. It was a race winner — the ultimate street racer — and is a victory for British engineering.
---
Norton V4SV (Current Model)
Specs:
Engine: 1,200cc, V-four cylinder
Max power: 185 horsepower
Max torque: 135 Nm
MSRP: £44,000
Originally just a project, an idea, a thought, Norton has finally decided to put the glorious V4SV into production. 
They claim it is the most luxurious sports bike ever built in Britain. I am not equipped to confirm or deny that claim, but the fact is it is the only British sports bike currently in production — that itself is pretty awesome.
The V4SV was born out of Norton's successful racing history. It has been tested repeatedly by Norton racers to ensure it is fit for purpose and meets the high standard it holds itself in.
The bike is sleek and compact but equally oppressive. It will make other sports bikes shrivel and back into the shadows. Could I go as far as to say the bike could even give Ducati a run for its money in the style department?
Check it out on Norton Motorcycles
---
Honda CB750 1969 (Classic Model)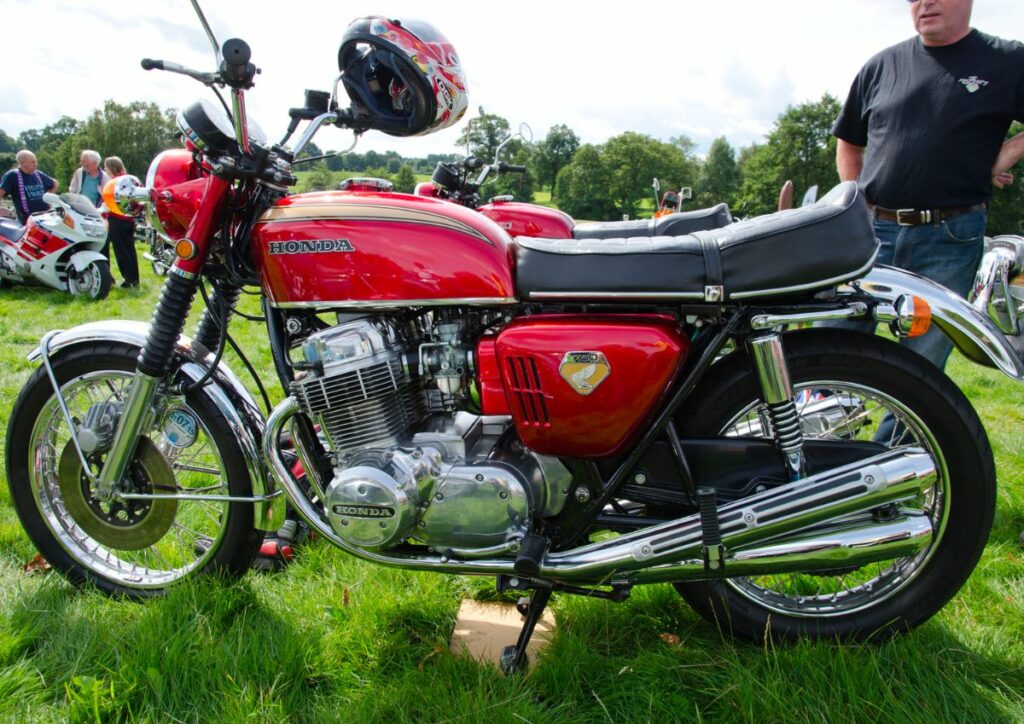 Specs:
Engine: 736cc, transverse, inline four cylinder
Max power: 67 horsepower
Max torque: 60 Nm
Average used price: £5,000–£25,000
Often dubbed the 'World's First Superbike', the CB750 was a pioneering motorcycle in its own right, as well as being Honda's first larger-capacity motorbike.
Triumph had actually been developing the Trident 750 earlier than Honda's CB750, but due to internal issues and different priorities, Honda beat them to the punch and won the title of the first superbike.
The model brought technology only seen on race bikes, such as disc brakes and an electric starter, to production motorbikes for the first time. The four-cylinder engine was the most impressive detail and is what would allow Honda to compete with the larger bikes in the American market.
Honda's release of the CB750 also opened the door for other Japanese manufacturers, such as Suzuki and Kawasaki, to expand their range, and the UJM (Universal Japanese Motorcycle) era began, with Japanese bikes dominating the motorcycle market.
---
Vincent Black Shadow (Classic Model)
Specs:
Engine: 998cc, OHV, V-twin
Max power: 55 horsepower
Max torque: 58 Nm
Average used price: £75,000 +
Just the name 'Vincent Black Shadow' is unbelievably cool and gives the bike a very worthy basis to make the list on that point alone. It helps, though, that the bike is backed up by its reputation as an engineering marvel of its time.
Produced from 1948 to 1955, the Vincent Black Shadow was deemed the fastest bike in the world with a top speed of 125 mph, unheard of at the time.
Not solely about speed, though, the Black Shadow is a pleasure to look at. The model's visual traits have solidified the Shadow's legacy as a British work of art.
Fans of the Black Shadow include some pretty cool guys, like Richard Hammond, Jay Leno, and Hunter S. Thompson.
---
Harley-Davidson Sportster 1957 (Original and Current Models)
Specs for the 2023 Sportster S:
Engine: 1,252cc, water-cooled V-twin
Max power: 121 horsepower
Max torque: 127 Nm
MSRP: £15,895
Average used price: £2,500–£7,500
I'll admit it — I stan Harley-Davidson Sportsters, particularly the air-cooled models. They're just the ultimate Harleys.
Sure, Sportsters aren't the biggest, most practical, or fanciest Harleys available, but they have remained a part of the H-D range since they were first released in 1957. They are affordable, lightweight, easy to ride — a customiser's dream.
Sportsters inspired the original chopper scene of the 70s and have been the basis for the bobber and chopper revival in more recent times. What's cooler than a custom chopper?
There have even been flat track and cafe racers Sportsters available, I beg you to find me a more versatile Harley.
Harley shook things up recently and discontinued the air-cooled Evolution Sportsters. They very nearly had a very nasty letter from me demanding they bring it back (yes, I know it wouldn't have achieved anything — my husband said the same thing).
However, the sneaky team at H-D had a plan to replace the model with the new air-cooled Sportster S, which has been joined by the Nightster.
The new Sportster family is shaping up to be exciting, with impressive handling and performance, as well as modern riding features.
---
Harley-Davidson Low Rider S (Current Model)
Specs:
Engine: Milwaukee-Eight 117
Max power: 105 horsepower
Max torque: 168 Nm
MSRP: £19,395
There is no argument, as far as I'm concerned the Harley-Davidson Low Rider S is the coolest Harley currently on the market. It is a phenomenal cruiser with bags of style, bags of attitude, and good performance to boot. 
Powered by the Milwaukee-Eight 117 — the biggest Harley motor available — the Low Rider S has immense power and torque to draw from. Thundering up to speed is a breeze, and it feels like a freight train.
Available in Vivid Black or White Sand Pearl (which is my favourite) the model is a blank canvas ready to be customised to your preferences. Although, on this occasion I have to say the bike is better as it is. Aside from a couple of performance upgrades, maybe, Harley got the design pretty spot on. 
Check it out on Harley-Davidson
---
Indian Scout 1920 and Scout Bobber Twenty (Original and Current)
Specs for the 2023 Scout Bobber Twenty:
Engine: 1,113cc, V-twin
Max power: 95 horsepower
Max torque: 97 Nm
MSRP: £14,495
It's no secret that the Indian Scout is my favourite motorcycle of all time, from the original to the current Scout family. The 1920 Scout is a staple of American V-twin legends. It changed motorcycle racing at the very early stages of its development. I would happily ride around on an original Scout today if I could get my hands on one. 
Today there is no cooler Scout than the Scout Bobber Twenty. The bike is stunning. It throws back to the original 1920 Scout but retains modern features that coincide seamlessly. It is a motorbike for the streets, an everyday cruiser with factory bobber styling. The mini-ape handlebars are a great, low-profile addition in keeping with the rest of the bike.
The Scout Bobber doesn't boast an abundance of power, but it has punchy acceleration and more than enough power for some fun out on the backroads and on the motorway.
Check it out on Indian Motorcycle.
---
Triumph Bonneville 1959 (Current Range)
Specs for the 2023 T120 Bonnie:
Engine: 1,200cc, liquid cooled, parallel twin
Max power: 78.9 horsepower
Max torque: 105 Nm
MSRP: £11,795
Average used price: £4,000–£25,000
Where would British Motorcycling be without the Triumph Bonneville?
The iconic Bonnie is recognisable around the world, even by non-bikers. It has been the chosen prop of fashion brands like Ralph Lauren and Barbour and favoured by the likes of Steve McQueen and David Beckham. 
The Bonnie was created out of the need for a production bike that lived up to Ed Turner's (Triumph's owner) claim that Triumph makes the world's fastest bikes. Having had success in 1955 and 1956 with Johnny Allen setting world speed records at the Bonneville salt flats on his Triumph, Turner wanted to capitalise off that.
The result was the 1959 Bonneville, which initially was met with a cold reception as it was a bit too plain and safe looking, but by 1960, the market (particularly in the US) had warmed to the Bonnie's styling, and it was a resounding success.
The Bonneville exists today in many forms across the Modern Classics range in Triumph's lineup, from the Scrambler to the Speed Twin. There is a Bonnie for every type of rider, and at the top of the class is the T120 Bonneville.
---
Yamaha MT-09 (Current Model)
Specs:
Engine: 890cc, liquid-cooled, triple-cylinder, CP3
Max power: 117 horsepower
Max torque: 93 Nm
MSRP: £9,810
Yamaha's 'Dark Side of Japan' range is made up of the MT line, a series of bikes of different capacities, with street fighter attitude, bags of torque, and aggressive styling. I have crowned the MT-09 the 'wheelie king', the bike that will inspire you to unleash your inner hooligan and push the boundaries of what is acceptable for a street bike.
There is an MT on every street, at every bike meet, every bike shop, every coffee stop — or at least that's what it feels like.
The range has exploded and the MT-09 is the model in the middle that offers more power than the MT-07 for greater versatility but is not completely insane like the MT-10, which you'd be hard-pushed to make the most of in the real world.
All bikers love the freedom two wheels brings, and the naked MT-09 epitomises that. It puts the joy back in riding; it's fun, lively, encouraging, and just a little bit naughty.
Related
Check out some of the coolest motorcycle helmets.
---
Image Credits:
ScuderiaAssindia, CC BY-SA 4.0, via Wikimedia Commons
Yesterdays Antique Motorcycles en Classic Motorcycle Archive, CC BY-SA 3.0, via Wikimedia Commons
SG2012, CC BY 2.0, via Wikimedia Commons
tomislav medak, CC BY 2.0, via Wikimedia Commons
Jeff Bowles, CC BY 2.0, via Wikimedia Commons
Joachim Köhler, CC BY-SA 3.0, via Wikimedia Commons
Ry3103, CC BY-SA 4.0, via Wikimedia Commons