Factory cruisers haven't been getting a lot of attention in the last few years.
Once the most common kind of relaxed, looks-before-performance type of motorcycle on the road, cruisers have been eclipsed in popularity recently by bobber and cafe racer styles.
But there's some life in the niche still.
Their feet-forward riding positions, low seats, raked-out front forks, and torque-focused engines make for comfortable but thrilling long rides.
And there's a certain aesthetic appeal that can't be denied. We've made a list of some of the best cruisers out there right now.
---
Kawasaki Vulcan S
Specs:
Engine: Parallel Twin
Capacity: 649cc
Power: 60bhp
Top Speed: 120mph
Wet Weight: 229kg
We wanted to start with the Vulcan S because of its accessibility and decent value.
Since 2018, Kawasaki has produced an A2 license-friendly version of this machine, resulting in a big increase in the number of them on the roads. Its relatively low weight and easy handling make it a great option for someone exploring this type of bike for the first time.
That's not to suggest this machine is underpowered. Its engine design is based on that of the ER-6n and is capable of producing 60bhp and a top speed of 120mph.
That should be more than enough to eat up motorway miles. And it sounds and looks great while cruising through town at lower speeds – ticks all the boxes.
What We Like…
With the Vulcan, it's the fact that it feels like a true, full-fat cruiser while still being accessible to newer riders.
---
Honda Rebel
Specs:
Engine: Parallel Twin
Capacity: 471cc
Power: 46.9 bhp
Top Speed: 100mph
Wet Weight: 185kg
This is Honda's take on the A2-compliant twin cruiser. And like the Vulcan from Kawasaki, the Rebel is an excellent choice for someone starting out or progressing from their A1 machine.
Its low-tuned engine is easy to get to grips with but can still put a smile on any veteran's face when you give it some open road.
This is a long, low machine. The front fork rakes out hard and the seat sits at 691mm off the ground.
The result is a comfortable riding position that won't stress the arms, back, or neck on longer rides.
Taller riders might find things a little cramped. If you're clearing 6 feet in height, try to arrange a test drive to see if this will be a problem for you.
Some people won't love the aesthetics here. The tank, in particular, gets some criticism. Thankfully the Rebel is easily customisable with a huge catalogue of aftermarket parts.
We love the easily removable passenger seat too. You can take the pillion seat off in minutes, giving your Rebel an instant Bobber look.
What We Like…
The Rebel gets points for accessibility like the Vulcan. But it's also an affordable choice with lots of customisation options and a bulletproof engine. There's also a 1100cc version to move up to if that's your thing.
---
Indian Scout 1200
Specs:
Engine: V-twin
Capacity: 1133cc
Power: 100bhp
Top Speed: 124mph
Wet Weight: 253kg
The Indian Scout is an iconic looking piece of American motorcycling. It competes in its homeland with Harley's Sportster machines but belongs in a class of its own. The monster 1200cc V-twin engine pushing out 100bhp is the star of the show here – both visually and for its performance.
That's not to diminish the appeal of how the rest of this machine looks. Though not everybody's cup of tea, there's no denying the pedigree on display in this classic, muscular design principle. The outline is chunky, mostly round, with a kind of retro-futuristic shape that would work in a 1950's sci-fi movie.
We're certainly not going to tell you the Scout is a beginner-friendly machine. But for its class, it is surprisingly light and handles easier than you might expect. If you're after an authentic American cruiser, this might be the one for you.
What We Like…
With the Scout, it's the purity of its design that stands out. This bike knows its pedigree and its designers know how to appeal to their target market while sticking to classic parameters.
Check it out on Indian Motorcycle
---
Harley-Davidson Dyna Street Bob
Specs:
Engine: V-twin
Capacity: 1690cc
Power: 67bhp
Top Speed: 125mph
Wet Weight: 302kg
Harley-Davidson bikes occupy a unique spot in the motorcycling world. Once a manufacturer of utilitarian, military bikes, their range includes some truly enormous faired touring bikes like the Glide series.
And while options like the Sportster and the 883 have always stuck to a certain look, many other bikes in the company's range had begun to drift away from the manufacturer's roots in recent years.
The Dyna Street Bob pares things back to what made Harley famous in the first place. The look on display here is borrowed from the best of the company's past designs.
From its teardrop-shaped tank, ape hanger bars, chopped mudguards, and lace-up wheels, the Dyna Street Bob screams classic American cruiser. And it makes a very nice rumble while screaming.
What We Like…
We like that this is a full-on cruiser with all the weight, heft, and volume you'd expect, but doesn't go over the top design-wise.
Check it out on Harley-Davidson
---
BMW R18
Specs:
Engine: Boxer
Capacity: 1802cc
Power: 89bhp
Top Speed: 111mph+
Wet Weight: 345kg
BMW's latest attempt at a cruiser model has been turning heads since its launch in 2020. Inspired in part by classic, American cruiser designs with some influence from BMW's heritage, the R18 is a unique but somehow familiar-looking design.
The BMW boxer engine has been making a powerful centrepiece for custom bikes for decades now. And it works beautifully here, looking stunning at the bike's core and pushing out 89bhp – more than enough power for most of us.
The R18 borrows from some BMW designs in the 'R' series that stretches back to their military roots. But there are some beautiful new visual touches here. The chrome fishtail exhausts, the exposed, nickel-plated, open shaft drive, and the hand-painted pin lines make this look exceptional.
What We Like…
Honestly, in 2022, we like that a bike like this still exists at all. I mean, with its 1802cc engine and single-seat – it's kind of a rocket with two wheels bolted on.
---
Triumph Bonneville Bobber
Specs:
Engine: Parallel Twin
Capacity: 1200cc
Power: 77bhp
Top Speed: 115mph
Wet Weight: 251kg
While the power output, brakes, and handling are all distinctly 21st century, the Triumph Bobber does a great job of looking retro. This is the second iteration of the Bobber from Triumph. Changes here include a larger tank, lighter engine and some Euro 5-related tweaks.
Underneath the classic exterior, there are features like cruise control, traction control, and several ride modes. And torque. There's lots of torque. The feeling of power is present even when going at fairly mellow speeds – a true sign of a cruiser.
What We Like…
Just about everything. The character of these bikes is very appealing. Retro-looking, but designed using contemporary principles. And the Triumph engine sound is pretty special.
---
Triumph Bonneville Speedmaster
Specs:
Engine: Parallel Twin
Capacity: 120cc
Power: 77bhp
Top Speed: 115mph
Wet Weight: 251kg
So this is essentially the Triumph Bobber with a pillion passenger seat. It uses the same powerful 1200cc engine, forks, suspension, and brakes as Triumph's other model.
And like the Bobber, there's a huge amount of customisation possible through Triumph's catalogue. The seat for both passenger and rider has been improved over last year's design and the front fork has been replaced with a 47mm Showa fork.
Both these models from Triumph maintain a real classic look without any of the hassle of vintage British bikes. The iconic engine casing and beautiful chrome and paint hide some nifty modern touches too. A good choice for someone after a cruiser with heritage.
What We Like…
It's hard to pick against the Triumphs for pure beauty. We just really like how this one looks so classic and performs so well.
---
Ducati X-Diavel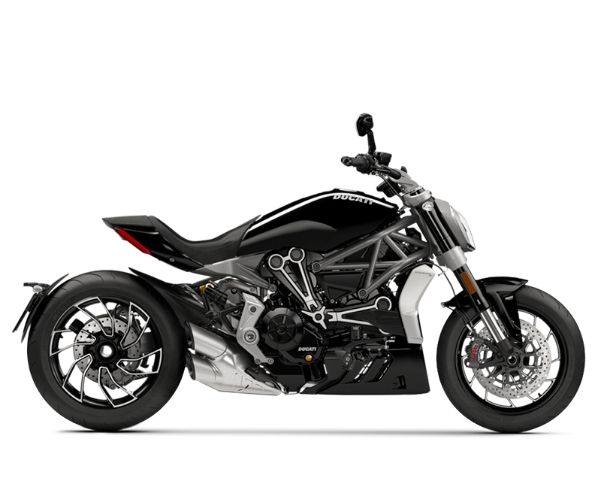 Specs:
Engine:
Capacity: 1262cc
Power: 160bhp
Top Speed: 150mph
Wet Weight: 247kg
If the Triumphs represent peak retro appeal, then the Ducati X-Diavel must represent peak futuristic weirdness. And it looks great. With its 158bhp, it's also an absolute beast of a machine and not for the faint of heart.
This is not a typical cruiser. It uses a belt-drive, chopped exhaust, and single-sided swingarm to show off its big, beautiful back wheel. The performance is pretty atypical too with cornering ABS, launch control, and various ride modes.
The X-Diavel also features a keyless start, Brembo brakes, and full LED lighting. The dazzling paintwork, forged wheels, and general aggressive outline might not be for everyone. But for those who like the futuristic, this might be perfect.
What We Like…
It looks like something from a science fiction video game and it goes seriously fast…
---
Triumph Rocket 3
Specs:
Engine:
Capacity: 2458cc
Power: 165hp
Top Speed: 138mph
Wet Weight: 362kg
While the other two Triumphs on our list go for retro-appeal, the Rocket is more of a muscular, contemporary hot rod. And it won't be for everybody. But with its 163ft-lb of torque, it's the kind of machine that will make some people very happy.
Thankfully, all that power is kept under tight control by excellent brakes, surprisingly easy handling, and a series of electronic rider aids and switchable riding modes. But there's no getting away from the fact that this is a 2500cc motorcycle. Not recommended for any but the most experienced riders.
What We Like…
We like that this is not even pretending to be anything other than a rocket. They've even gone for the name!
---
Also read our guide to the best 125cc cruisers