If you've ever worn a standard set of shades under a helmet for 30 minutes or more, you'll know it's not especially comfortable.
Motorcycle-specific sunglasses use shatterproof lenses, a slimmer profile, foam padding, and lightweight materials to keep you safe and comfortable.
We've made a list of ten products specifically for riding. We've also included gaskets that allow you to add prescription lenses to your motorcycle sunglasses.
Top Pick
Bertoni Polarized Photochromatic Glasses
Bertoni's Photochromatic sunglasses take the top spot here. A single pair of glasses that adjusts to increase contrast and protect your eyes is worth the price.
Budget Pick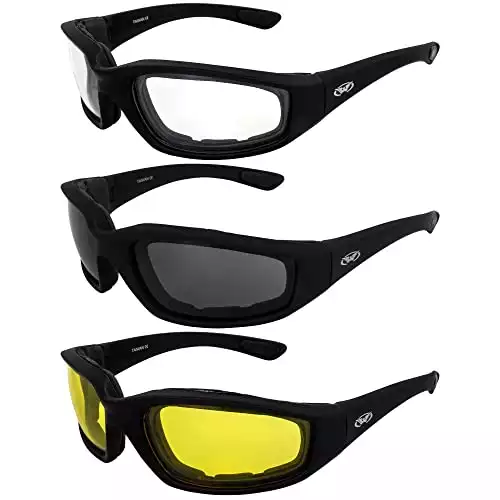 Global Vision Eyewear 3 Pairs Sunglasses
The Global Vision 3 Pack takes the rider on a budget award. 3 sets of lenses for a bargain price and nearly two thousand positive reviews on Amazon - seems like a solid choice.
Bertoni Polarized, Photochromatic Motorcycle Glasses
These glasses have a unique selling point. Their polarised lenses are photochromatic, meaning they adjust to the lighting conditions to improve contrast. It sounds like science fiction, but this tech does work.
The yellow tint enhances contrast in low light conditions and blocks glare in the midday sun.
The rest of the specification here is equally impressive. Slim arms allow a snug fit without pressure on the ears or temples. The CE-rated, shatterproof lenses are impact-resistant and decentred to prevent optical distortion.
A wrap-around foam insert is included. This creates a seal to keep dust and wind from entering the space behind the lenses. It also helps with comfort and grip. These glasses are expensive. But they also work in a variety of conditions, are built to a high standard, and come with a carry case. Recommended.
Pros:
Lenses adjust to lighting conditions
Lightweight and comfortable
Cons:
---
Global Vision Kickback Padded MC Glasses 3 Pack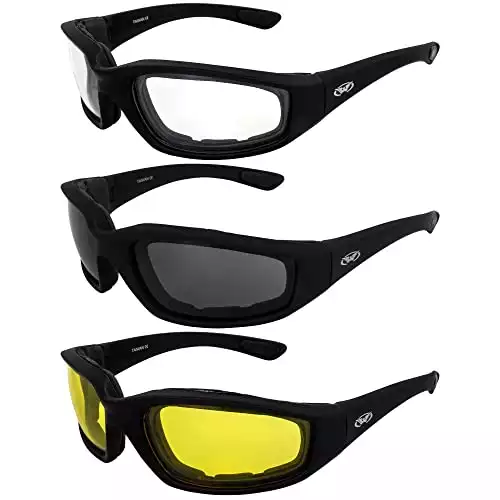 This set from Global Vision also aims to cater for all possible conditions with a single purchase. And it does so at a fraction of the cost of the Ugly Fish set. That's not to say the gear is comparable, though. You get what you pay for.
This set isn't modular in the way more expensive solutions are. But it does tick most of the boxes.
The lenses are made from shatterproof polycarbonate, the arms are slim and rubber-backed for comfort, and vented EVA foam padding makes a better seal and comfortable fit. Clear, yellow-tinted, and smoked pairs are included in the set. This should set you up for eye protection, no matter the conditions.
Those who wear contacts will also find these useful. Rushing air on a moving bike can cause discomfort for people with contacts. The foam padding makes a tight seal that stops turbulence from entering. This seal also prevents the glasses from misting up as you breathe. A UV400 rating means these offer some serious protection too.
Pros:
Great value for riders on a budget
Comfortable
Good foam seals
Cons:
Not as packable as a modular set
---
Ugly Fish RS5228 Motorcycle Glasses
These glasses fit under a helmet without pinching or creating pressure on the temples or ears. This is achieved with a few clever design features. The arms are slim enough to work under helmets without a glasses groove. And the flexible material means they can soak up some of the pressure from the helmet.
Check Prices on SportsBikeShop
Your mileage will vary according to your head shape and helmet. But these are consistently some of the highest-rated motorcycle sunglasses we could find. For most riders, these fit well and stay in place at high speed, with the visor open.
Shatterproof lenses are also an important part of this product. Regular lenses could shatter in an accident and cause serious injury. The material used here is guaranteed shatterproof. There are also three shades of tint to choose from, smoked, reflective blue, and reflective red.
Pros:
Simple looking and effective
Reasonably priced
Cons:
Arms might be a little wide for those with small heads
---
Ugly Fish Cruize Multi Lens Pack
Different lenses work best for different conditions. Ugly Fish offers this set for riders who want to be ready for a variety of light conditions. This pack contains three frames with lenses (clear, yellow and smoked), two legs, an elastic strap, a foam seal, and a case.
Check Prices on SportsBikeShop
The modular design means a single set of arms can be connected to the pair of lenses that suit the conditions. The elastic band to hold the glasses in place is useful when off the bike. But ideally, your riding glasses should sit comfortably inside your helmet without any need for fastening. A foam gasket is included. This mounts on the inside of the frame to make a better seal and to stop the frame from pressing into your head at speed.
This is the set for you if you want to be prepared for all kinds of light conditions with a single purchase.
All lenses are shatterproof and offer great protection from wind/debris/bugs. With clear, yellow, and smoked lenses to choose from, you're ready for any weather. The fit here is similar to that of the standalone Ugly Fish glasses. They're designed to fit snugly under a helmet without pinching or creating pressure.
Note: Ugly Fish also sells a gasket that allows you to put prescription lenses in this set. It's available here.
Pros:
One purchase covers all light conditions
Modular design makes them versatile
Includes a protective case
Cons
Not cheap (but a lot of products for the price)
---
Ugly Fish Slim Multi-Functional Sunglasses
This slim set of sunglasses from Ugly Fish is designed for everyday use in a range of conditions. These are available with smoked, clear, or yellow lenses. A photochromatic set is also available at roughly double the price of the regular ones.
Check Prices on SportsBikeShop
Thankfully, all of them use the same high-quality, shatterproof polycarbonate. This means even should an object hit you at speed, or you hit the deck, you won't suffer any eye injury. They're lightweight too, And the highly flexible material helps to keep them comfortable on a range of head shapes and in various helmets.
A foam gasket is also included. This helps to keep turbulence and dust from entering the eyes. These sunglasses are slim and tight-fitting compared to many on the list. The foam gasket may not even be required depending on your head shape. It will add some comfort if you intend on going fast with the visor up, though.
Note: Ugly Fish also sells a gasket that allows you to put prescription lenses in this set. It's available here.
Pros:
Slim, lightweight design means extra comfort
Several options for lenses
Suitable for most helmets (even those without a dedicated glasses groove)
Cons:
There are cheaper options available
---
Birdz Eagle Riding Glasses
This three-pair set from Birdz gets around some of the common issues with riding glasses. The arms of your sunglasses are typically the part that's not compatible with helmets. If they're too thick, the arms can cause pressure once the helmet is in place. This pressure tends to build as you ride.
These glasses use a strap instead of plastic arms. This is common in motocross goggles, but this pair is designed to work with regular helmets. The adjustment buckles at the back of the strap are low profile, meaning you won't feel them pressing against your head.
Three sets of polycarbonate lenses are included – clear, smoked, and yellow. All feature UV400 protection. A foam gasket is present to prevent wind and dust from entering. This is designed slightly differently here. A groove for prescription glasses will allow most pairs to be worn under this set.
Pros:
Competitive price
Fit over many prescription glasses
Cons:
Carrying all three pairs would be bulky
---
Buyers' Guide
Considerations, Care and Cost
---
Why Motorcycle Specific Glasses?
There are two factors affecting our answer to this question. The first is the helmet. Unless your helmet is made with a dedicated groove for glasses (and many are made that way), regular glasses might be a tight fit.
This can feel OK in the moments after you put them on. But after an hour of commuting, you may have given yourself a headache that could last the day. Glasses for riding use slimmed-down arms to minimise extra pressure on your ears and temples.
A good pair of motorcycle glasses should also fit snugly. If there's a lot of space between the glasses and your face, there's potential for the glasses to move around at speed. This could be distracting and uncomfortable.
Lenses
The second important factor in riding glasses is lenses. Glass shatters on impact. This is bad for something you wear over your eyes while going fast.
A flying piece of debris or contact with the ground could destroy your eyes if the lenses shatter. This is why motorcycle sunglasses are made with shatterproof polycarbonate.
Arms
One of the key adaptations to make sunglasses work under a helmet is the arms. These need to be slimmer than standard glasses and ideally have some flexibility too.
Injection moulded plastic or nylon materials offer good impact resistance. This can help you get longer out of a single pair. Some arms are backed with rubber on the contact side. This can help with grip and comfort.
Tints
Yellow tints help with contrast in low light conditions. Clear lenses offer little protection from glare and are suitable for nighttime or shadowy conditions. Grey and smoked tints are best for bright, direct light conditions that minimise distortions. Some of the sets on our list contain all three types of lenses to cover every eventuality.