I remember going to buy my first motorcycle helmet when I first started riding, and I was so pumped up with excitement about finally getting my gear.
Then while in the shop, I was faced with an unexpected problem, how am I meant to wear my glasses with a helmet?
Moreover, how do I get my glasses to fit inside the helmet without hurting the side of my head and ears?
It is a problem that loads of riders face. Fortunately, manufacturers have cottoned on and have started to produce glasses friendly helmets so that you can comfortably wear them with your eyewear.
Without further ado, let's get to it. 
Here are our top motorcycle helmets that work with glasses.
Best Premium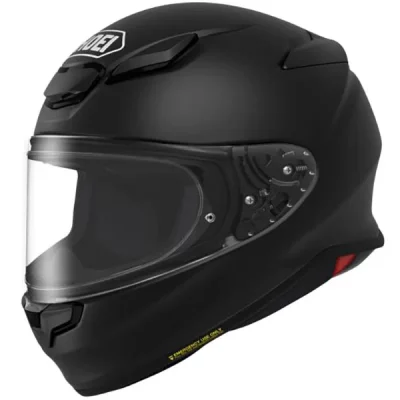 Shoei NXR 2
Grooves for Glasses, Comfortable, Premium Quality
This ECE 22.06 certified NXR is not only safety conscious but has glasses grooves for maximum comfort.
Best Value
HJC C91
Lightweight and Great Value
A smart modular helmet that offers premium features at a fraction of the cost.
Motorcyle Helmets for Glasses Wearers Reviewied
---
Shoei NXR 2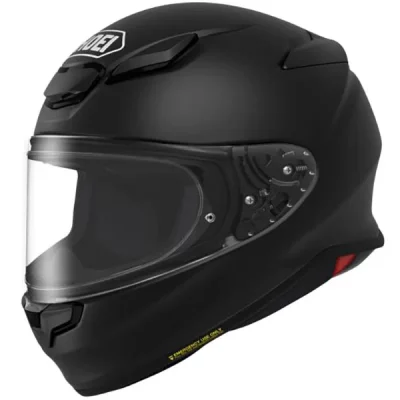 The NXR 2 is a lightweight helmet with a mixed fibre, multi-composite shell that is class-leading in its aerodynamic design and visibility levels.
Check Prices on SportsBikeShop
The greatest thing about the NXR 2 in this context is grooves in the inner padding to accommodate glasses. 
It is one of Shoei's most accessible helmets in terms of price point, and it is the first Shoei helmet to conform to ECE 22.06 standards.
The visor port is large, and the actual visor has view distortion applied, so visibility will be clear through the visor at any given angle or point. 
Ventilation is excellent in the form of large forehead vents, chin intakes, exhaust ports at the back will keep the warm air out. 
Pros:
ECE 22.06 certified
Grooves for glasses in liner
Lightweight
Anti-visor distortion
Cons:
---
HJC C91
The C91 is a modular helmet that packs a punch with glasses grooves, speaker pockets, internal sun visor and a Pinlock visor.
Check Prices on SportsBikeShop
It is a polycarbonate composite shell, but it is still lightweight, so doesn't feel like some bulky modular helmets. 
An Advanced Channelling System for ventilation lifts heat and humidity up and out of the helmet at the back. 
It is a great value option for those who need to wear glasses or sunglasses when riding.
Pros:
Glasses Grooves
Comfortable
Lightweight
Value for Money
Cons:
---
Schuberth C3 Pro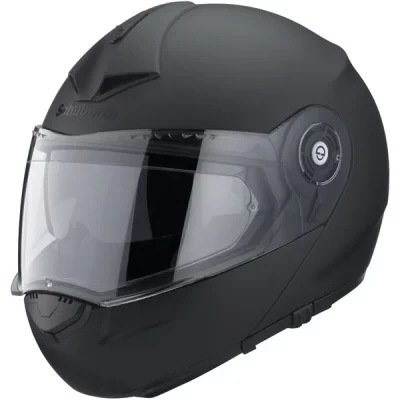 Schuberth makes excellent helmets; they are one of my favourite manufacturers, as their quality is brilliant. 
Check Prices on SportsBikeShop
However, their claim to fame is that they make quiet helmets, the quietest ones available on the market. 
It is, therefore, interesting that the C3 Pro is also a comfortable helmet for those who wear glasses. 
The modular system also makes things easy for riders to just put the helmet on over their glasses without having to remove them first. 
This is down to the mechanism positioning and the inner liner's placement. 
For those that want an all-around premium helmet, particularly for touring, the C3 Pro is a great choice that will keep you comfortable while wearing your glasses and keep the noise out too. 
Pros:
Accommodates glasses
Comfortable
Quiet
Cons:
Pricey
No actual glasses grooves
---
Nolan N87 N-Com
The Nolan N87 is a full-face helmet with a polycarbonate shell construction; it is a value helmet but has a 4-star SHARP rating. 
Check Prices on SportsBikeShop
It comes with glasses grooves in the liner, which makes it very easy to put your glasses on and take them off when wearing the helmet; it is also comfortable to wear for hours on end with your glasses.
The helmet is loaded with features such as Pinlock and internal sun visors, ready for Nolan's N-Com system and their Emergency Stop System too. 
Pros:
Great value
Glasses grooves
Bonus tech features
Cons:
Ventilation system not as great as other options
---
Shark Ridill 1.2
For those on a tight budget looking for a full-face helmet, the Shark Ridill 1.2 may be the perfect option.
Check Prices on SportsBikeShop
It doesn't sing or dance, but it does do the job for a very reasonable price.
Shark employs an Easyfit glasses system so that your glasses slot into the grooves and don't press on your temples which can be pretty painful. 
Pros:
Easyfit glasses system
Value for money
Cons:
---
Buyers Guide
Considerations and cost
---
When buying any motorcycle helmet, the first thing you should always prioritise is safety; after that, you can whittle down your choices by personal preference.
If you need to wear your eyeglasses with your helmet, the main factors you need to consider after safety are how comfortable the helmet is and how easy it is to use. 
By considering these points, you are sure to buy a helmet that will equally protect your head while keeping you comfortable and not driving you mad every time you put your helmet on or take it off. 
Here are my top tips for buying a great motorcycle helmet suitable for glasses:
Safety
First of all, check that the helmet you are interested in is ECE certified which is a legal requirement for all helmets sold in the UK. 
It will state this information online and will be stamped or stitched on to the helmet's chin strap. 
As it stands, a helmet will carry either ECE 22.05 or ECE 22.06 certification, with ECE 22.06 being the latest standard. 
To get to the nitty-gritty of buying the safest motorcycle helmet, check out the buyer's guide in our safest motorcycle helmet article, which covers ECE, SHARP ratings, fit and other important points. 
Comfort
The best motorcycle helmets to accommodate glasses have specific cutouts in the liner; these small slits allow the glasses to fit in comfortably. 
Modular helmets are a good option as the nature of the front flipping up means that the liner is already split, and this split tends to be where the glasses would sit along the side of the head. 
One other thing to think about is looking for helmets that have adjustable linings; some helmets have 5mm removable linings for a custom fit. 
The 5mm gained by removing the lining would likely be enough to house glasses comfortably without sacrificing a tight, snug fit. 
Another tip for comfort is to use glasses that have thin arms to hook behind your ears; some sunglasses particularly have quite chunky plastic arms, and these are bound to be uncomfortable regardless of your helmet set up. 
Ease of use
Riding a motorcycle is hard work; it starts when you have to get geared up before you even turn the ignition, boots, gloves, jacket etc. and of course, your helmet. 
The last thing you want to deal with every time you put your helmet on and off is having to fuss over putting your glasses on or taking them off; it needs to be quick and easy. 
The right helmet can assist you with this.
Modular helmets make the process very easy, flip the front up, put your glasses on, put your helmet on, and you are good to go; same when you come to a stop, flip the front, remove glasses, remove helmet. 
In some cases, you will be able to put your modular helmet on while wearing your glasses which makes things even more accessible. 
However, this isn't quite as easy if you are like me and prefer a full-face helmet. 
Hoiw to put on glasses when wearing a motorcycle helmet
Opting for a helmet with grooves in the liner will help, but the most important tip I can give you is how to put your glasses on when wearing your helmet. 
Put your helmet on but don't do the strap up just yet
Pull the chin bar down so that the top edge of the helmet is in line with your eyebrows or just below
Put your glasses on through the visor port
Pinch the middle of your glasses as you push the chin bar back up so the whole helmet sits where it is supposed too and then do the strap up
Pulling the helmet down allows for a bit of wiggle room where you need to put your glasses, and once they are in situ, the helmet will hold them there.
Repeat the process to take the glasses off easily.
Ventilation
Glasses wearers among us will be aware of the lenses fogging up issue. While most helmets now have the option of a Pinlock visor which eliminates the problem on the visor, it doesn't mean your glasses will be mist-free.
Aside from spray-on products for your lenses etc., the best helmet to keep your glasses mist-free will be those with good ventilation systems.
Big intakes with capable exhaust ports at the back keep the air flowing in the helmet, which won't allow condensation to build up. 
Conclusion
There you have it, some of the best helmet options for glasses wearers.
The Shoei NXR 2 is easily one of the best helmets on the market full stop, and that is why it also made our best full-face helmet list. 
Safety is prioritised with comfort a close second, and those glasses grooves really do make all the difference. 
The HJC C91 is an excellent budget modular helmet that is great for glasses wearers with grooves built in the liner, and the modular system makes putting your glasses on super easy. 
Related
Check out our best motorcycle helmets article for a complete overview of the many options available.