Technology has moved forward in recent years, and Bluetooth headsets for your motorcycle helmet have become a must-have accessory.
Whether it is for communicating with other riders, listening to music, hearing your GPS above the road noise, or taking calls, staying connected whilst riding has never been easier.
In this review, we will look at the latest bit of kit from one of the big guns in motorcycle headsets, Sena.
Save Money On Your Motorcycle Insurance
You could pay less than £183*
Compare quotes from 25+ UK providers
Fill in one form to compare top bike insurers
Bottom Line Upfront
---
Superior Audio, Glove Friendly, Advanced Connectivity
If you are looking for a completely adaptable headset for different riding situations, this could be the one for you. Riding in a group? Just with a partner? Or are you on your way to a rally, and there are riders all along the motorway?
With Mesh 2.0 technology alongside standard Bluetooth, all channels of communication are available. Seamless integration with your smartphone completes an incredible all-around package.
What's in the Box?
Sena 50S Headset Module
Universal Base with a Clamp Adapter Plate
HD Speakers
Wired Boom Microphone
Boom Microphone Holder
Wired Microphone
4 x Microphone Sponges
Adhesive Adapter Plate
Set of Replacement Speaker Pads
Hook and Loop fasteners for microphones and speakers
Rubber Pads
Speaker Port Cover
2.5mm – 3.5mm Audio Cable
USB-C Power and Data Cable
Allen Key
Single Unit vs Dual Kit
The Sena 50S comes in both a single unit and dual kit; the dual pack is a good way to go as there is generally a saving to be made compared to both riders buying an individual unit.
Price – Is It Worth It?
The 50S and 50R are Sena's flagship devices and therefore come packed with the latest technology.
Compared with a headset like the previous 30K, the price difference is small when you look at the extra benefits of the 50S. Therefore, I would shoot for the 50S just on this basis.
The greatest asset of the 50S is group riding, and if that is something you do a lot, then the Mesh 2.0 technology we will get into later is definitely worth the money.
If you are mainly a solo rider who wants to listen to music and occasionally link up with a partner, the 50S may be overkill for your needs, and one of Sena's more basic devices would make more sense.
See:
Sena 50S vs 50R Headsets
There are several differences between the Sena 50S (left image) and 50R (right image).
The 50S comes with a large Jog Dial which is glove-friendly, whereas the 50R is a low profile unit with a trio of buttons.
The 50R is built to be compact and low profile, more for the Adventure rider who is off-road and out in all weathers.
Due to having a smaller battery, the R's battery range is smaller than the S but only by around 1 hour.
The R is intended to be mounted to the helmet directly with adhesive pads, whereas the S comes with a universal clamp mounting system.
The R unit has a 10R Earbud Adapter Split Cable enabled, which means you can connect up your earbuds instead of using the speakers.
The S, however, thanks to the mount, comes with a built-in AUX input and 3.5mm jack. This means you can use an MP3 player or Sat Nav that isn't Bluetooth enabled by plugging in via the AUX and also use your earbuds with the headphone jack.
The 50S comes with an extra Boom microphone.
The two devices are very similar and are packed with the same Mesh 2.0 Connectivity Specs and Bluetooth 5.0; they also come with rapid charging capabilities and the new HD speakers.
The 50R is built to be low profile, with less hardware for more rugged riding and better weather resistance. The 50S is the unit that has all the bells and whistles but is a little bulkier.
The video below demonstrates the differences well.
Installation and Mounting
Size and Weight
The main module of the 50S measures: 102 mm x 56 mm x 27 mm. The unit weighs just 64g.
To put that in context, it weighs about the same as a Snickers bar and measures around the same size as a Turkish Delight.
Helmet Compatibility
The Sena 50S module is designed to fit all motorcycle helmets and is widely considered a universal unit. The choice of microphones supplied in the box means that the unit can be used for full-face, modular, or even open-face helmets.
What Mounts Are Supplied?
A universal clamp kit and an adhesive mount are included in the box.
You might find this a bit more tricky than other headsets to install as the clamp is fairly bulky. When fitted, however, using the clamp kit with two Allen-head screws, it feels very secure and reassuring.
If you don't want to fiddle with Allen keys, then the adhesive mount is easy to install; peel off the 3m stickers and attach the module.
I have used a smaller Sena 5S unit using just the adhesive mount and also a Scala Rider unit which is fairly similar in dimensions and had no issues with either using the supplied adhesive mounting system.
The only thing some riders have noticed is when doing shoulder checks, they knock the dial; not a huge issue, as all this does is increase the volume a little.
Nearly all helmets will have speaker pockets built into the liner, and the slimline speakers with the 50S will slip straight into those gaps with no issues. Hook and Loop fasteners will keep all wires tucked under your liner and out the way.
The same with whichever microphone you choose; all the wiring can be fastened out the way and the microphone tucked into whichever position you find most comfortable. Using the velcro and hook and loop system, there is no annoying feeling of chewing on the wires of the mic as you talk. I tend to put mine right at the front, tucked into the chin bar, where there is a bit of space.
Be mindful not to put your mic directly in front of a vent, as whoever you are talking to will likely end up with an awful lot of wind noise!
Voice and Glove Controls
The Sena module has a big Jog dial that is used to control the system. It is easy to scroll back and forth to get to your desired setting, although there is no 'click' at each setting which would be beneficial, especially when wearing gloves.
Buttons are easy to find and navigate once you have the instruction manual down and know where to find everything, but the best way to use the 50S is via Voice Command, which has a vast array of features.
This table is from Sena's User Guide for the 50S, which you can download from their website. It gives you an overview of the Voice Commands you can use.
It is a pretty extensive list, and you can pretty much do everything you would need to do on your headset using your voice.
However, if you are like me and have a bit of a thick accent, it can be problematic (trust me, being from Birmingham in the UK, it's not easy when it comes to voice controls) and then add to that general wind noise and sounds from being on the road, the whole situation can be a bit frustrating.
This is not a unique problem to Sena, as anyone who uses voice controls with anything like phones, laptops, etc., will tell you, it's not yet a perfect system.
The 50S does allow multi-language voice commands for 8 different languages.
A final option, of course, is to use the Sena App if you mount your phone to your handlebars.
Sena App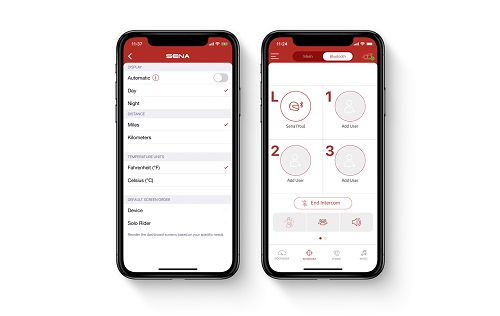 I have one bone to pick with Sena, and it's the fact they have a different App for every unit. There is no universal App that you can control all your settings from.
So, make sure you download the correct App for the 50S headset otherwise, no matter how hard you try, you won't get it to work; it's frustrating, and I know I'm not alone in this grumble.
Other than that, once you have the App downloaded and phone mounted, you should be good to go and trouble-free in terms of accessing your controls.
You can get your radio presets, your three speed-dial contacts, intercom, and music settings all from the interface once you are connected up.
There are two notes here:
You need touchscreen-compatible gloves.
The App only works in portrait mode.
You can also access all your settings through the App (preferably when you are not riding), along with the quick-start guide and user manuals.
With everything being on phones these days, having an App makes sense and including the user manuals is a nice touch, so if you are out on the road and come unstuck, you can check out how to do something relatively stress-free.
Usability
The Sena 50S is compatible with any Apple or Android smartphone via Bluetooth 5.0 – the latest and fastest version of Bluetooth.
You can access your smartphone assistant by saying "Hey Siri" or "Hey Google" and therefore have access to your full range of phone features on the road.
Phone Calls
You can input 3 speed-dial contacts to make phone calls with, and of course, you can access all your contacts via voice control on your phone as well. Call's are easy to make and to answer using whichever control method you want to use.
With the advanced noise-control, as with your intercom conversations, phone calls should be very clear and not disrupted by too much road noise.
GPS
The 50S will allow you to connect to your phone, other intercom users, and a GPS. Many riders use their phone as a GPS now with Apps like Google Maps, in which case connect your headset to your phone, and you will be good to go.
When adding in an external GPS like a TomTom, some people have reported problems, as the devices fight over which gets priority.
A lot of this can be resolved by going into the settings on the App and selecting which device gets priority, so if your phone is playing music, you will want your GPS to speak over the music so you can get your directions.
When connected via Mesh, users have said there are no issues with the GPS cutting in, and the conversation continues afterwards with no interruption; however, if music is playing too via the Bluetooth, once the GPS has given directions, the headset switches just to Bluetooth and disconnects from Mesh.
Mesh is easy to reconnect and activate, but I can imagine this being quite annoying every time you get directions while trying to have a conversation. Hopefully, Sena will address this in their next firmware update.
Mesh
Sena says
"The results of the new Mesh 2.0 technology translate into an unprecedented level of intercom audio quality and robust connectivity for all Sena Mesh 2.0 intercom users. Tested and proven in the most demanding situations, Sena's Mesh 2.0 network keeps the communication lines with your fellow riders clear and stable."
There are three intercom modes available to users, 'Open' Mesh mode, 'Private Group' Mesh, and Bluetooth Intercom.
The 50S uses Bluetooth 5.0, and the module can connect up to 4 riders via intercom even if they don't have a Sena headset.
However, Mesh allows virtually an unlimited number of riders to connect and communicate in open mode. Essentially it is an intercom system that works like a standard handheld or CB radio; in open Mesh mode, the unit switches between 9 different channels to connect with users.
As long as you are within 5 miles of each other, with a minimum of 6 riders at 1 miles intervals, Mesh 2.0 Intercom users will be able to talk between themselves. This would be a cool experience for those heading to a big rally or on a club ride.
Private Group mode allows up to 24 riders to connect, again with a minimum of 6 riders at 1-mile intervals and a total distance of 5 miles.
It is easy to switch between the various modes, only invited users can get in on the private group mode, so there is no concern about strangers interrupting your conversations.
Although Mesh is an advanced technology for intercom communication, it sometimes falls short if you are stuck behind big trucks or up and over a hill before your riding mates. It isn't too much of a big deal, though, as once you are back within range, the connection happens automatically and quickly.
One last point is that Mesh users can bridge a Sena Bluetooth Intercom user into a Mesh 2.0 conversation, which is cool if you have a friend that hasn't yet upgraded to a Sena Mesh system.
Sound Quality
Sena has improved dramatically with the speakers provided with the 50 series headsets. The speakers are slimline HD speakers which are boosted for audio, bass, and clarity.
Some users have said that they have had to turn the bass down in the speakers as it was just too much. In the past, Sena lacked in sound quality compared to competitors, but it is safe to say that they have addressed this issue with the 50S and R.
Range
There aren't too many disputes about the range among users online.
With Mesh, you need a minimum of 6 riders at maximum intervals of 1 mile and all to be within 5 miles for the system to work, whether in open or private mode. It doesn't matter your position in the pack, the intercom system will work within that range.
For Bluetooth, up to 4 riders can be connected within a 1.2mile range.
Battery Time and Charging
Sena claims 9 hours of Mesh intercom talk time or 14 hours of Bluetooth intercom talk time. Having scrolled through real user reviews, these claims do seem accurate and are not disputed.
The headset charges in just 1 hour as it is equipped with a fast-charging feature.
It is also possible if you have a battery pack to charge the module as you ride via the USB-C connector, so there is no need to worry about the battery running out of juice and not staying connected.
Waterproofing
Sena has failed to get an IP (Ingress Protection) rating on the last several generations of headsets. It seems like a pretty big oversight, especially since most headphones, earbuds, and phones all have an IP rating.
The 50S is claimed to be water-resistant. However, multiple users state that in heavy rain, the headset has stopped working by just cutting off.
The problem hasn't caused any lasting damage and boots right back up, but I would be curious to see how long a unit lasts if subjected to rain regularly.
Additional Features
The 50S comes with a WiFi Adapter that deals with rapid charging and can also be programmed to automatically install updates using your wireless network. You need to set up the WiFi network once, and then it will connect to the headset and install updates as and when.
I quite like this feature as there is nothing I hate more than constantly plugging things in and manually doing updates via a computer. Keep it simple, and I'm happy.
Radio
You can preset 10 radio stations via the Sena App, which you can access via whichever control method you prefer.
I found with my headsets in the past the radio settings can be hit and miss, whether it is the Bluetooth connectivity or phone signal etc. Interference is almost a guarantee on a long ride, and it will kick in when you are out in the sticks, behind a big truck, or going up a hill.
It is easy to set the module to automatically retune itself and tune into whatever station it can find. Still, I think using your downloaded music/podcasts is always a less stressful and uninterrupted process while riding.
Music
Whatever App you use on your smartphone for your music, whether iTunes, Spotify, or Amazon Music, the Sena 50S will sync up via Bluetooth and give you pretty flawless playback.
My recommendation is to download your music to your phone, so you aren't relying on phone signals to stream it.
With the HD speakers, you can expect to be in for a nice audio experience, giving your earbuds a run for their money.
There is nothing like blasting a bit of Sabbath or Lynyrd Skynyrd on the open road.
Conclusion
The Sena 50S offers a unique experience allowing riders to connect with ease and clarity in big packs or smaller groups; using the Mesh system is where the unit excels.
The battery time, fast-charging, audio quality, and accompanying App get a big thumbs up from me; the only question I would be asking myself is whether I need to be able to connect to so many riders and if I will get the use of that feature to justify the price point.