Almost every nut and bolt on your motorcycle has a specific torque figure assigned to it. The only way to be sure you're tightening these fixtures correctly is by using a torque wrench.
In this article, we've rounded up some of the better torque wrenches for motorcyclists. We've tried to include something for every budget.
Draper Micrometer Reversible Torque Wrench 30Nm – 210Nm
Taiwanese-manufactured Draper tools are well-built and reliable for their price. This wrench is a ½ inch fixed square but can be fitted with various adapters (not included).
The micrometer sleeve adjustment lets you set the torque value accurately and quickly. The "click" to tell you when you reached that value is loud and clear.
Every tool comes with a calibration certificate issued at the time of manufacture. And the consensus on the internet is that these are accurate when shipped.
They're known for being sturdy too. A few reviewers even talk about how they fitted a large pipe over the handle for extra torque. This isn't recommended but does demonstrate that these are rugged devices.
The 30NM – 210Nm rating means this is unsuitable for the lightly clamped bolts and fixtures on a motorcycle. But at that low price, you can buy a second tool for those bits. Recommended.
Pros:
Cons
Torque value too high for some bolts
---
Kielder Professional Torque Wrench
This high-quality set from Kielder contains one ½-inch wrench with a torque value of 28 – 210Nm and another ⅜-inch wrench rated at 10 – 110Nm. These two tools will cover the vast majority of bolts on any bike.
Kielder tools are made with durable heat-treated steel, feature comfortable handles, and a clear, micrometer-style gauge. The quick-release collar is a nice touch. Kielder offers a three-year guarantee. For a single-purchase solution, this won't break the bank and should last you a very long time.
Pros:
Covers most bolts on a motorcycle
Good value for 2 tools
Cons:
---
Silverline Torque Wrench 28Nm – 210Nm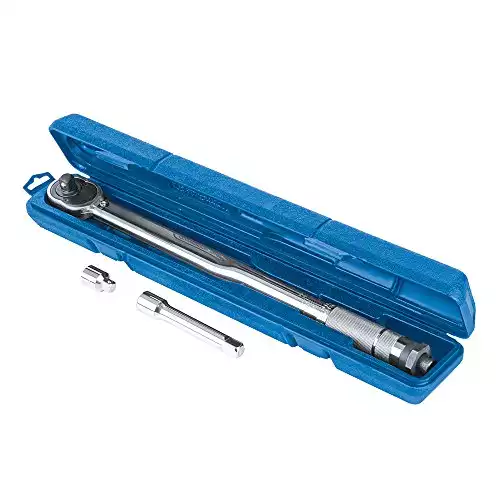 This chrome vanadium wrench from Silverline features a reversible head, sensitive, adjustable torque settings, and knurled handle. All of this contributes to a durable, highly-functional tool. A 1/2″ to 3/8″ adaptor and a 100mm long 1/2″ to 1/2″ extension are also included. This is quite a bit of kit for the set's low price.
Like the Draper wrench, the torque values on this are too high for the more minor, lighter stuff. But for fundamental things like axle nuts and spindle bolts, this is a great tool. We figure this is what most people are after when buying a motorcycle torque wrench.
The 28 – 210Nm provided here is perfect for removing wheels and spindles for chain adjustments, tyre swaps, or other maintenance. Silverline also allows you to register their product for a lifetime warranty.
Pros:
Quality, durable tool
Proven accuracy
Cons:
---
Draper ½-Inch Push Through Torque Wrench
The 'push through' design of this wrench allows for use on clockwise and anti-clockwise threads. And with a range of 25 – 135Nm, it's useful for a broad range of automotive applications. The long arm with a soft-grip handle and the tool's torque range make it a beast for changing wheels – on both cars and motorcycles. 
This is not a cheap-and-cheerful tool. But it is the only wrench on our list capable of tightening bolts in both directions. The build quality is also top-notch. The micrometer-style adjustment knob is accurate and easy to use. Draper also issues a calibration certificate with each tool. Kept in its rugged storage case and set to its lowest value, this tool offers a lot of use before needing recalibration.
Pros:
Can be used on clockwise and anti-clockwise threads
Rugged
Cons:
---
Amazon Basics ¼ Inch Torque Wrench
This lower torque, ¼-inch wrench from Amazon's basics range is perfect for the smaller bolts and triple clamps.
Amazon's basic tools have developed a decent reputation. This wrench is nothing fancy, but the quality steel construction and relatively clear, accurate, and simple adjustment dial mean it performs well.
The 3.95 – 22.5 Nm provided makes this wrench ideal for areas of the bike where less clamping force is required. Engine casing bolts, for example, usually need between 8 – 10 Nm. This wrench, combined with one of the higher-value tools on our list, will allow you to open and clamp almost every bolt on your bike.
Pros:
Inexpensive but reliable and well-built
Clear, accurate adjustment dial
Cons:
The 'click' at the desired value isn't as loud and clear as some wrenches
---
Sealey Micrometer ½-Inch 27 – 204Nm Torque Wrench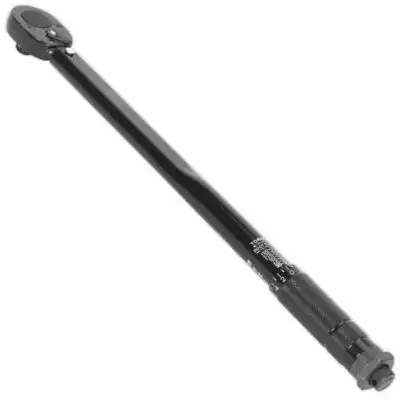 Sealey tools are a leading wholesaler of professional and workshop equipment. Thankfully, they're also affordable (if not cheap) and can generally be relied on to be durable and high-quality. This ½-inch wrench is fully-tempered and hardened and features an electrodeposition coating to prevent corrosion.
This metallic coating method is environmentally friendly and contributes to a longer lifespan for each tool.
The wrench comes with a numbered calibration certificate. It also features a reversible ratchet head, so you don't need to flip it over to reverse the direction.
This Sealey wrench will cost you more than others on our list. But it will also likely last you a lifetime.
Pros:
Durable, accurate, and reversible
Electrodeposition coating for corrosion resistance
Cons:
---
Buyer's Guide
Considerations.
---
Torque is a measurement of force applied at a radial distance. This is why it's also used to express a motorcycle's power at the back wheel. When it comes to fixtures on your bike, having the correct clamping force holding things together is essential.
Instruments, levers, exhausts, footpegs, and forks falling off while riding is bad news.
Incorrect force on your engine casings can result in an improper seal if too loose and damage the casings and gaskets if too tight.
Over-tightening your axle nuts can impede movement. Loose axle nuts can result in unintentional wheelies and horrible accidents.
If you intend to do even basic maintenance on your motorcycle, don't try it without a cheap torque wrench. You must know how much force you're applying when tightening things on a motorcycle.
What Sizes and Values?
For the flywheel, primary drive, and axle nuts of your bike, a ½ inch wrench is the correct tool for the job.
For cylinder head bolts, triple clamp bolts, and cylinder heads, a ⅜ inch wrench is required. For minor stuff like oil-filter cover bolts and engine case bolts, you need a 6mm wrench.
Bolts on a motorcycle require a force of between 3 – 200 Nm. A single torque wrench can't effectively cover all of that. To safely adjust all of the bolts on your bike, several wrenches are required. Your motorcycle owner's manual will have a record of the torque values for every fitting on your model.
Analogue or Digital?
Analogue wrenches allow you to set the tool to the desired torque. You can then apply force on the wrench until it reaches that point. When it does, a clutch releases inside the tool, causing it to click and stop applying pressure.
Digital torque wrenches have a digital display that gives users an even more accurate reading. For most people, this is overkill. But if you have other hobbies that require the tools, you own a highly-tuned superbike, or you like precision – a digital torque wrench won't break the bank.
Tip: Always reset your torque wrench to its lowest value after use. This helps it to stay correctly calibrated for longer
Also read our guide to the best motorcycle tool kit.