The temptation to wear lightweight, inappropriate and unsafe clothing increases with the temperature.
You're better off either buying gear with a removable thermal lining, lightweight motorcycle jeans, or a set of dedicated summer, mesh-style trousers.
The UK is rarely hot enough to warrant a full mesh suit, but summers can make heavy leathers or textiles feel pretty uncomfortable.
Here are our summer motorcycle trouser picks.
Our Top Pick
Richa Airvent Evo 2 Textile Trousers
Versatile, Decent Value
Easily the most adaptable trousers on the market and perform great in the hottest UK conditions.
They also feature a waterproof membrane, so continue to perform when the weather turns bad. Recommended.
Budget Pick
Texpeed Motorcycle Trousers
Excellent Value
A quality option for lightweight armoured trousers in the budget class.
These trousers look and feel great and are an excellent choice for someone after a pair of all-day comfort trousers with decent protection.
Best Summer Motorcycle Trousers Reviews
Let's dive into our top picks
---
Richa Air Vent Evo 2
As the name suggests, these 600D Poly-Cordura jeans from Richa are all about airflow.
A removable waterproof, windproof, breathable membrane extends its function into wetter, slightly cooler conditions, but they're particularly suited to hotter weather.
Materials and build quality are what we expect from Richa, with a hook-and-loop adjustable waist tab, stretchy panels, comfortable internal mesh lining, and big, breezy vents.
Knees are well protected with high-quality D30 armour.
Check Prices on SportsBikeShop
These are another good contender for best trouser for all seasons. Depending on where you live (and how hardy you are), you might get away with wearing these in winter with the liner in.
They certainly feel right in hotter UK weather with that liner removed and the vents open.
Richa gear is great, but you may need to order a size up from usual. These come up a bit small. We're a 32 but wore the Evos intended for 34-36.
The usual high-end details are present, like reflective detailing, internal mesh, and compatibility with Richa jackets via a zip.
Pros
Versatile thanks to a removable layer
Breezy for hot weather
Cons
Not as practical off the bike as jeans
---
Texspeed All Black Motorcycle Trousers
These 600D Korean Cordura textile trousers from Texspeed are an inexpensive one-stop shop for anyone looking for a decent pair of year-round trousers.
They make it onto our summer trousers list because their thermal lining is completely removable, making them lightweight and breezy. A breathable, Reissa waterproof lining extends the functionality of these trousers into wet weather conditions too.
The included CE-rated knee armour and hip padding are of decent quality and sits where it should. The elasticated knees and waist help with this, giving us confidence the armour would stay in place in an accident.
A long, cleverly angled zip makes these easy to get on and off – even with another pair of light trousers underneath.
Lots of pockets, two waterproof, and 3M reflective detailing round out a decent pair of trousers at the price.
A lot of miles for your money.
Pros
Great value
All-weather
Cons
Aren't as comfortable as jeans off the bike
---
Oxford Original Approved Straight Leg
Oxford's Original Approved series does a great job of hiding the fact that they're armoured motorcycle trousers. At first glance, these look just like a typical pair of jeans.
Their Amourlite ™ construction uses polyamide fibres, originally used in military parachute cord, with heavy-duty denim to create fabric with the softness and feel of classic jeans with much greater durability.
CE-rated knee protection comes installed, and two-stretch has been added to the fabric for additional comfort.
Check Prices on SportsBikeShop
Made with a single layer of moisture-wicking, fast-drying Armourlite, these are perfect for the UK's spring and summer. These are an excellent choice if you're after comfort on and off the bike in warmer weather.
We like their simple cut, single-layer design, soft, stretchy fabric, and great breathability.
Pros
Classic looking jeans
Comfortable, good moisture-wicking, and lightweight
Cons
Not as versatile as some options
---
Knox Richmond Denim V2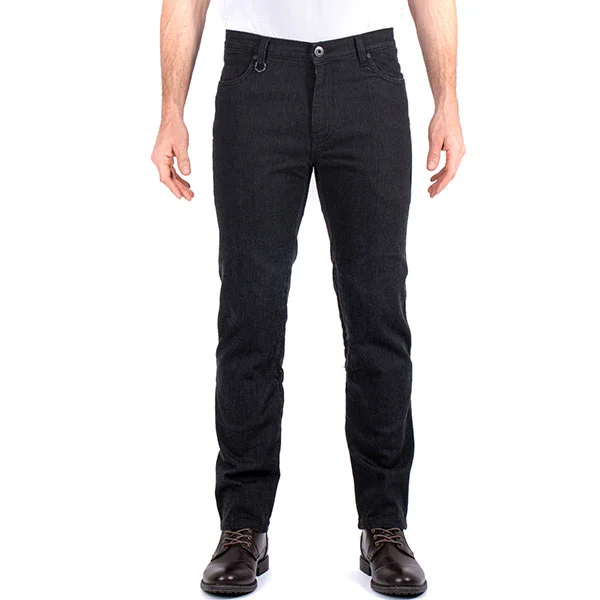 These are another great on-and-off bike option from Knox. Comfortable and classic-looking, these are fully lined with Aramid fibre underneath their Cordura denim exterior.
Their adjustable pockets also mean your Knox Lite armour sits precisely where it should at all times. Hidden zips allow you to remove the knee and hip protection as you get off the bike, making these a genuinely comfortable option for all day at the office (if it's that kind of office).
These are an excellent summer riding option at the price. Cordura denim, Aramid fibre, and adjustable pads are features standard on trousers at a higher price point than this.
The level of protection offered is decent, and in a pinch, these could be worn in colder conditions with a pair of windproof overtrousers to keep the heat in.
Pros
Tough construction
Decent protection
Adjustable armour pockets
Cons
None
---
RST Pro Series Ventilator
The Ventilator gives its intention away from the name but also features a removable, thermal, waterproof layer for use in less balmy conditions.
The excellent ventilation system uses K300 inserts for maximum airflow and, when opened, cools you down quickly whether or not you have the thermal later installed.
Fixed mesh liner and four-way stretch material help to hold the pads in the correct position when riding but not press uncomfortably off the bike.
Check Prices on SportsBikeShop
Quality RST knee protectors come pre-installed, and there is space for hip protection to be bought and installed as an optional extra. These connect to RST jackets using a connection zip and feature the usual reflective detailing and trim.
These are a great touring option but deserve a place on our list because of their removable thermal layer and excellent ventilation for hotter days.
Pros
Removable thermal layer
Great vents
Versatile
Cons
Expensive
---
Bull-it Tactical Kafe Straight Jeans
These single-layer, lightweight jeans use rugged Covec denim for good abrasion resistance, decent breathability, and lightness for summer riding.
They look pretty smart at the price and hide the fact that they're armoured motorcycle trousers pretty well. CE-rated knee and hip protection come installed, YKK zips are used throughout, and the rivets, buttons, and detailing are excellent.
A water-resistant coating is included to keep you dry in light rain. We can't say how many washes this will withstand or that it will repel anything more than a light shower, but it's a nice touch.
Check Prices on SportsBikeShop
Abrasion resistance is good for single-layer trousers and these are particularly stretchy. The difference is noticeable immediately when sitting on your bike – they sit comfortably at the waist, pull in at the knees and hips, and won't ride up or down on a long trip.
Aesthetics are personal, of course, but we think these look great at the price and make an excellent summer trouser for those looking for a low-key solution.
Pros
Good value
Stretchy
Cons
None
---
Buyer's Guide
Comfort, Considerations and Cost
---
Material choice is your most important consideration when shopping for summer motorcycle trousers; let's look at the options:
Denim
Most UK riders are comfortable wearing single-layer, lightweight denim in summer. A pair of jeans might seem excessive for walking around on a hot summer's day, but windchill makes a massive difference on a motorcycle.
Many of the jeans on our list have been created with improved breathability and quicker drying time over traditional denim. Two-way or four-way stretch is typically added for comfort, a more custom fit, and better protection.
Also, see our roundup of the best motorcycle jeans.
Textile
We've also included textile trousers with vents on our list – particularly those with a removable thermal layer.
More budget-conscious riders may have to make do with a single pair of trousers year-round and vented trousers that can be adapted for various conditions to get more bang for your buck.
That said, buying specific gear for specific conditions will always net you slightly better performance.
Mesh
Full mesh trousers are standard in the hottest parts of the world and use tiny perforations in their synthetic/leather surface to keep the rider cool.
We didn't include any of these on our list because the UK is rarely (if ever) hot enough to warrant them. But if a mid-summer trip to Greece is on the cards, a set of full-mesh might be a good investment.
Armour
All the trousers on our list ship with CE-rated armour inserts installed in the knees.
Hip insert pockets and/or inserts are present on some and available as an optional extra for others.
The Aramid/Armourlite/Covec/Cordura used in construction, lining, and reinforcement also plays a vital role in protecting you from harm in an accident.
We've specifically chosen trousers with rugged stitching, rivets, buttons, and YKK zips.
Adjustable, removable armour inserts aWe'veeat for summer trousers. If you want to spend significant time off the bike, walking around, it's great to pop out the knee pads when you stop.
Read more about motorcycle armour.
Features
For many UK riders, summer gear means a pair of armoured jeans and waterproof over trousers stashed in a pocket.
But features like removable, waterproof membranes, thermal liners, and mesh, air-intake inserts can make one pair of trousers work for everything that summer riding has to throw at us.
The stretch panels added to your armoured trousers are more than simply comfort. For the armour and padding to work correctly, they need to stay in place in the event of an accident. The inner mesh and stretch panels are designed to cinch in at key points on your frame to ensure the pads and abrasion panels do their job correctly.