YOUR GUIDE TO UK MOTORCYCLE LAWS AND LICENCES
Provisional motorcycle entitlement
Aged 16 or over with completed CBT
Can ride with L plates – mopeds up to 50cc – speed range of 25 km/h – 45 km/h
Aged 17 or over with completed CBT
Can ride with L plates – light motorcycle up to 11 kW and 125 cc
Must Not
1. Ride on motorways 2. Carry a pillion passenger 3. Ride without L-plates (D-plates in Wales)
Need a quick and simple introduction?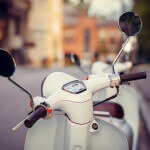 Just want to know what you can ride on your existing provisional or full licence?
Not sure if you need to take CBT ?
Our simple interactive quiz will tell you what you need to know to get out on two wheels
The provisional driving licence
The following information is for Licences issued after 19th January 2013, if you held a motorcycle or moped licence before this date then you keep your existing entitlements and can still ride the same category of bikes as before.
To ride a motorcycle or moped on the road you must
Be at least 17 years old (16 for a moped – speed range of 25 km/h to 45 km/h)
Have completed compulsory basic training (CBT)
Have a provisional Category A driving licence
That licence can be any of the following
A provisional driving licence with motorcycle entitlement
Full car licence. This automatically provides provisional motorcycle entitlement
Learners who wish to ride a side-car outfit can do so with a power to weight ratio not exceeding 0.16kW/kg.
How to get a licence
Get your provisional driving licence for a car, moped or motorcycle from the DVLA – apply online. Or you can use Form D1 which is available from the Post Office.
To be approved you must
As of September 2015 the cost is £34 payable by debit or credit card.  
What can I ride on my car licence?
---
Car driving test passed on or after 1 February 2001
You need to take CBT. This will entitle you to ride a moped or motorcycle with L plates – up to 11kW and 125cc.
You won't need to take a further theory test.
If you want to remove the L plates or ride a more powerful machine you will need to take the relevant practical tests.
---
Car driving test passed before 1 February 2001
You can ride a moped (max 50cc) without L plates.
If you want to ride a motorcycle over 50cc and up to 125cc you will need to take CBT.
Once you have a valid CBT certificate you can ride a 125cc with L plates.
Compulsory basic training (CBT)
Almost all learner motorcyclists must complete CBT before riding on the road. When you've completed CBT you'll be given a DL196. You must produce this before you can take the practical motorcycle test.
You dont need to take a CBT to ride a moped if you:
Passed the car driving test before 1st Feb 2001
Live and ride on specified offshore islands
Passed a full moped test after 1 December 1990
Your CBT has a 2 year life. If you don't pass both your theory and practical tests in that time then you'll have to take the Compulsory Basic Training course again.
Your CBT obtained on a moped is valid for a 125cc motorcycle (max 11kW) when the rider reaches the age of 17.
Vehicle Documents
The Registration Document (VRD)
This contains your name and address and details of your motorcycle:
Make and model
Year of first registration
Engine size and number
If you buy a new motorcycle the dealer will register it with the DVLA. A registration document will then be sent directly to you from the DVLA.
If you buy a second-hand one you'll receive the VRD from the seller. Fill in the "Change of ownership" section and send it to the DVLA at the address given on the document. You should do this immediately as it is an offence not to notify the DVLA.
Tax your motorcycle
You must display a tax disc on the vehicle.You can get the vehicle licence application form at any post office and most main post offices can accept your application.
The fee varies with engine size. The classes are
Not over 150cc – £17
Over 150cc up to 400cc – £38
Over 400cc up to 600cc – £59
Over 600cc – £81
Full tax rate information from the DVSA here.
When you apply to renew your tax you must produce
V5C registration certificate (log book) in your name or
New keeper supplement (V5C/2), if you have just purchased the motorcycle
Your vehicle tax reminder (V11)
Vehicle test certificate (MOT) if your motorcycle is three years old and over
In Northern Ireland you will also need
An insurance certificate or cover note
Older motorcycles
Motorcycles registered before 1st of January 1973 are exempt from tax but should display a tax free (historic) disc.
MOT – The vehicle test certificate 
The MOT test applies to all motorcycles, mopeds and scooters over 3 years old. The test must be carried out every year at an appointed vehicle testing station.
The purpose of the test is to check that your motorcycle is roadworthy. When your machine passes the test you'll be given a vehicle test certificate which you'll need to produce when you renew your vehicle excise licence.
If your motorcycle fails the test you must not ride it on the road unless you're taking it to have the faults corrected or unless you're taking it for an arranged retest.
---
Types of insurance
It's illegal to ride without insurance. Before you take a motorcycle onto public roads you must get proper insurance cover.
Insurance costs depend mostly on your age, the size of the bike and the area where you live.
Third party.
This is the cheapest and legal minimum type of insurance cover. The 'third party' is any person you might injure or property you might damage. You aren't covered for injury to yourself or damage to your motorcycle. If you damage a car the owner could claim against you. Or, if someone damaged your motorcycle you could claim against them.
Third party fire and theft.
The same as third party but it also covers you for your motorcycle being stolen or damaged by fire.
Comprehensive.
This is the best, but most expensive insurance. Apart from covering other people and property from injury and damage this covers
Damage to your machine
Replacement of parts damaged in an accident
Personal injury to yourself
Pillion passenger insurance.
All policies used to automatically include cover for a pillion passenger but now you can decide whether to have that cover included or not. You can, apparently, save up to 10% by not taking out cover for a pillion passenger and, of course, never carrying one.
The cost of insurance.
This varies with:
Your age – the younger you are, the more it will cost
The make of your motorcycle
The power and capacity of the engine
Where you live
Engine-size groups for insurance purposes can vary from one insurer to another so it pays to shop around.
Exactly what is and what isn't insured can vary from company to company so read the small print and ask your insurer or broker.
You'll often have to pay the first £50 or £100 of any claim. This is called the 'excess'.
The certificate of insurance
This is a short and simple document which certifies
Who is insured
The type vehicle covered
The kind of insurance cover
The period of cover
The main conditions
Sometimes a broker will give you a temporary certificate or 'cover note'. This is issued while you're waiting for your certificate and is proof of insurance.
The policy document.
This contains the full details of the contract between you and the insurance company. It's usually written in legal language. Ask your broker or the insurance company to explain any details which you don't understand.
---
Helmets
By law, you must wear a safety helmet when riding a motorcycle on the road. All helmets sold in the UK must either
comply with British Standard BS 6658:1985 and carry the BSI kitemark or
comply with UNECE Regulation 22.05 or
comply with any standard accepted by a member of the European Economic Area which offers a level of safety and protection equivalent to BS 6658:1985 and carry a mark equivalent to the BSI kitemark
More on helmets and clothing
Further Information